What makes a wedding extra memorable? The venue and decorations, the ambience, the couple's love, the activities of the day–all of these combined result in a unique experience for the couple and all who partake in the union. With the current situation and social distancing measure, grand banquets are taking the backseat and in turn, couples are trying to make intimate weddings still as jubilant and all the more meaningful.
One of the elements that you can highlight for your intimate wedding is your food. Guests always remember good food. Not only that, good food can elevate mealtime and turn any small-scale gathering into a significant celebration for everyone. If you want to take your wedding up a notch, select a menu that you know your guests will love.
Today we're sending some mouthwatering dishes your way to give you an idea of how food makes all the difference. By viewing these photos and reading these descriptions alone, you can almost taste all the flavors! Imagine what a joy it will be to eat these with your loved ones? All these dishes are part of wedding packages from three esteemed wedding venues. Read until the end for more details on the packages.
(1) Fresh Boston Lobster Salad with Oscietra Caviar from The Repulse Bay
This refreshing dish is made with a juicy lobster, mango and avocado tian, green asparagus and sherry vinaigrette. It's the perfect starter for your wedding banquet.
(2) Herb Crusted Canadian Cod Fish Fillet from The Repulse Bay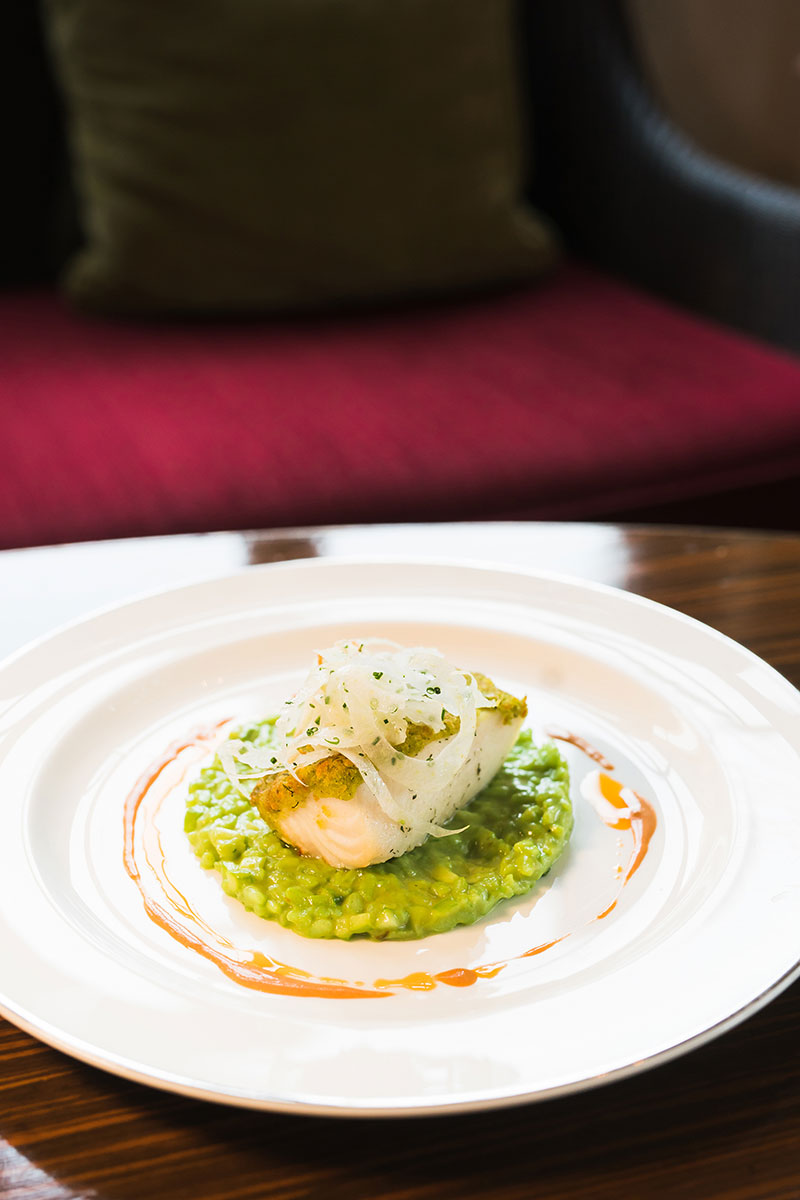 Your guests will enjoy digging into this herb crusted Canadian cod fish fillet. It's paired with green asparagus risotto and fennel salad made with crustacean emulsion.
(3) Fresh Wild Berries Mille-feuille from The Repulse Bay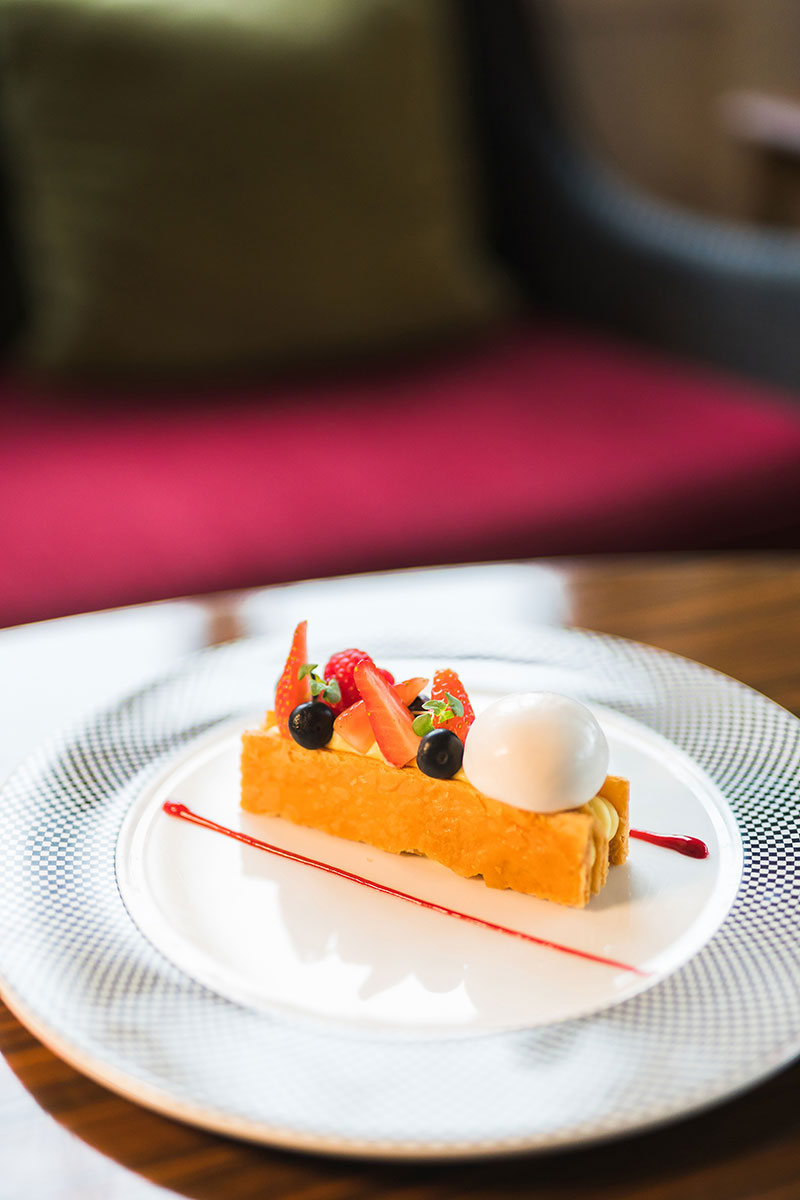 Remind your guests to save room for dessert, especially if you're to wed at The Repulse Bay! They will not forget this fresh wild berries mille-feuille mascarpone, complete with ice cream and strawberry gel.
Other than the delicious dishes above, for those who wants to host an intimate wedding, we highly recommend The Repulse Bay Secret Garden Package 2021 – it includes seasonal floral decorations, a three-tier mock wedding cake, and other complimentary services. For wedding receptions, menu starts from $1,028 per guest (excluding beverages)*.
*Note:
Subject to 10% service charge and minimum charge applies
Additional beverage package for unlimited supplies of one selection of house white wine and one selection of house red wine, beer, fresh orange juice and soft drinks
Terms and Conditions apply
(4) Braised Whole Abalone with Vegetables in Oyster Sauce from JW Marriott Hotel Hong Kong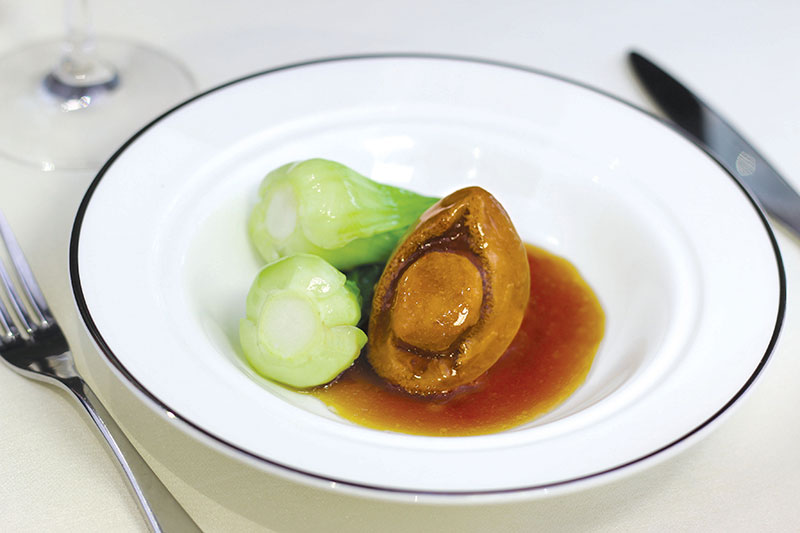 The Chinese wedding banquet of the hotel is helmed by the One MICHELIN Star Chinese Executive Chef Jayson Tang. This flavorful 6-8 head South African abalone is cooked to perfection. It's steamed for 4 hours before braising it for another 8 hours in chicken stock. The final result of this meticulous process is a smooth yet chewy texture–what a surprise this dish will be for your friends and family!
(5) Baked Stuffed Sea Whelk with Diced Abalone in Portuguese Sauce from JW Marriott Hotel Hong Kong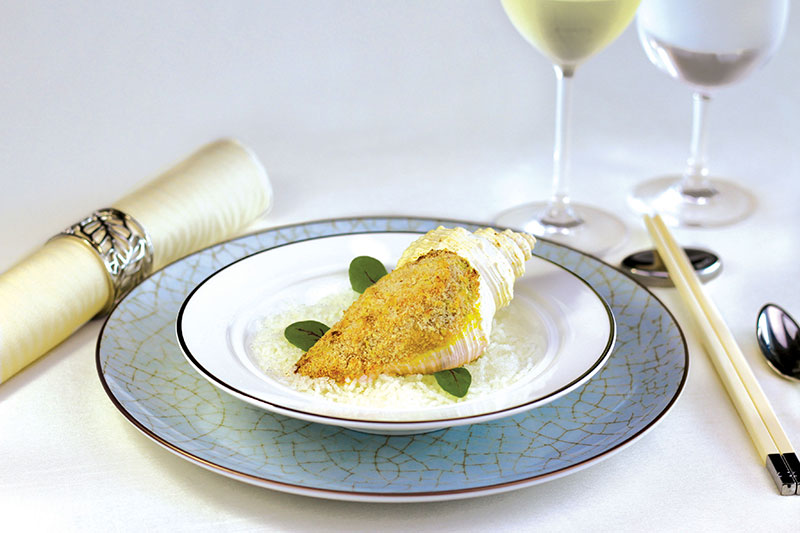 A treat for both eyes and palate, this creation is made with a mixture of diced fresh and dried sea whelk, chicken and mushroom, baked for 20 minutes. All your wedding guests will love the burst of all the best flavors at first bite.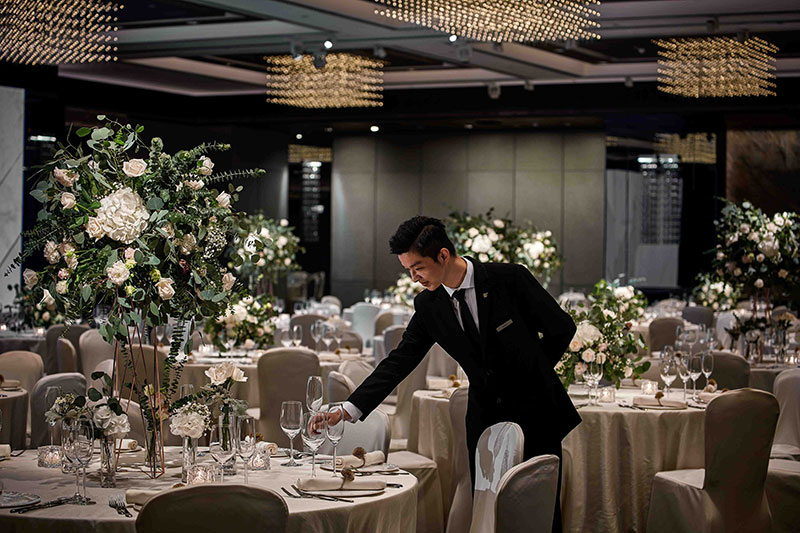 Both dishes are part of JW Marriott Hotel Hong Kong's 2021 Wedding Chinese Dinner Package, which starts at HK$15,288, inclusive of a customized menu as well as a host of additional benefits such as an overnight stay and 60,000 Marriott Bonvoy points that you can redeem at selected Marriott hotels brand hotels worldwide.
For those who fancy an outdoor event, the hotel's Alfresco Wedding Cocktail Package is ideal, as the venue is located by the pool and can accommodate up to 60 guests with the price starting from HK$788 per person only.
(6) Cantonese Classic Deep Fried Fresh Crab Claw from Conrad Hong Kong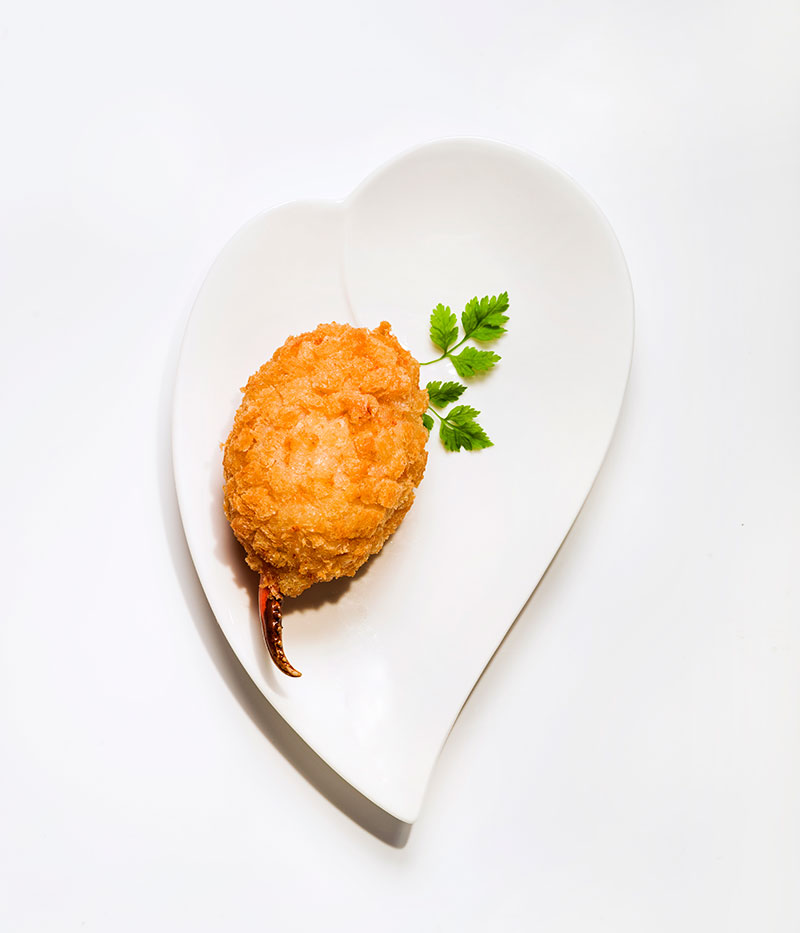 For your Chinese lunch or dinner reception, select this Cantonese classic deep fried fresh crab claw made by our Golden Leaf Executive Chef Tony Wan–it's worth the hype! For this exceptional dish, hand-chopped shrimp mousse is encased into fresh crab claws and deep fried for an ultimate crispy exterior.
(7) Slow Roasted Beef Striploin from Conrad Hong Kong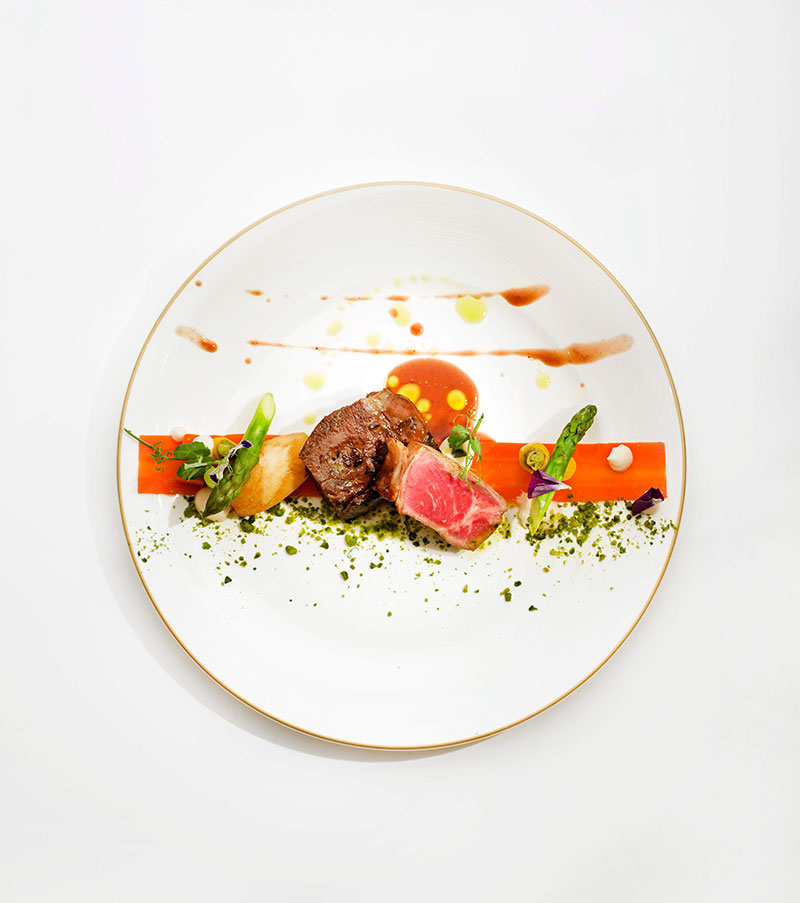 If you're feeling like treating your wedding guests to a special international lunch entrée, include this slow roasted beef striploin to your menu. It comes with eight hours braised beef cheeks, port wine sauce and reduction, fondant potato, and three carrots creation. Sounds like a mouthful, but the taste will deliver threefold.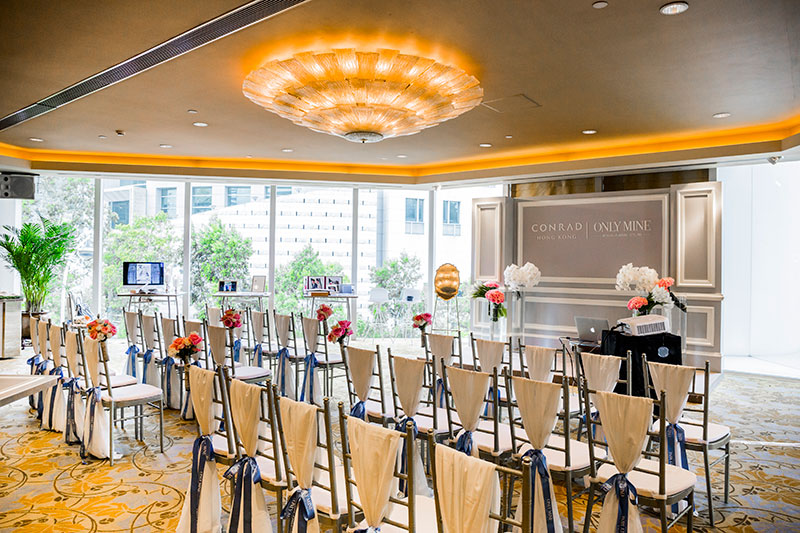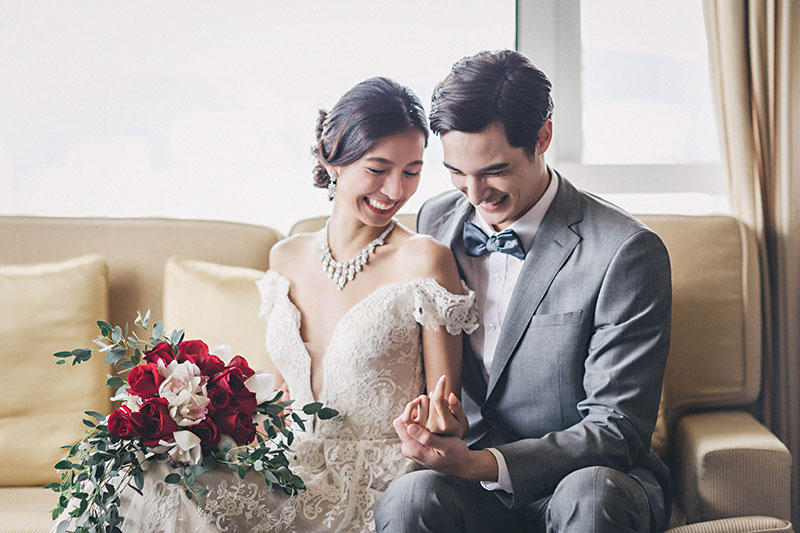 Savour these dishes with loved ones by booking Conrad Hong Kong's 2021 Special Wedding Package is priced at HK$888* per person. Pair this with their Soul Meets Soul Wedding Ceremony Venue Package. From now until September 2021, this package is priced from HK$10,000 plus 10% service charge for up to 50 persons*.
*Note: Terms and Conditions apply
Note: All packages as subject to change at any time. Please contact the respective venues directly for inquiries or to book a package.