Worried about how to look and stay fresh for your outdoor wedding? Don't worry, because we've got 6 essential tips for you to oily skin during your outdoor wedding. Take note, ladies, because these skin saving tips will make all the difference!
[From: A Breathtaking Bali Wedding with Unique Details / Photo: Jada Poon Photography]
(1) Follow a proper skincare routine.
Months before your wedding, you should already formulate a proper skincare routine and stick to it. Consult with a dermatologist, if you have to so you know exactly what your skin needs to stay fresh and oil-free. You'll reap the benefits of a proper skincare routine over time, so it's best to start this step as early as possible.
(2) Prep your skin for the Big Day.
As early as 6 months before the wedding, you can avail of other beauty treatments, like facials, lasers and the like, to prep your skin for the Big Day. But with new treatments or additional procedures, timing is key! You want to make sure that there's enough time between the treatments and your wedding day so that your skin can still heal if ever you develop negative reactions to any of the treatments. Makeup Artist Gabbie Lee also shared with us her tips on how to prepare your skin starting 6 months before, to the day before the wedding. Read all her tips here.
[From: An Intimate Blush-themed Wedding at The Upper House / Photo: Steven C Photography]
(3) Consult with your makeup artist on the best kind of makeup for your outdoor wedding.
As soon as you book your makeup artist, get her expert view on what look (and makeup products) will best suit your outdoor wedding. External elements can be tricky, so letting her know in advance and getting her input early on will help. She can also give you more advice and pre-wedding beauty tips for a shine-free wedding day look. We had a chat some time ago with makeup artist Caroline Sze of Seasoning and she revealed her essential beauty hacks for brides. Go an talk to your makeup artist right away and get as much information as you can.
(4) Watch what you eat.
From as early as you can, until your wedding day, watch what you eat. Your skin gets nutrients from what you eat, so eating food that have the proper vitamins and minerals will help give your skin that boost it needs to stay fresh. Avoiding greasy food is also a must! Get as much of the goodness from fruits and vegetables as you can. Your skin will love you for it.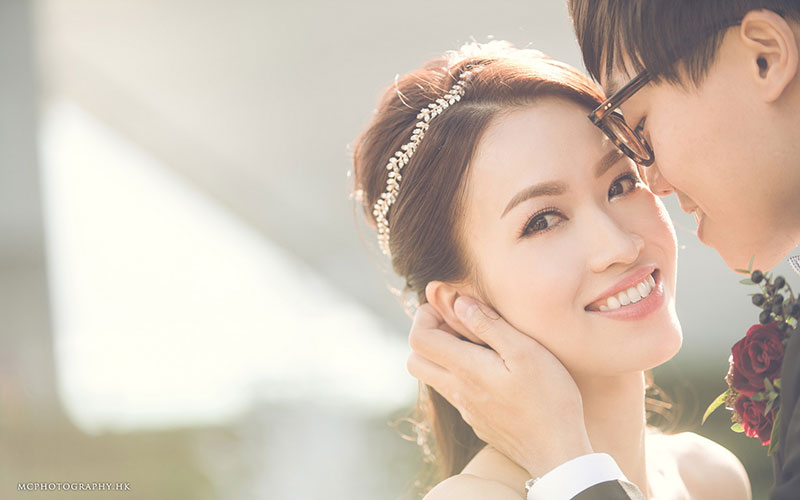 [From: An Elegant All-White Wedding at the Glass Pavilion / Photo: MC Photography]
(5) Stay hydrated; drink lots of water.
Staying hydrated will do your skin a lot of good. It will be a long and fun day, so keep drinking so that your skin also looks fresh (not oily!) the whole time.
(6) Have your Maid of Honor keep oil blotting sheets with her at all times.
Finally, blot, blot, blot away! Since your sole responsibility on your wedding day is to look and feel beautiful, you can delegate the task of keeping oil blotting sheets (and all your other beauty items) to your Maid of Honor. She won't mind if you add this to her wedding day responsibilities because we're sure she won't want to see her bestie looking shiny on the biggest day of her life. Blot any excess oil throughout the day and finish off with some loose powder.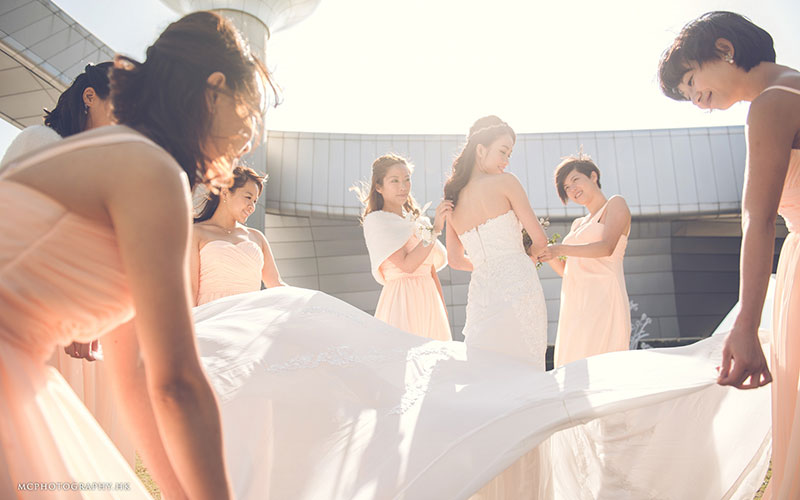 [From: An Elegant All-White Wedding at the Glass Pavilion / Photo: MC Photography]
There you have it! Hope this helps keeping the shine away on your Big Day.