Gray is one color we shouldn't take for granted. It's a great neutral tone that can be used in very many ways! It can be matched with other colors depending on your chosen style and theme. Here are six examples of how gray made the perfect wedding color!
(1) Gray made a great color for the dresses of this bride's entourage! It's chic and looks totally effortless on these ladies.
[From: Stunning Sophistication / Photo: History Studio]
(2) Check out the gray accent on these  boutonnières. It blends perfectly with each piece and brings out the colors of the flowers and foliage.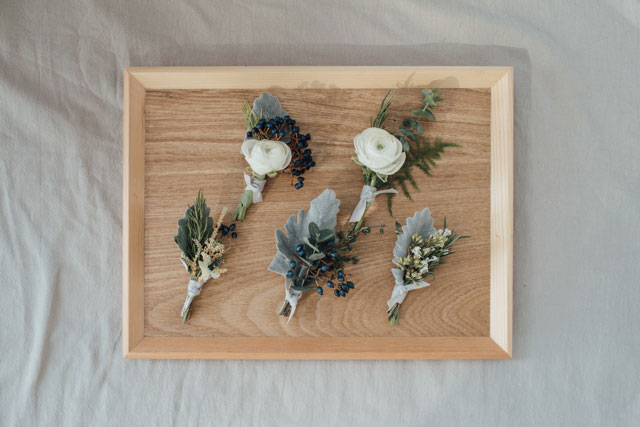 [From: Organic Garden Terrace Wedding / Photo: Lauhaus.co]
(3) This groom looks so dapper in a gray suit. What a great switch from the traditional black suit. It's also perfect for outdoor weddings!
[From: Organic Garden Terrace Wedding / Photo: Lauhaus.co]
(4) It's definitely a good idea to include the rest of the gang too! Look at this groom and his entourage, don't they look swell in their matching gray ensembles?
[From: Tropical Treasure / Photo: Kayelle Photo]
(5) Did you ever consider gray for your reception tables? This beachfront wedding reception is an example of a beautiful gray set-up. It goes so well with the scenery and feels so relaxed and inviting.
[From: Seaside Enchantment / Photo: Darren LeBeuf]
(5) Finally, don't leave your little flower girls out! This dress is absolutely adorable. Classic, chic, and oh-so-cute, don't you think?
[From: Whimsical Aynhoe Park Wedding / Photo: Shanna Jones]
Well, we hope this article sparked some gray inspiration for all of you out there! Gray goes a long way. Take it from these photos, there's a lot of potential for this neutral color. If you'd like to add a little more fun, feel free to experiment a bit by pairing this color with others of your choice. We're sure you'll come up with the perfect gray-inspired palette!