We all love grand ballrooms and we have had a good number of beautiful ballroom weddings on the website to keep us wanting more. But decorating a ballroom is a feat on its own, and while your wedding stylist should have everything in order, it will be good for you to know the essentials for styling a ballroom to make sure you make the most of this luxurious type of venue. Today, we listed down six things you should definitely do so that you decorate your ballroom to make it look its best! Read on now and find out what these tips are.
(1) Make use of all the space.
[From: A Traditional Wedding Decked with Beautiful Red, White, and Gold Details / Photo: miLa Story / Venue: InterContinental Hong Kong]
The beauty (and challenge) of having a wedding at a ballroom is that you have a lot of space to work with. Make sure you maximize the space–every inch of it–and utilize whatever you can to transform it into the dream wedding you've always envisioned.
(2) Divide up the room.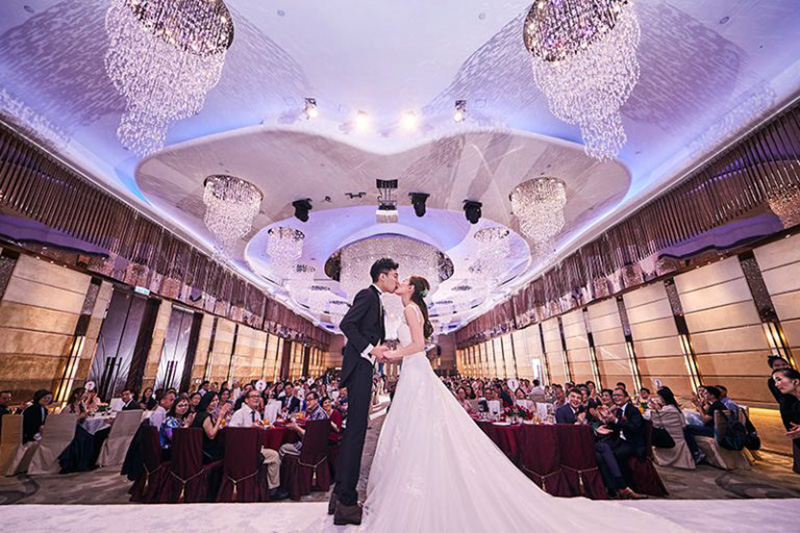 [From: You'll Love All The Sweet Details From This Hotel Wedding / Photo: ZOO Wedding by Cheric K. / Venue: Harbour Grand Hong Kong]
When you have a huge area to work with, one way you can maximize the space and avoid bare sections or a design that's not cohesive is by dividing the room into sections. You can have an open area with for cocktail tables so guests trickle in and mingle while waiting for the couple. You can also have a section for the photo booth and lounge chairs for guests to relax and have fun.
(3) Don't forget to play with vertical space.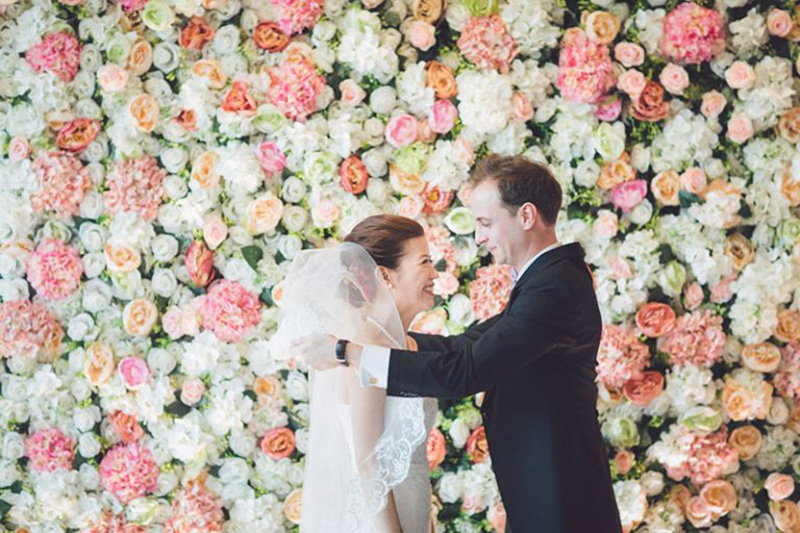 [From: A Peach-Themed Wedding at Grand Hyatt Hong Kong / Photo: Hyvis Tong / Venue: Grand Hyatt Hong Kong]
Almost all ballrooms have high ceilings. So, why not include hanging drapery, canopy lights, or even tower-like floral installations so you can use this feature to your advantage? You definitely make the space a lot more interesting if you make use of taller decorations or decorations that hang from the ceiling.
(4) Dramatic lighting will do you good.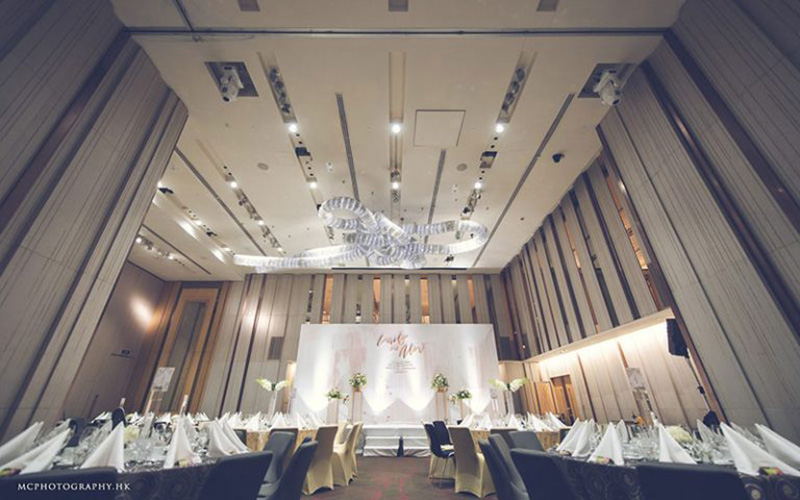 [From: Sweet Pastel Hues and Delicate Details Make This Wedding Extra Elegant / Photo: MC Photography / Venue: W Hotel]
Ballrooms can get a little intimidating and stiff, so dramatic lighting will help create the right kind of mood for a very joyous celebration. You'll want everyone involved and engaged throughout the night so make sure you set the tone with the right kind of lighting.
(5) Work with the room's color palette.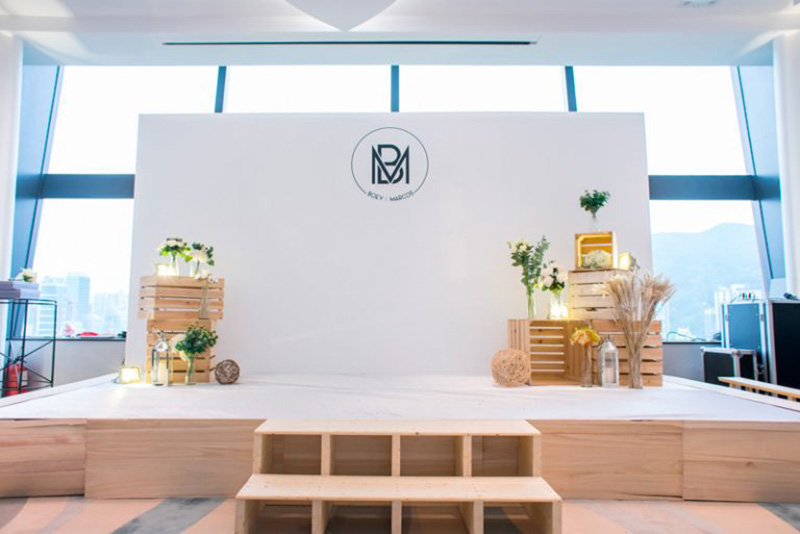 [From: This All-White Wedding with Rustic Details is Extra Elegant / Photo: Mushroom Visuals / Venue: The Park Lane Hong Kong]
Visiting the venue beforehand is very important so you can see firsthand the rooms color palette as well as the color palette of their linen and chairs. Why is this important? Well, ultimately, it's best if you work with the color palette they have. If your wedding theme and colors will clash with the ballroom's existing palette, you might want to rethink the venue. You'll want a unified look with everything working well together–not the other way around!
(6) Be on the look out for unique features.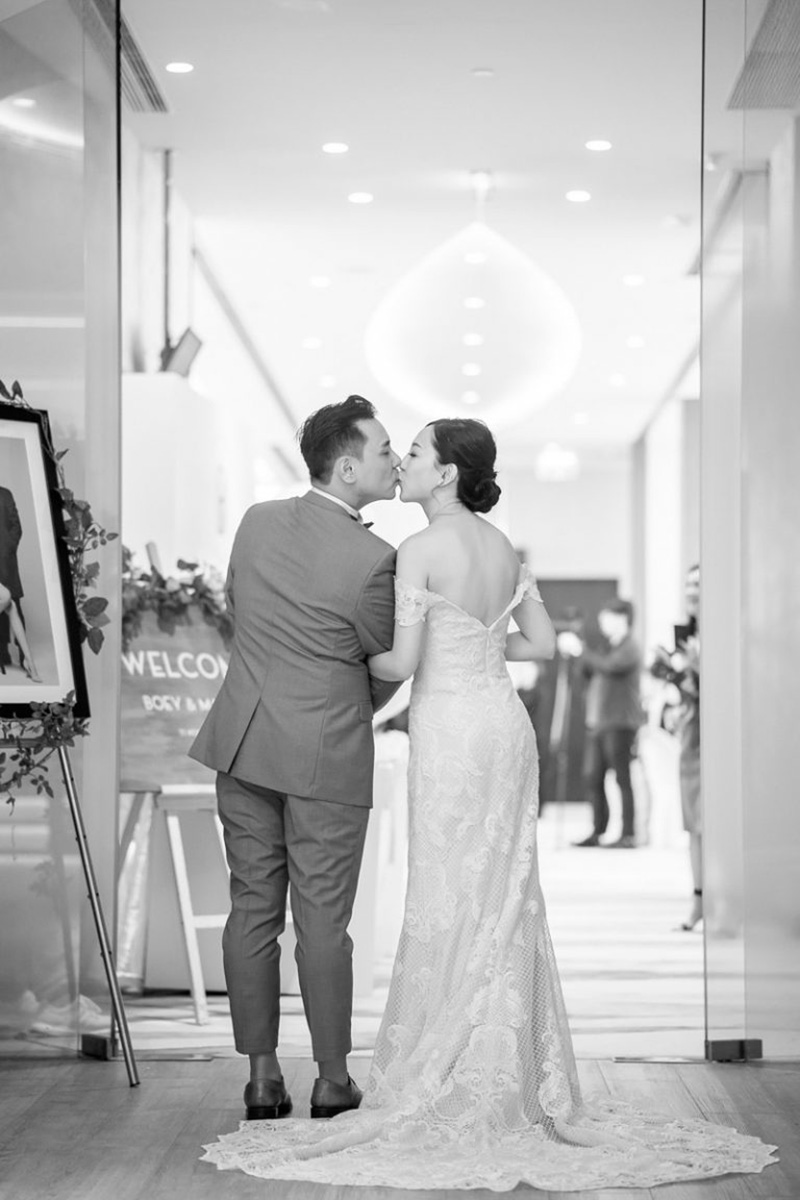 [From: This All-White Wedding with Rustic Details is Extra Elegant / Photo: Mushroom Visuals / Venue: The Park Lane Hong Kong]
One thing many couples miss out on is looking out for the unique ballroom features. When you do your initial visit of the ballroom, ask for what special amenities or features it has. For example, some hotels offer chandeliers as decorations already, other have different kids of drapery, etc. You can already think of how you can incorporate these features to complement your wedding theme and decorations.