Are you dreaming of donning a gorgeous designer gown on your wedding day but are worried about your budget? Renting a designer dress is always an option! Yes, that's right. The solution to your woes is to go for rental designer dresses. And if in case you're unaware, there are several bridal shops in Hong Kong that carry the renowned international designer lines all available for rent! In this special feature, we're divulging what shops you should go visit along with a sneak peek at some of the dresses they carry. Scroll on now and start dress hunting with us!
Brides who are looking for romantic wedding gowns that are sweet and utterly alluring, To Be Wed is a bridal shop that can fulfill your every wish. They serve brides with an array of choices from renowned wedding designers from across the globe.
To get the inspiration going, here's the Yennerfer gown from Anna Kara, a dress that surely stands out thanks to its very eye-catching bold embroidery resembling a starry night sky. Another striking element is the tulle asymmetrical sash, which forms a draped ruff on the shoulder.
Yennerfer gown from Anna Kara
Rental Price: Below HK$10,000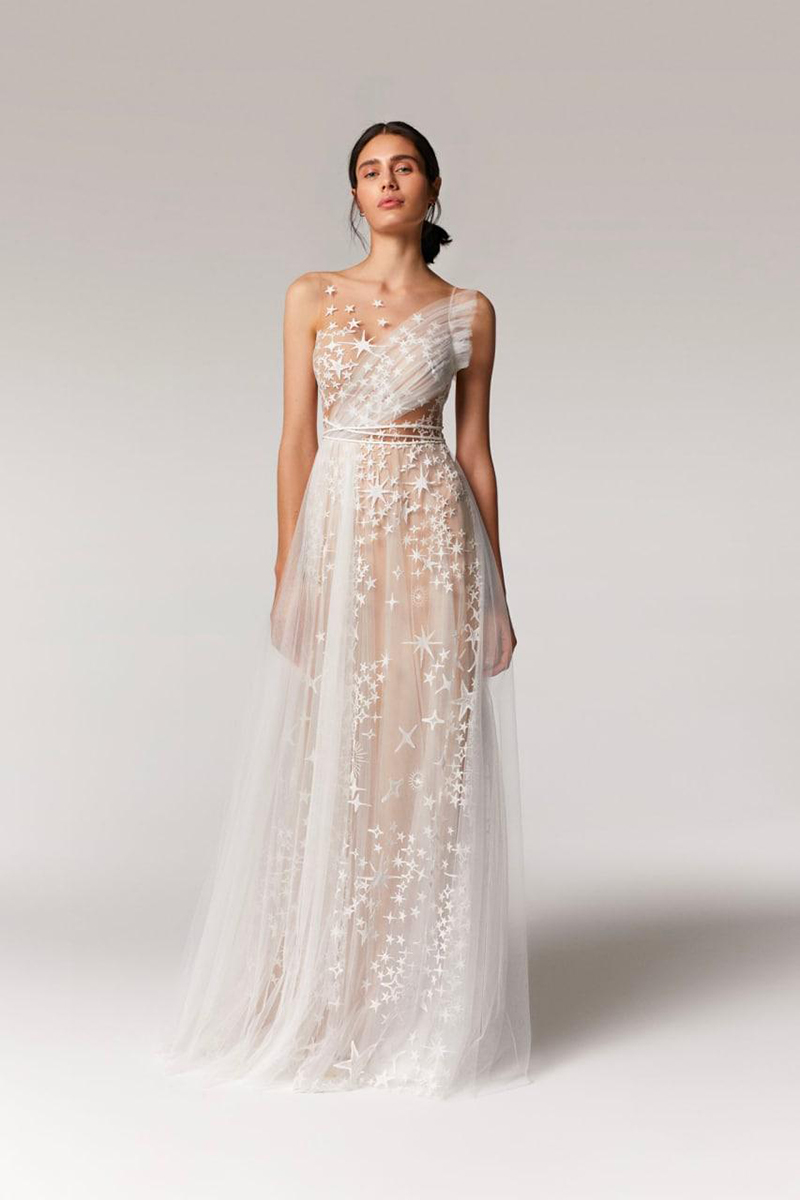 Here's another interesting piece from Anna Kara: Kalina, an extremely girly and feminine dress. On the one hand, this gown provokes thanks to the corset top made of French lace, and on the other hand, it captivates with the sequin flower-shaped embellishment that crawls across the shoulders. It's a genuinely unique and charming!
Kalina gown from Anna Kara
Rental Price: Below HK$10,000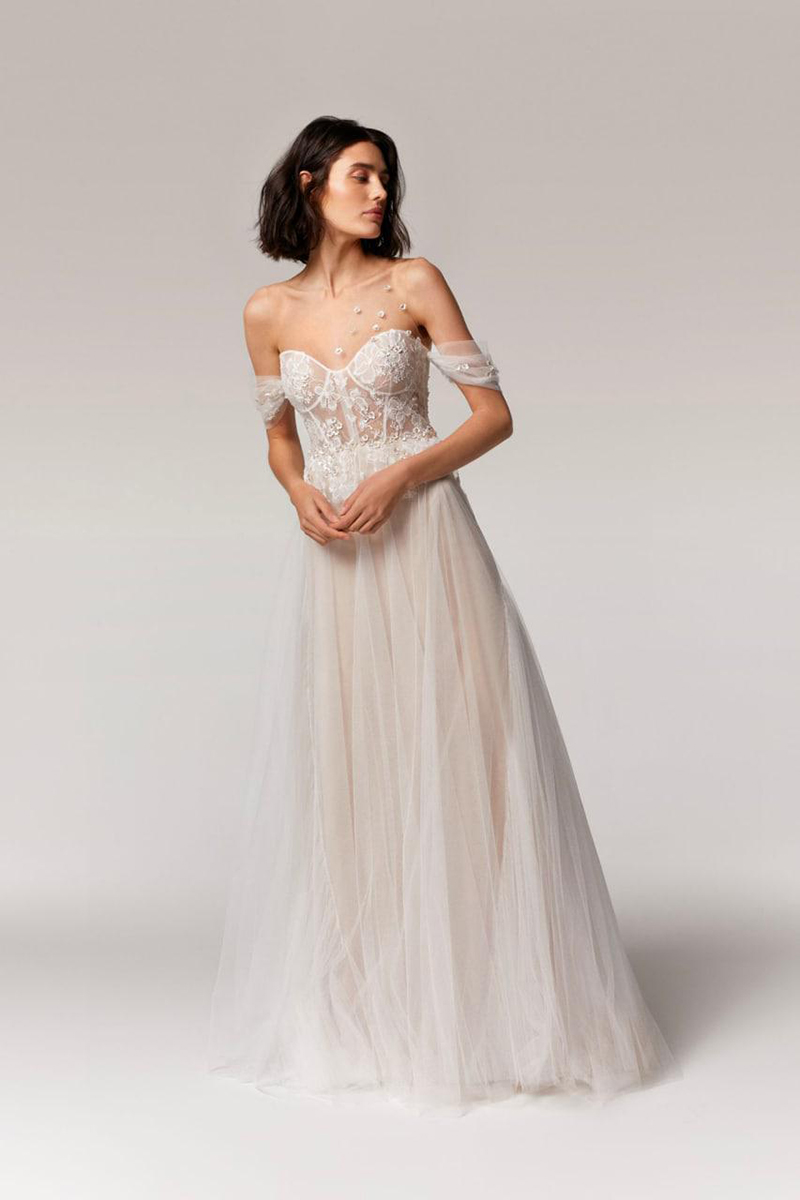 Here's another Anna Kara masterpiece. This Ciri dress is a perfect combination of off-white tulle and unique Italian embroidery. Also it's further embellished with subtle sequins and features a halter neckline and an open chest detail–sultry and elegant at the same time. There's a lot more from Anna Kara, all available for rental at To Be Wed.
Ciri gown from Anna Kara
Rental Price: Below HK$10,000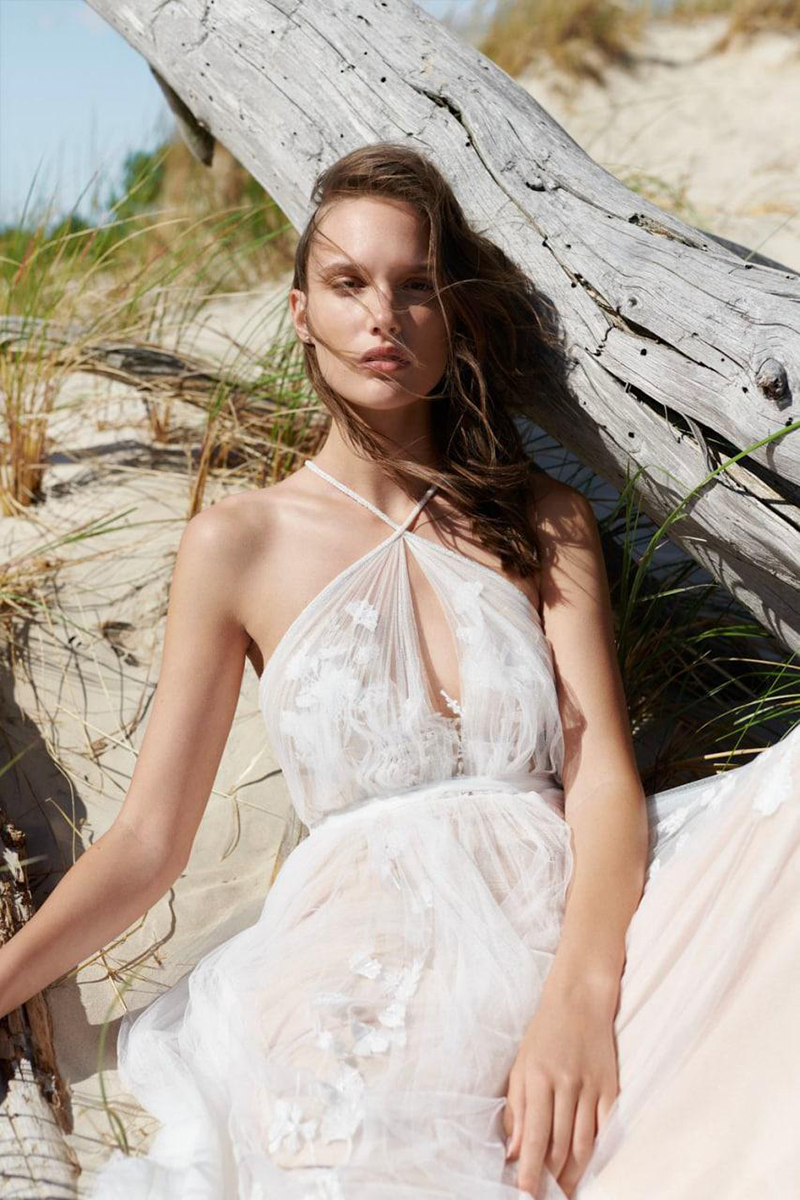 Sennet Frères, the Paris-based 150-year old jewellery and watch brand made its debut in the Hong Kong fashion industry last year. They opened the doors to a fresh new take on bridal fashion with Kev Yiu, the lead designer, articulating his craftsmanship in every design.
First on the list of stunning creations you can rent is this Pterophyllum dress. Its unique semi see through nude shape–much like an umbrella–plus the the embellishment that reflect lights in different angles gives the dress extra character. Add the multi layer ruffle skirt with an in-built fish bone and you have a stunning piece for your big day!
Pterophyllum from 2021 SS
Rental Price: HK$$12,800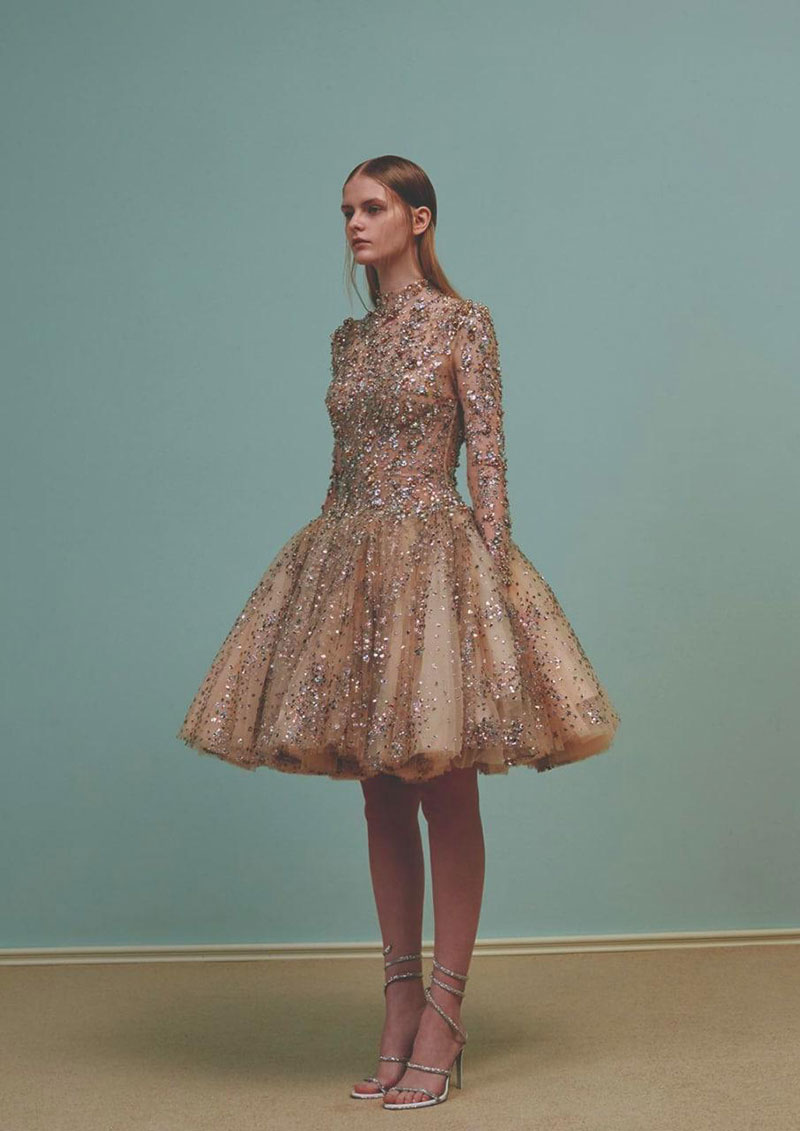 Classic brides also have this beautiful gown available for rent. It's a plain slip dress that is enhanced with a curly ruffles. The skirt adds volume and extravagance to the dress yet still evokes bottom elegance and purity. Brides who seek a classic look that has a hint of fun, this gown is right up your alley.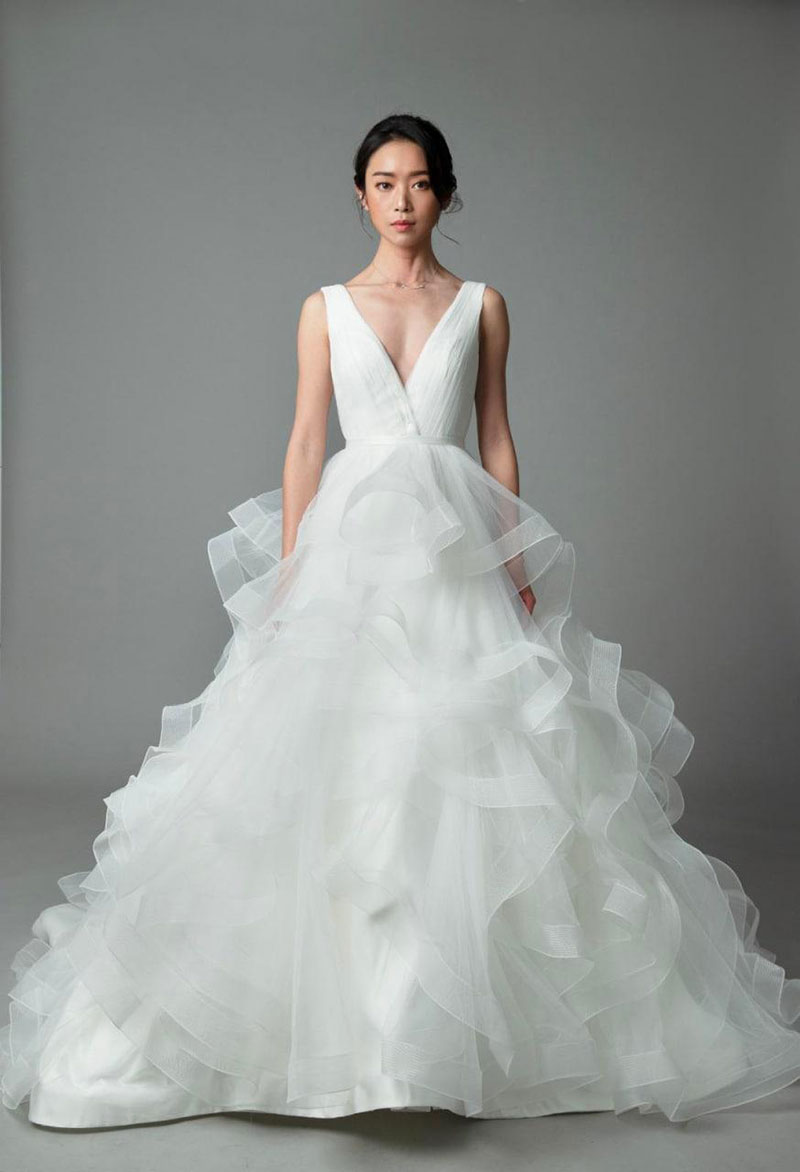 Anser Carerulescens from the Sophie series is sophisticated masterpiece that's a stunner, no doubt. Built on a crossover suit top and decorated with cascading layers of tulle and yarn, this dress is a sure head turner come that much-awaited walk down the aisle–style, sophistication, and character all rolled into one!
Anser from the 2021 SS Sophie series
Rental Price: HK$12,800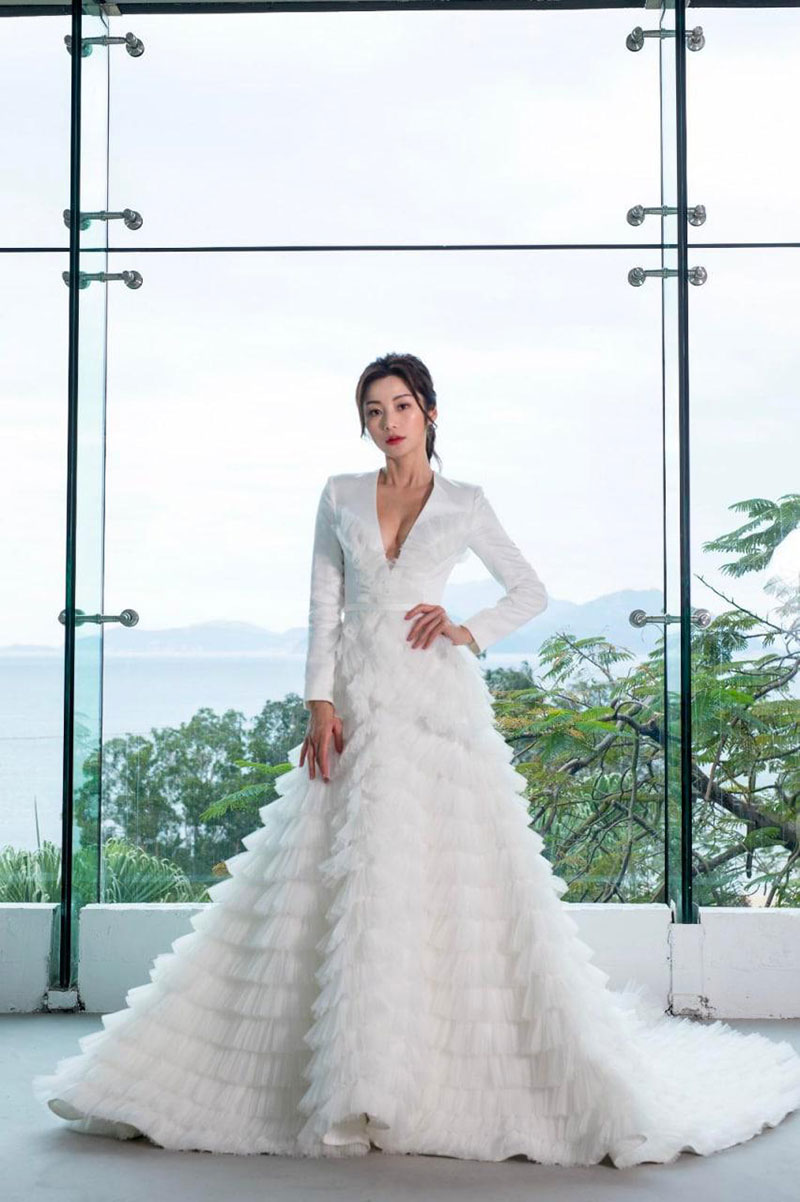 Since their opening, Gardenia Bridal has been striving to make bridal dreams a reality by selecting only the most gorgeous dresses ever.
This Alina gown is everything any bride could dream of. It features an elegant embellished off-the-shoulder mermaid silhouette and a semi-transparent corset bodice with a long tulle train.
Alina gown from Milla by Lorenzo Rossi
Rental price: Starting from HK$6,500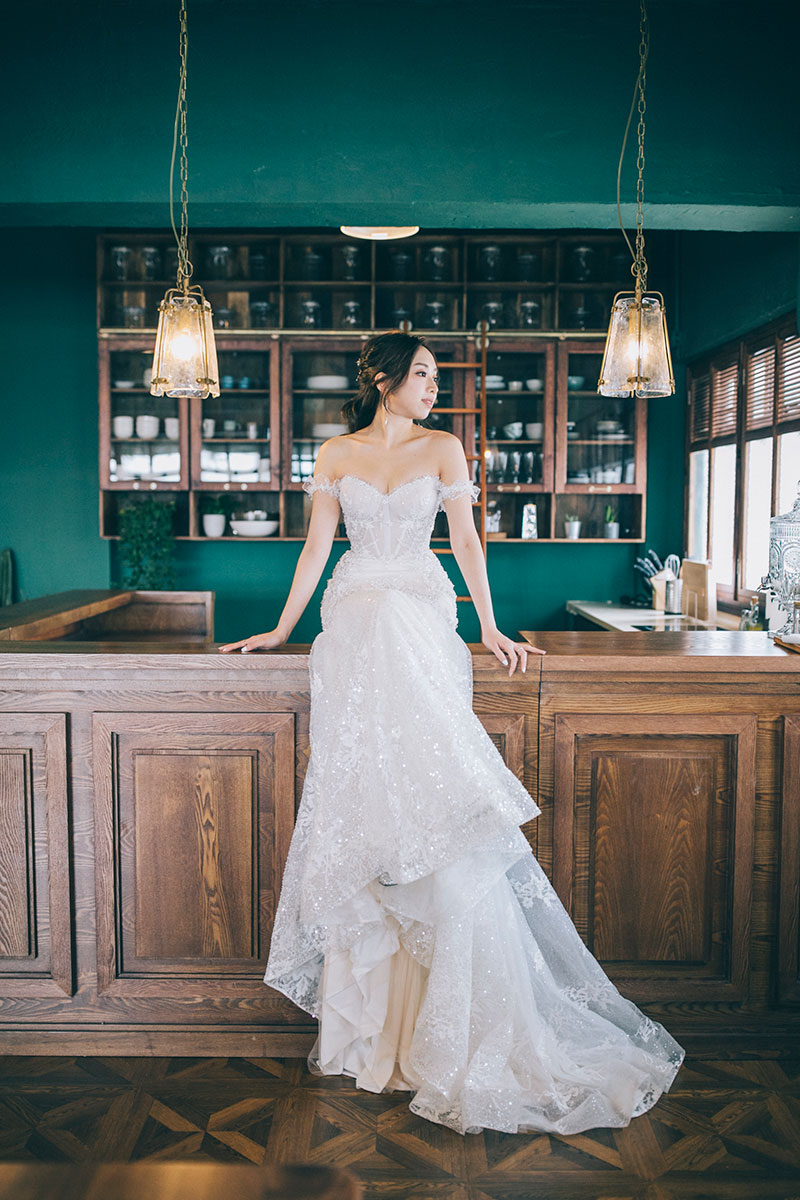 Another option is this Burak Gown also from the Milla collection by Lorenzo Rossi. This gown is yet another off-shoulder masterpiece, but this time, it includes a delicate heart-shaped neckline clad with pearls and appliqué neckline. But that's not all, turning around will reveal a button-up open back.
Burak gown from Milla by Lorenzo Rossi
Rental Price: Starting from HK$6,500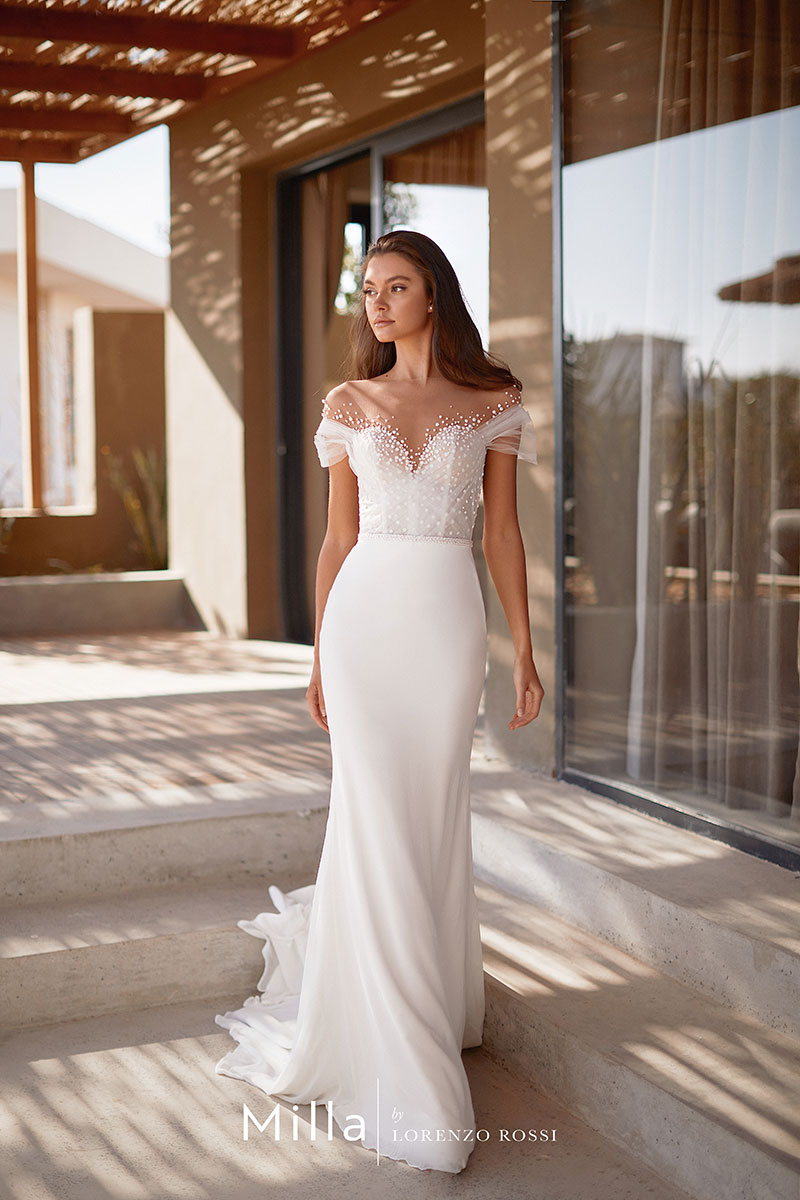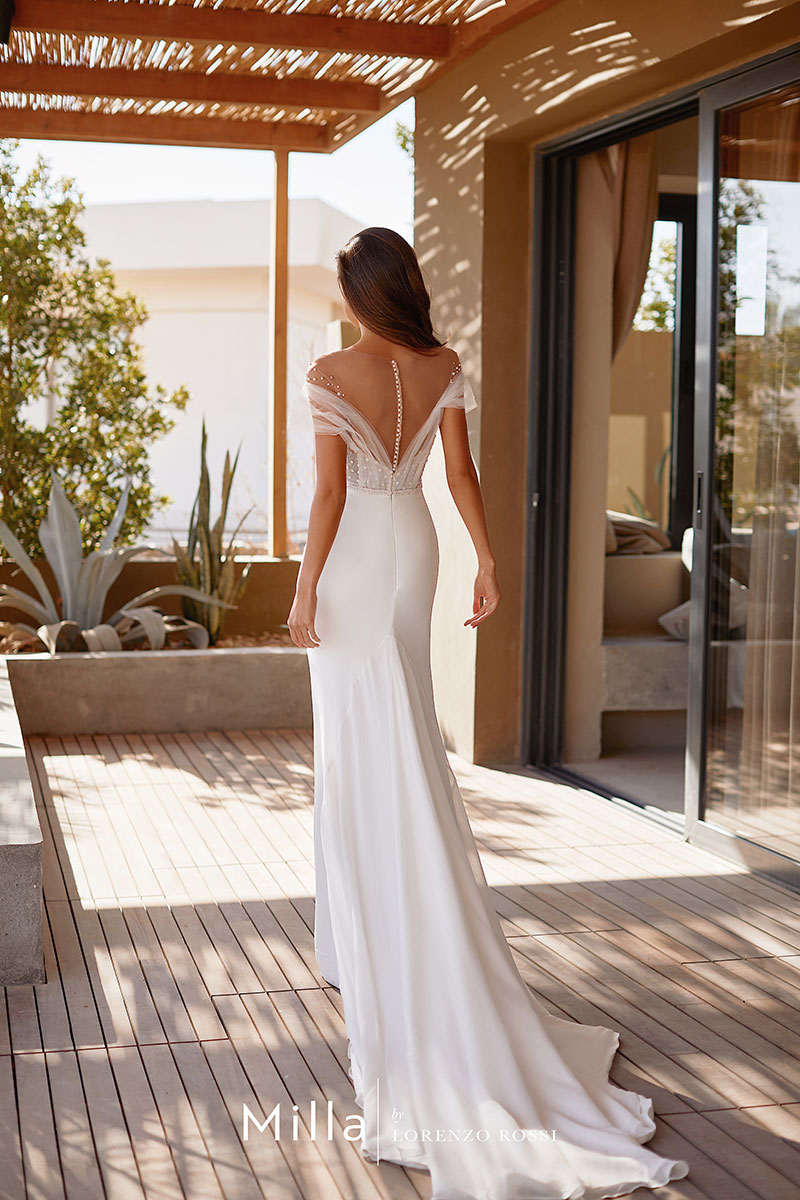 Gardenia Bridal carries gowns from Atelier Beccar, a stunning bridal house from the US. If you're into elaborate details, this Noir Gown boasts of the unique use of feminine details including Swarovski hand beaded lace and elegant 3D floral details.
Noir gown from Atelier Beccar
Rental Price: Starting from HK$6,500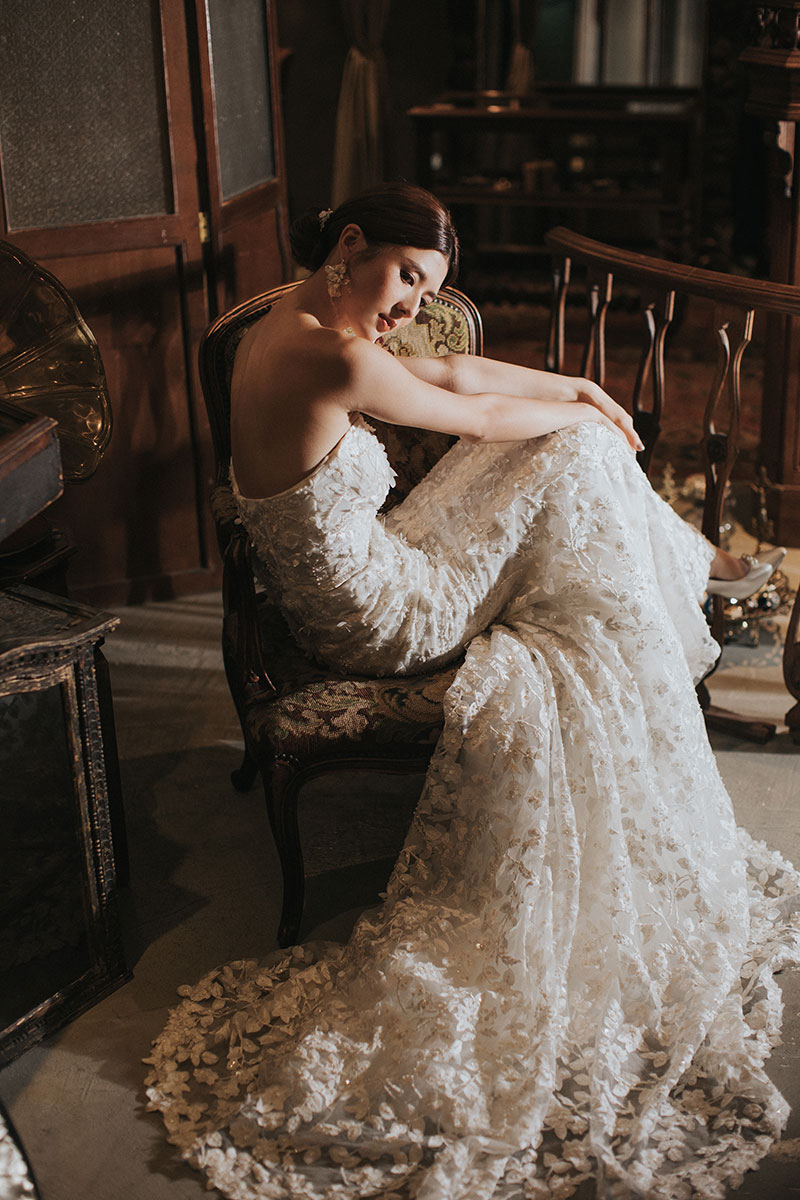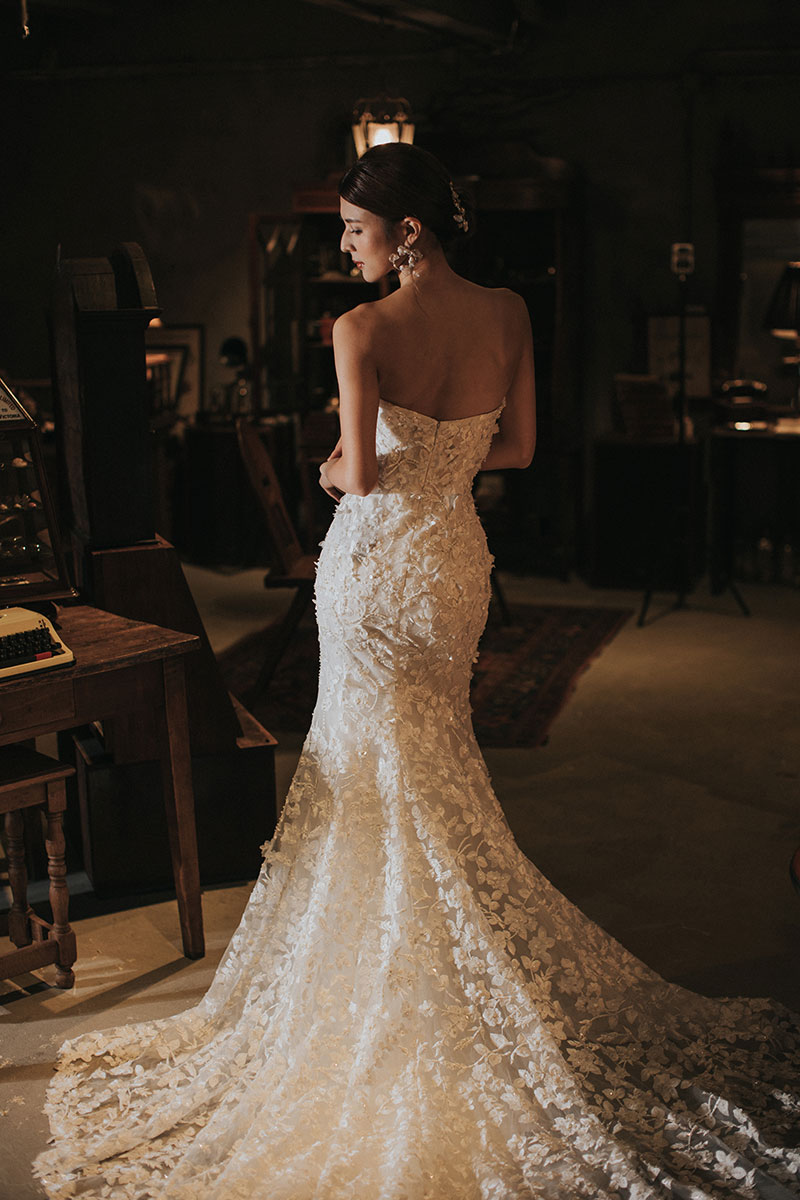 Mariee Bridal Couture has been around since 2009 offering a selection of international wedding gown labels–both for sale and rental–as well as gowns for mothers, bridesmaids, suits for grooms and groomsmen, and custom-made qipaos.
One of the labels they carry is David Hasbani from Israel whose collection features delicate lace, satin, chiffon, organza, tulle, intricate beading, appliqué details, and all kinds of gorgeous embellishments. Take this dress as an example of how this collection is perfect for every fashion-forward bride looking to make a statement.
David Hasbani collection
Rental Price: below HK$10,000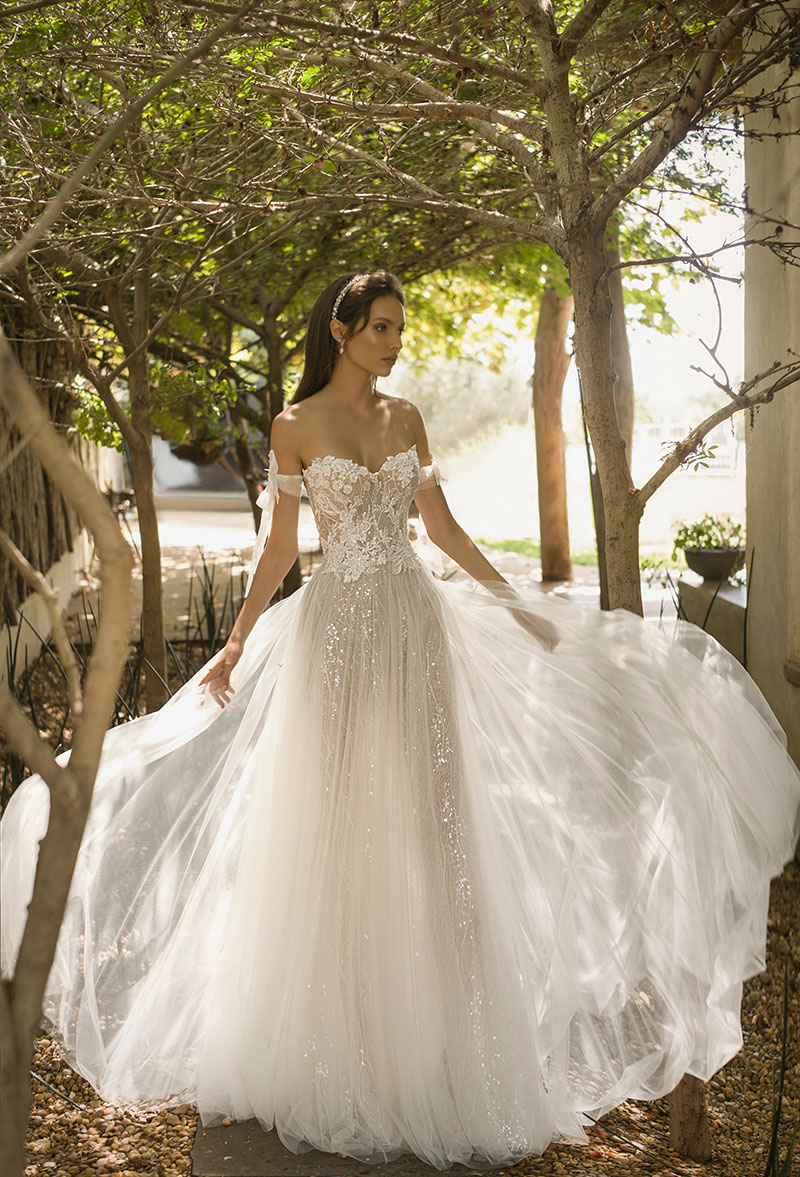 Kitty Chen Couture, a label from the USA, is known for gowns with a signature sexy fit and intricate styles. This particular dress comes with embellished straps and a sparkling, lacy back. It also has a court-length train with intricate lace appliqué. This line is particularly popular for brides who love to highlight their curves.
Kitty Chen Couture collection
Rental Price: Below HK$10,000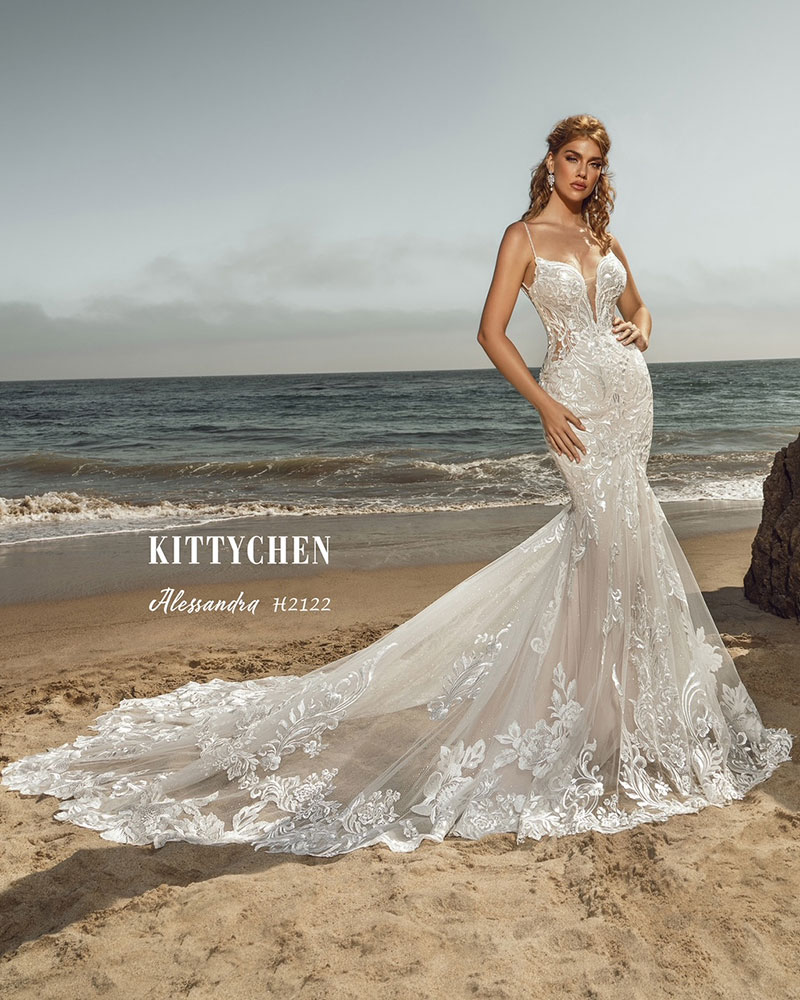 But of all their labels, Jolie Bridal by Berta from Israel, is one of the most famous among Hong Kong brides. Who are we to disagree when this label has stunning creations, like this one? Any person will fall for this sparkling sheer wedding dress complete with a corset top and off-shoulder design.
Jolie Bridal by Berta collection
Rental Price: Below HK$10,000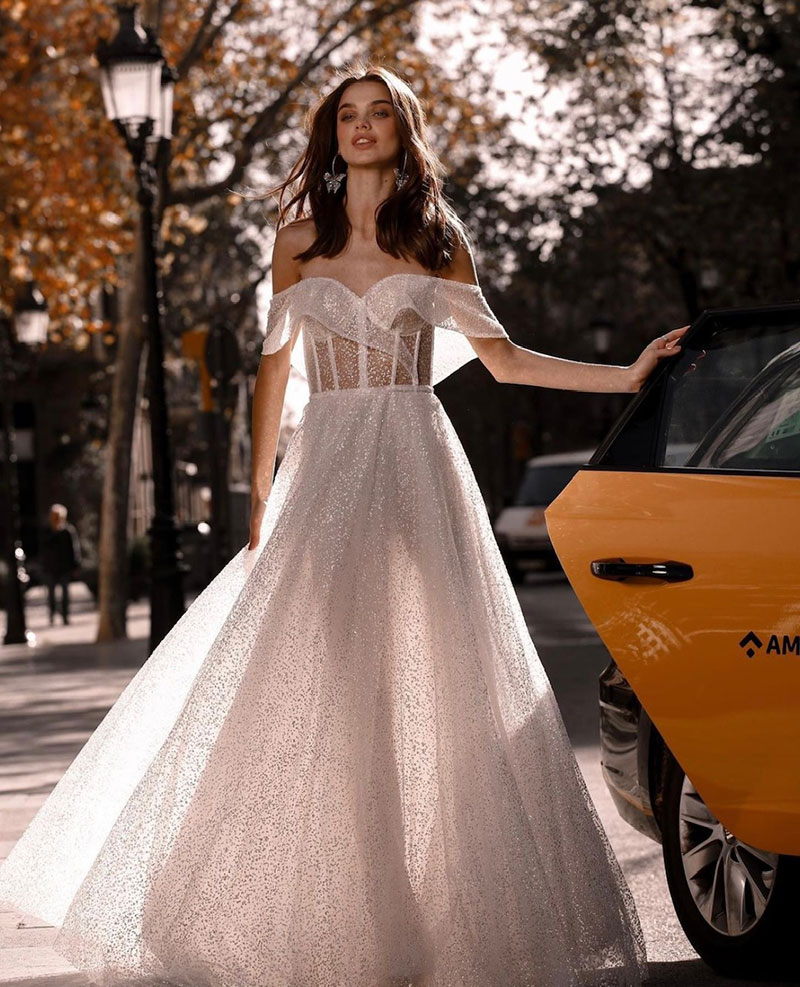 Tickled Pink Bridal Closet delivers the latest bridal designs with fine details to Hong Kong brides. Moreover, the shop aims to give their clients a taste of romance on their wedding day. Their gown selections hail from all over the world–Italy, New York, Israel–and they carry unique dresses from the likes of Mistrelli, Nicole Spose, Ann Mariée, Dovita, Enzoani, Pollardi and more.
A Dovita dress worth trying on is this seductive ballgown with an S-shaped corset and luminous skirt. Made of silk tulle entirely covered with sparkles, this dress is highlighted by a detachable hand-embroidered Swarovski belt and shoulder straps. This is a dress made to impress at the welcoming or march-in moment of a wedding, and the sexy style of the design would be perfectly suited from a causal wedding party all the way to a scaled banquet.
Magic gown from Dovita Couture 2022 (Exclusive at Tickled Pink Bridal Closet)
Rental Price: Below HK$10,000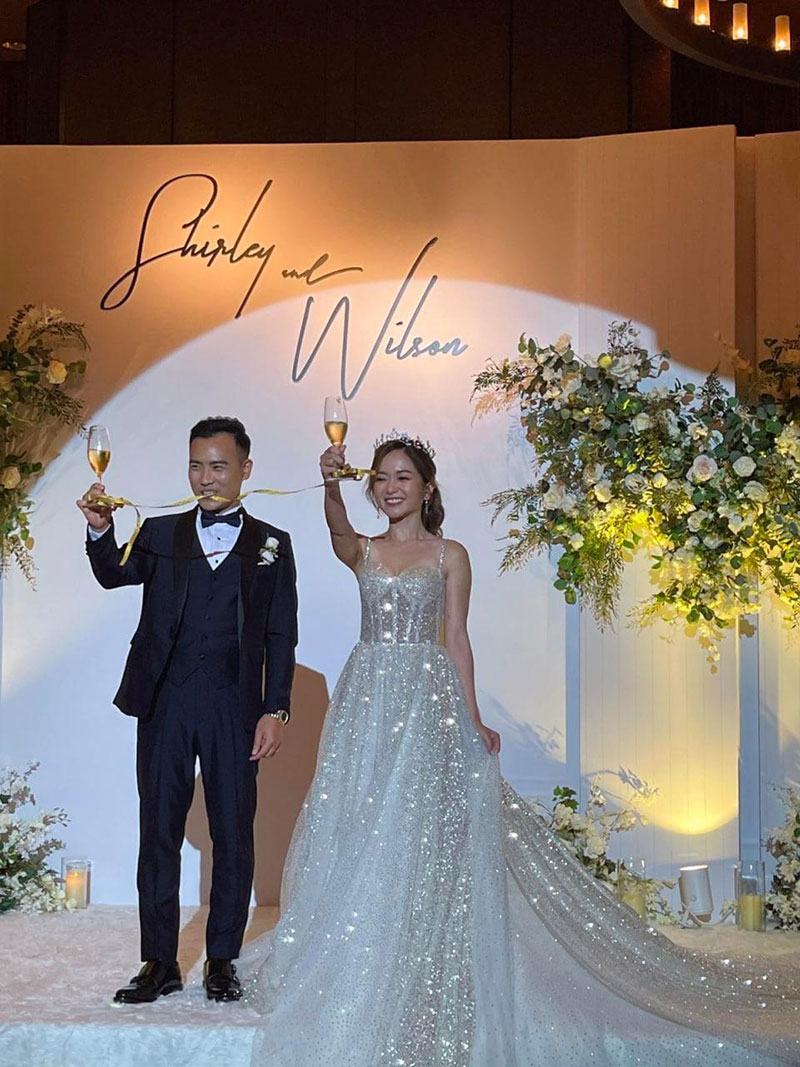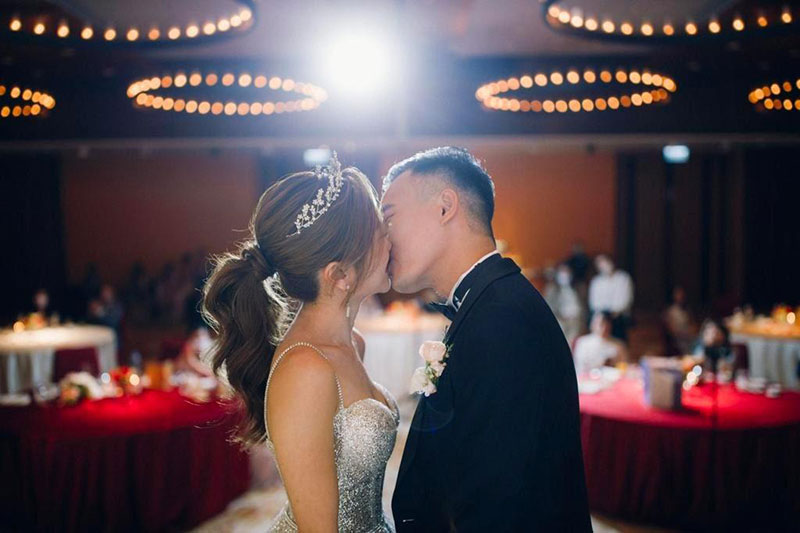 Anne Mariée 2022 collection is elegant, feminine and bold. Take a closer look at this dress which is a mix of shimmery beaded soft tulle with the right amount of floral appliqué and lace. The fitted mermaid silhouette, made of soft tulle and guipure, is adorned with stunning embroidery. This pairing will flatter and enhance the most beautiful body curves. Finally, the detachable decorative sleeves and open back with crystal buttons, add a sense of femininity and sexiness.
Aneis gown from Anne Mariée 2022 (Exclusive at Tickled Pink Bridal Closet)
Rental Price: Below HK$10,000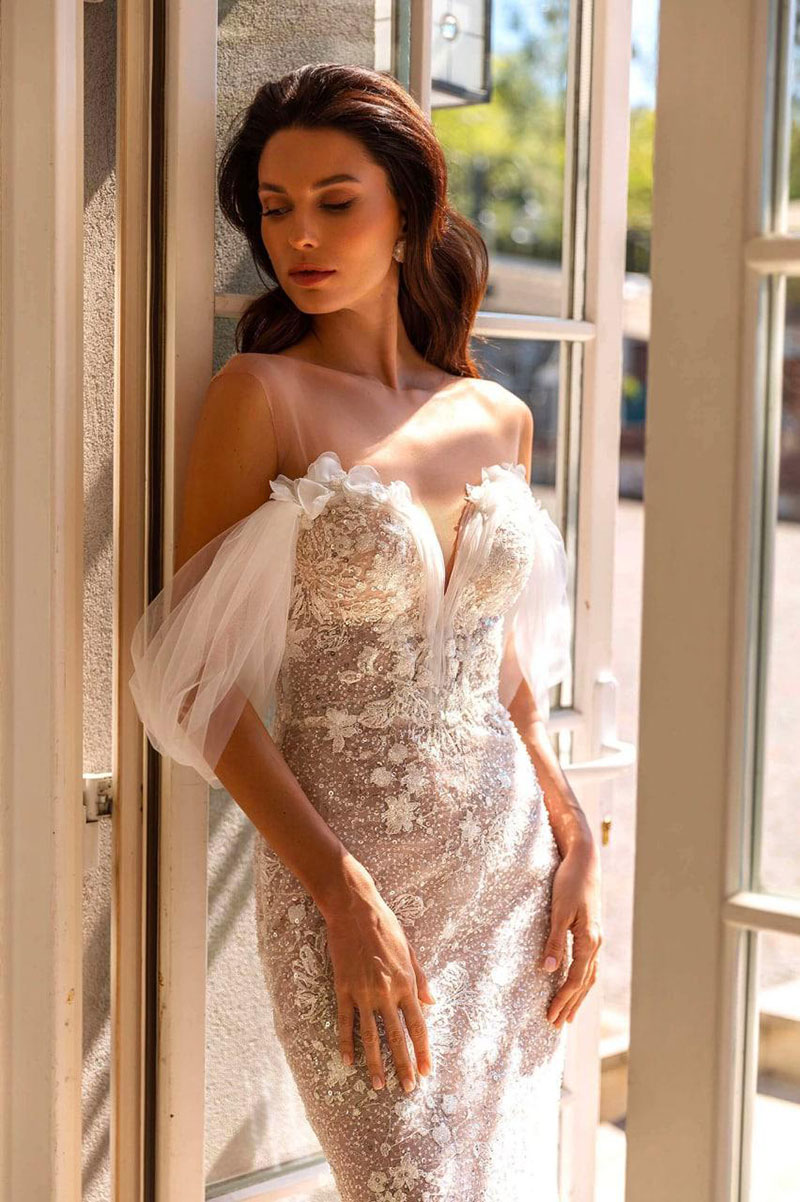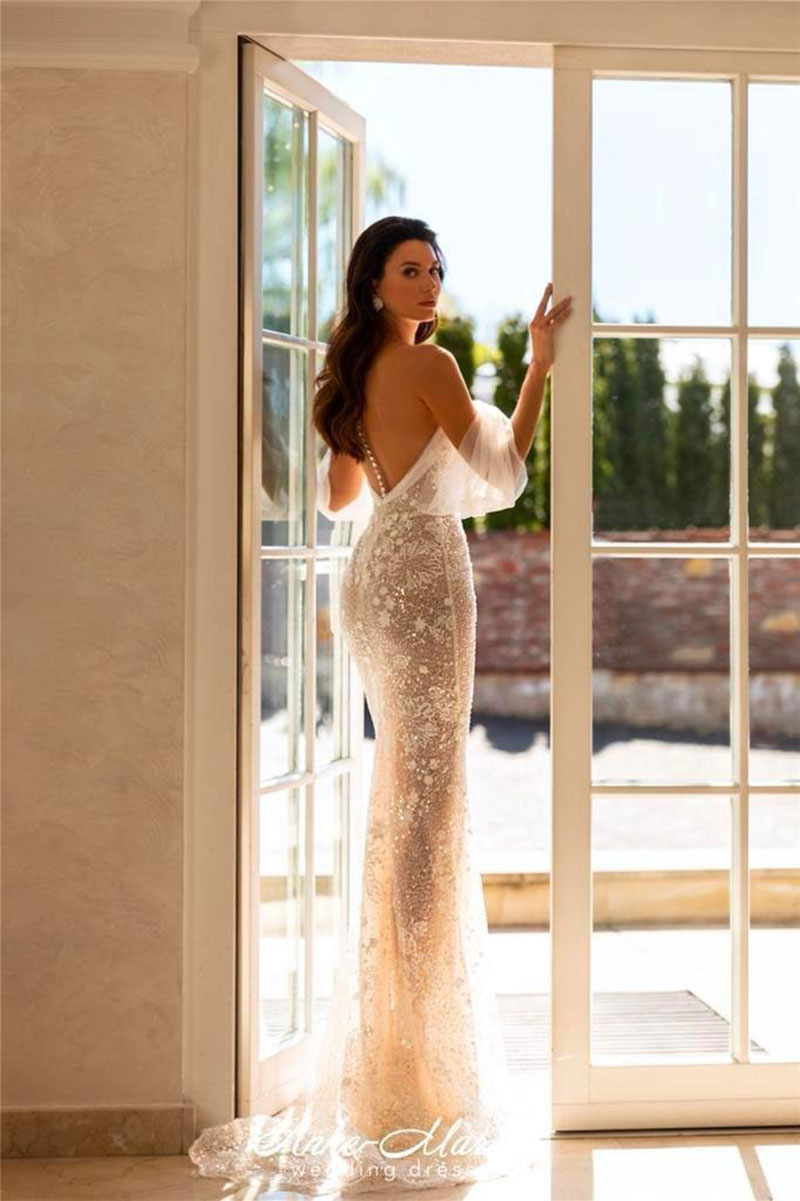 What if you're the type of bride who likes to keep things simple? This Ronda dress is every minimalist bride's dream come true. Dreamy and striking, this sleek mermaid gown presents the perfect balance of romance and class. It's constructed with stretch georgette, which is very flattering for any figure and comes with detachable off-the-shoulder, draped fitted sleeves. But the highlight would have to be the subtle dimensional laser-cut floral embroidered lace which gracefully cascades down from the illusion corset-style back into the sleek stretch georgette skirt. There is nothing more arresting than a statement back! Lastly, the Enzoani signature scalloped cutout train is the cherry on top!
Ronda gown from Enzoani 2022 (Exclusive at Tickled Pink Bridal Closet)
Rental Price: Below HK$10,000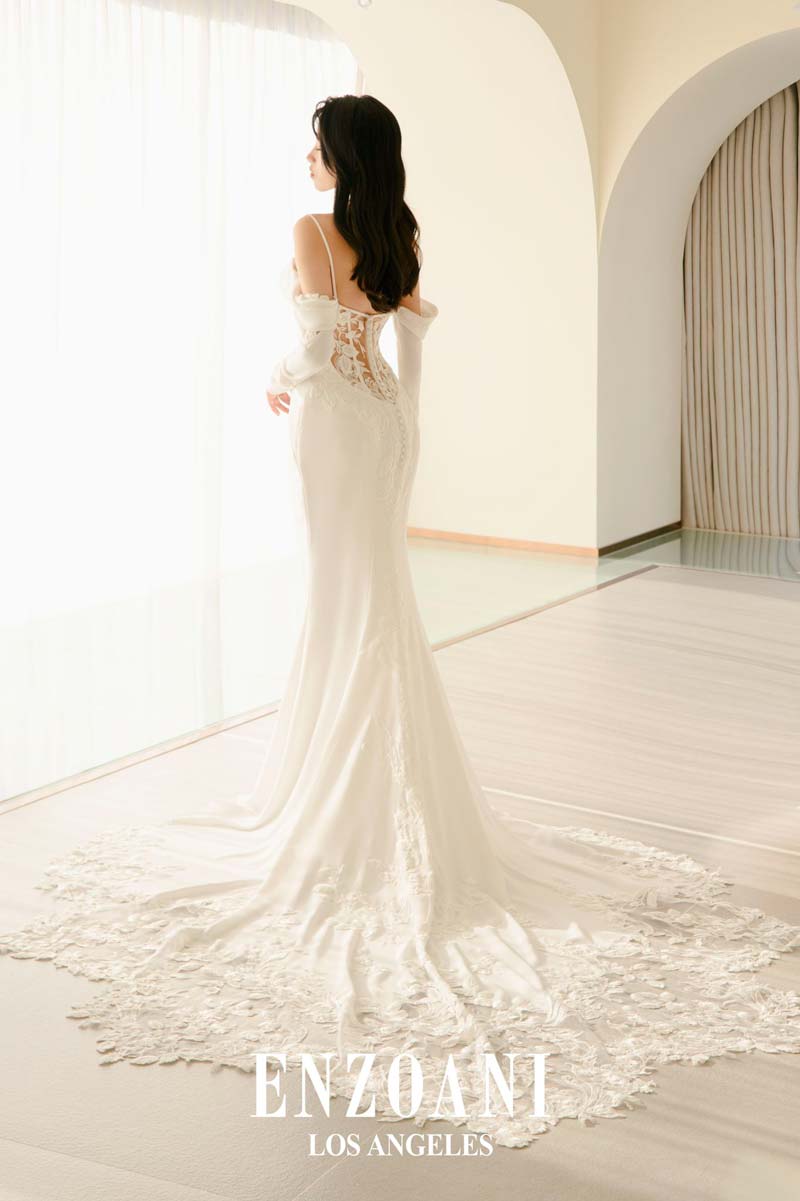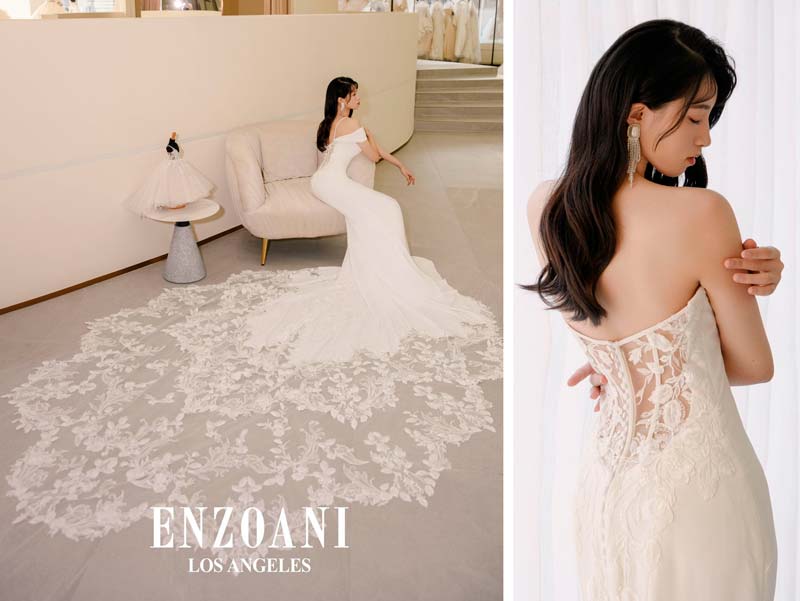 Le Soleil Bridal Closet is no novice in the bridal scene. Known for bringing luxe and elegant bridal gowns that many brides yearn to wear, there's always something unique and effortlessly beautiful available at their store. This season, they have the latest drops from the Israeli label, Stav Ohana, all of which are stunning and lavish pieces well worth your while.
First up, this off-shoulder gown that is clad with dreamy appliqué and embroidery is oozing with romance. It's not everyday that you get to walk down the aisle, why not go all the way with something as spellbinding as this?
Stav Ohana collection
Rental Price: Starting HK$6,500
At the same time, the collection also has something dazzling for brides who love glittery and glamorous looks. This low V-cut dress is a semi-sheer stunner thanks to all the sparkling sequins all over. Wearing this gown all day–from day to night–will be an enchanting experience for all those who lay eyes on you.
Stav Ohana collection
Rental Price: Starting HK$6,500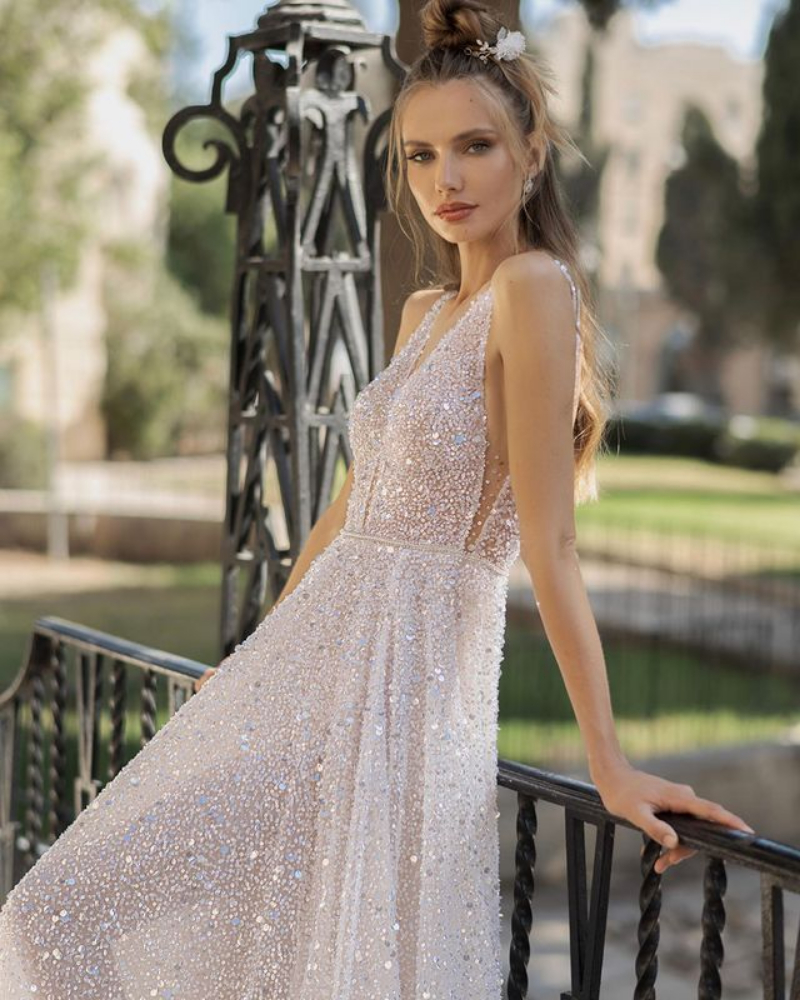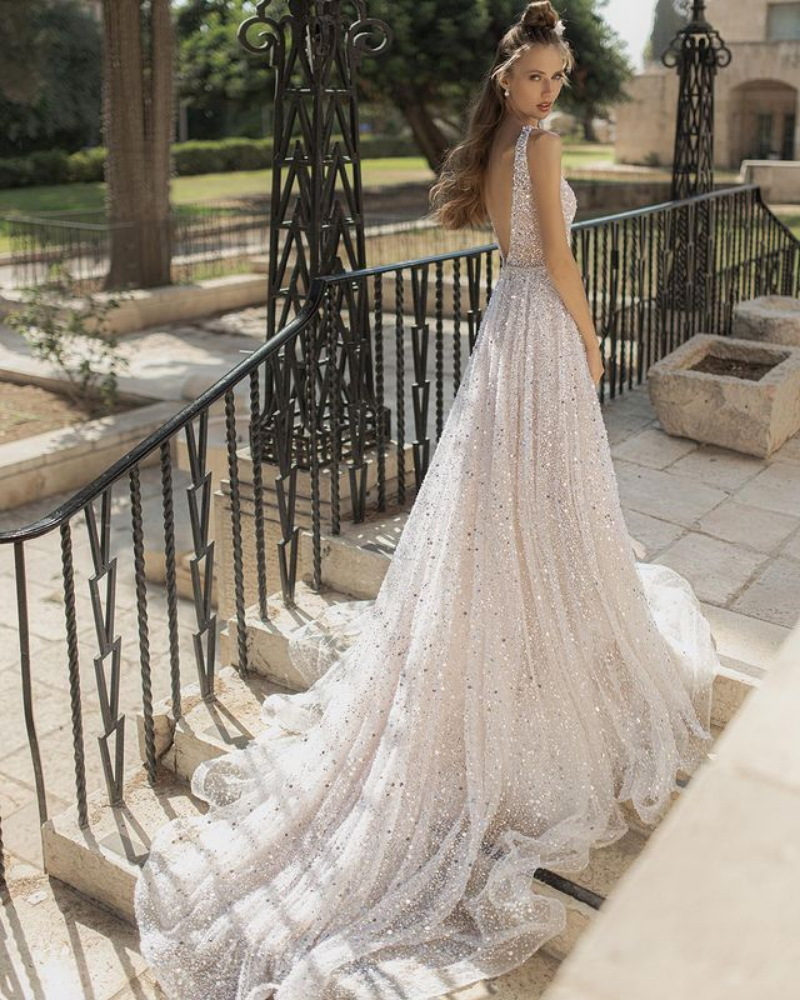 Here's a final teaser which features a figure-hugging corset top and mermaid skirt. It's no less elaborate because taking a closer look reveals an intricate pattern all over the fabric. Furthermore, the gown's subtle sheen reflects light, making the bearer of this gown illuminate from head to toe. Let's also not overlook the mini train that will complete the whole look altogether.
Stav Ohana collection
Rental Price: Starting HK$6,500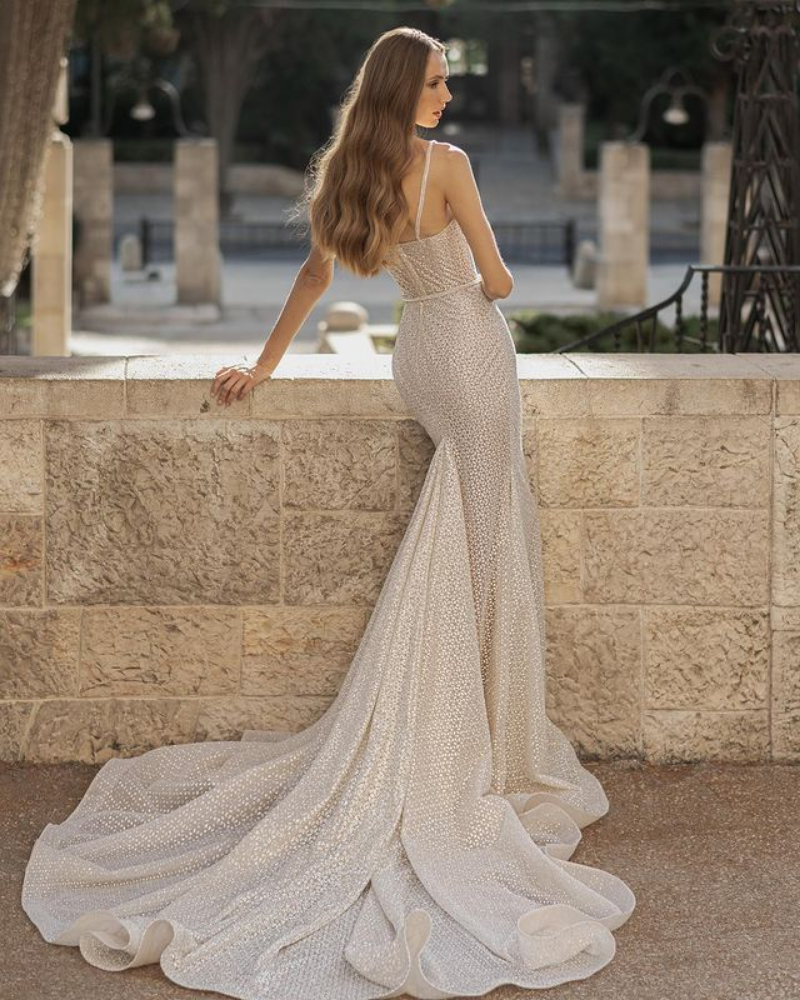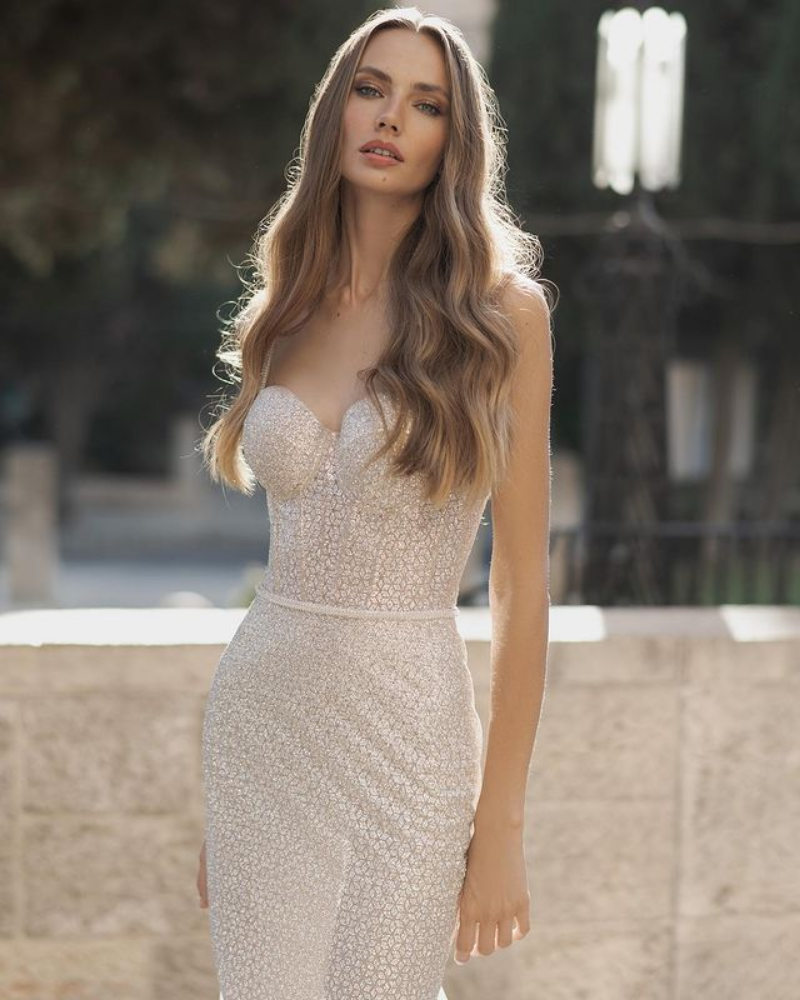 Of course, we can't leave you with just dresses. To complete your look with a rental designer dress, we picked out some essential pieces from Lovebird Diamond. When you already have an elaborate dress on, the finish touch is simple and classic jewellery. Complement your wedding day look now with any one of these.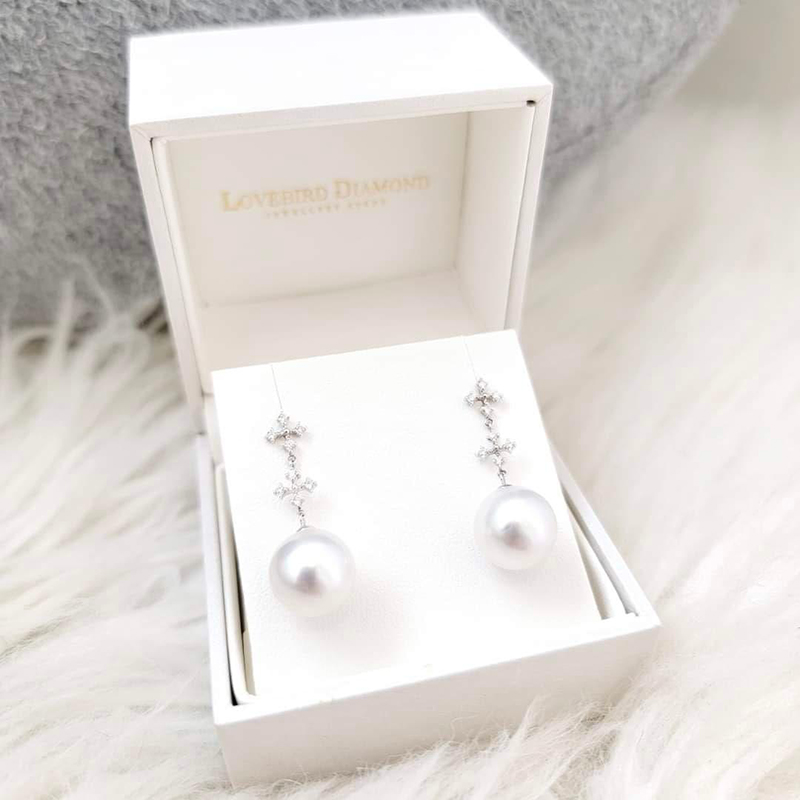 Sweet and simple, drop earrings with bold pearls works well with gowns that already have elaborate necklines.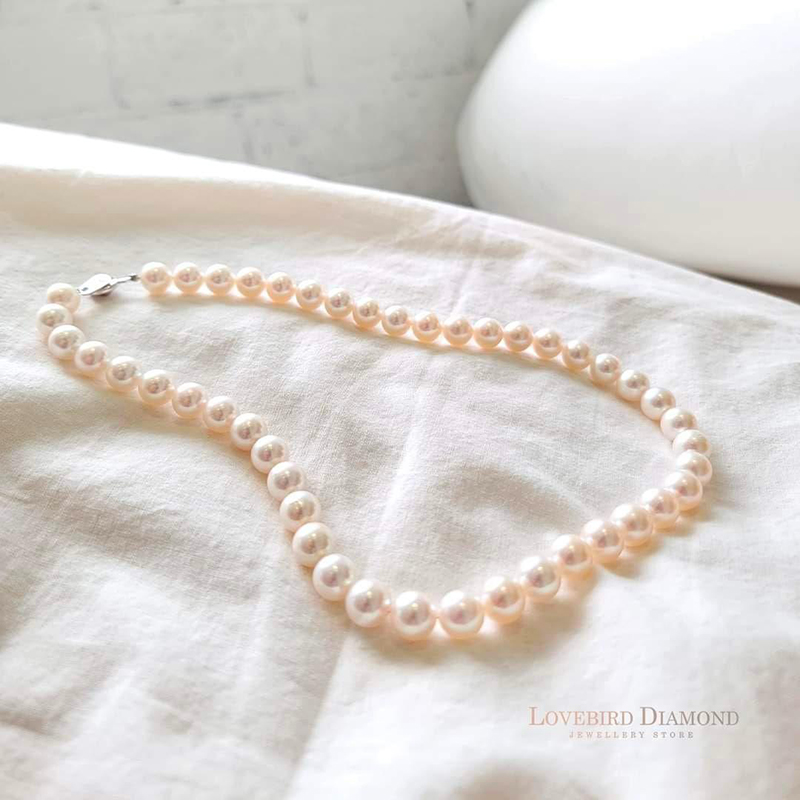 Now if you've chosen an off-shoulder dress or a dress with deep neckline that bares your collar bones, this pearl necklace will best complement the look.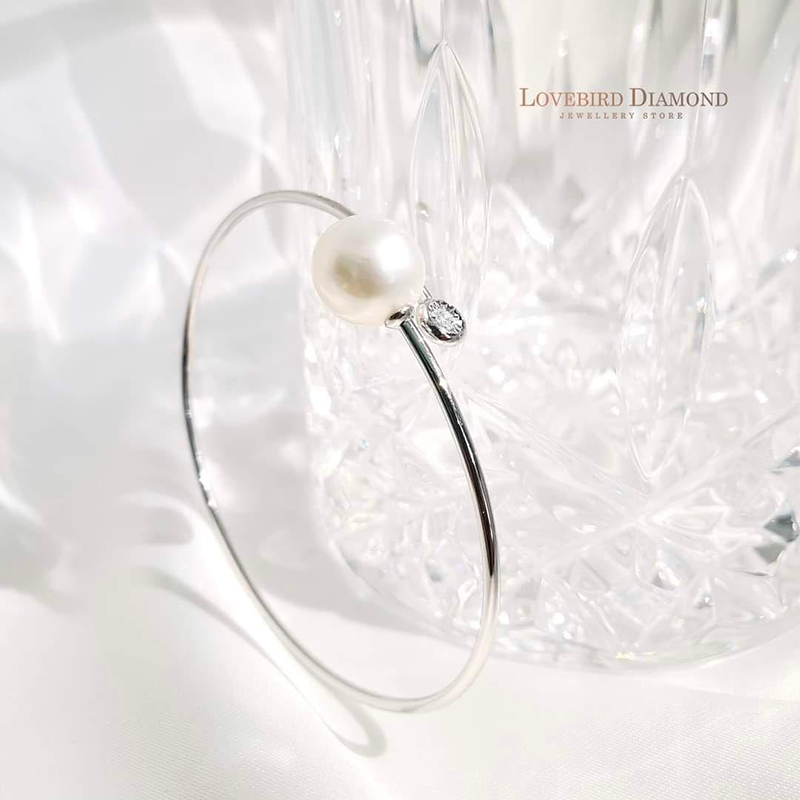 Lastly, a simple bracelet is more than enough, especially if your dress is glamorous, glittery and the like. This classic accessory will finish off your look perfectly.
You might also want to read this article that details what you need to know if you plan to rent a wedding gown.
What You Need to Know if You're Planning to Rent Your Wedding Gown