Aside from the wedding gown itself, the qun gua is an important garment for the wedding. And like the bride's wedding gown look, her whole ensemble while wearing this highly esteemed traditional garment is just as important. To complete your look in the qun gua, you need a perfect red bouquet to go with it! We collaborated with Hong Kong florists to come up with a roundup of beautiful red bouquets that will suit your traditional look. Read on to see them and find the one for just for you!
(1) The Classic Round-Shaped Bouquet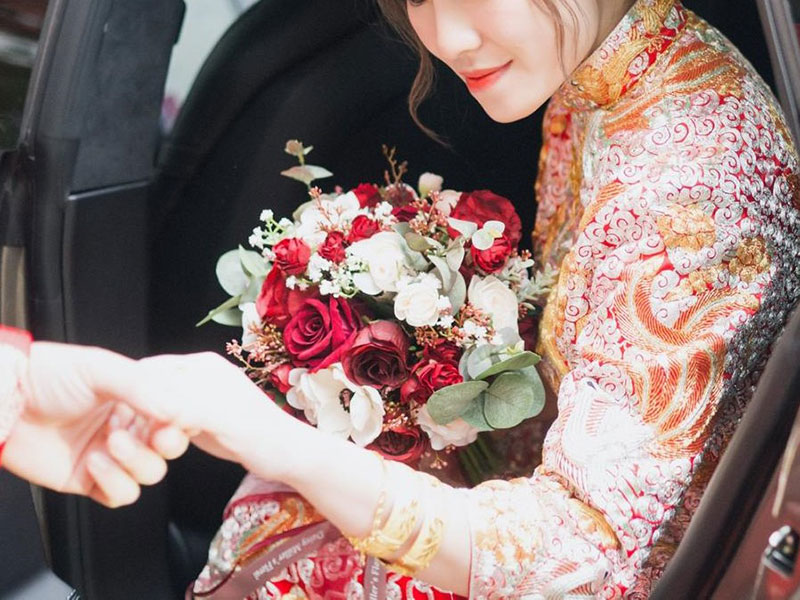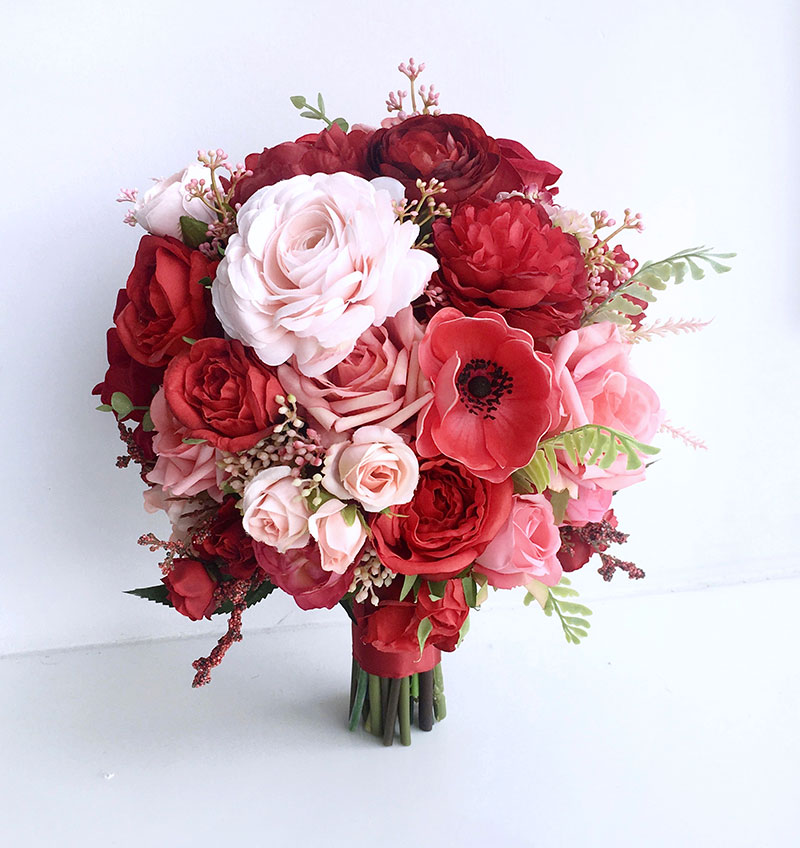 Aside from the fact that the color red matches a bride's gua, red is also considered a lucky color. Therefore, it's very common to for brides to request for a red bouquet or at least one with a combination of colors in that family–burgundy, pink, deep orange, etc. Daisy Miller's Floral also says that a common bouquet shape for brides is the round shape, like this one.
(2) The Loose and Natural-Looking Bouquet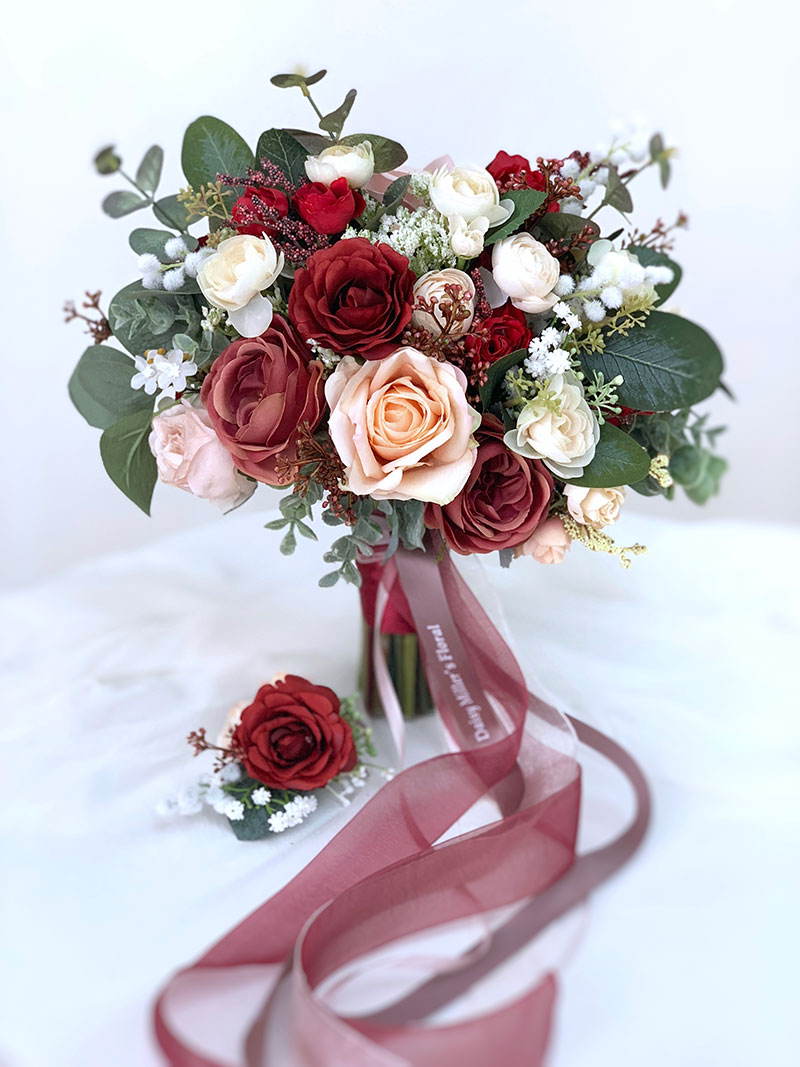 Another common shape is the loose natural shape. Here's an example from Daisy Miller's Floral. Compared to the more compact round shape, this style makes us of some depth and height which adds more dimension to the bouquet. A delicate ribbon was added as well for a more feminine look. But whatever shape you decided on, as a rule of thumb, Daisy Miller's Floral stresses that your bouquet should not be too big so that it does not overpower or take the focus off of your gua.
(3) The Elegant Silk Bouquet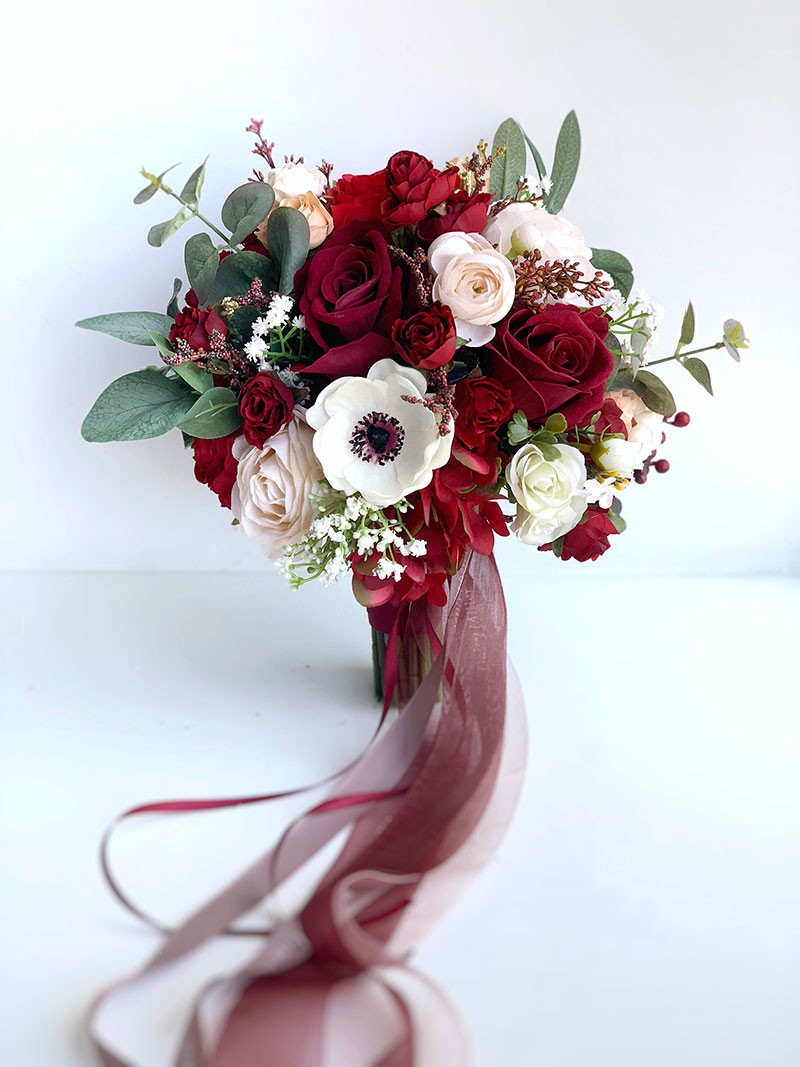 When choosing flowers for their bouquets, many Hong Kong brides opt for silk flowers, says Daisy Miller's Floral–the shop is well-versed in making silk flower bouquets to match qun guas. They specialize in high quality silk flowers that look as good as fresh flowers and come in affordable rates as low at HK$780. Here's another gorgeous handcrafted floral bouquet in the perfect palette–in red, white, and cream–to match your gua.
(4) The Effortless Handheld Nosegay
If you want a more effortless-looking bouquet, here's an example from Make Your Choicesss Floral Lab that makes use of red roses, winter sweet, scabiosa, and common cockscomb (雞冠花). The combination of flowers is extra charming and adds extra character too! Remember to talk to your florist to experiment with textures and colors to make your bouquet unique.
(5) The Vibrant Bouquet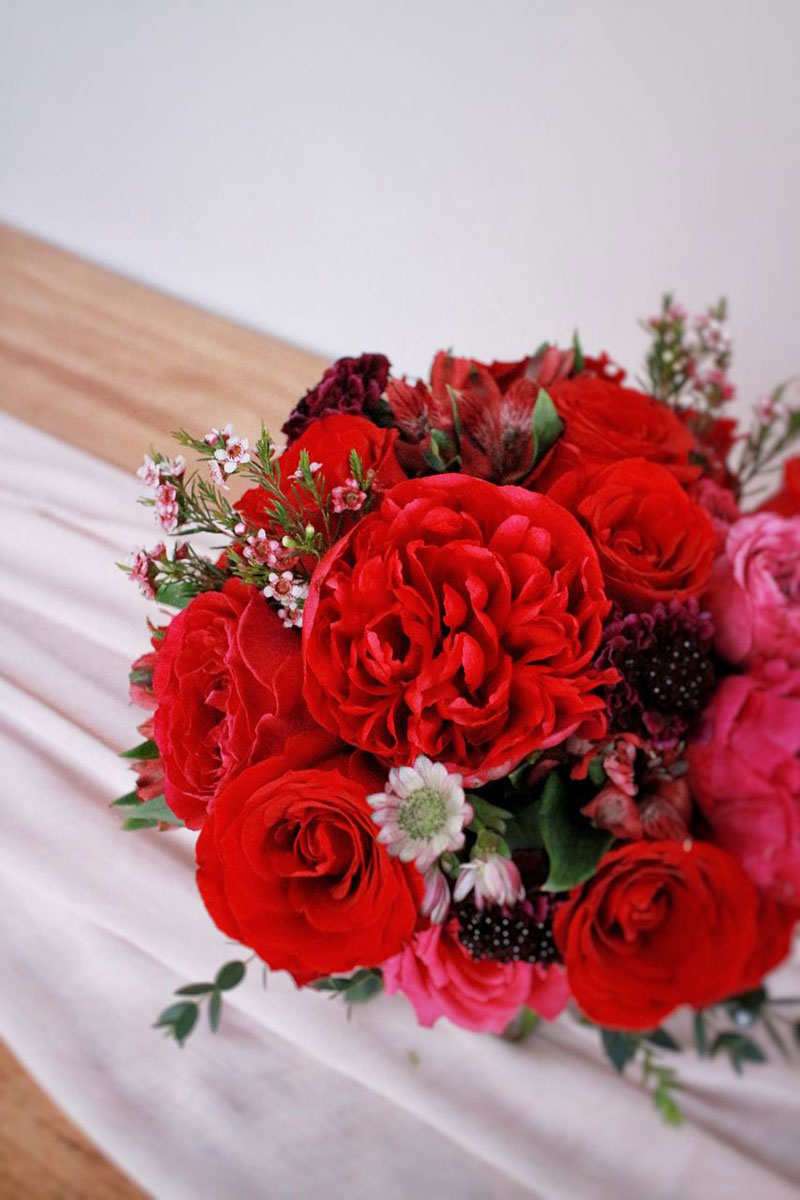 Finally, see this full bouquet in bright and joyful colors by Make Your Choicesss Floral Lab. Sharp pink is the secret to this bouquet as it adds more life to the dominantly red palette. A little accent color in the form of sharp pink works wonders to glam up any traditional look.
For more accessories and accents for your qun gua, we have an assortment of style recos here!