Good morning ladies! We're serving up a fresh batch of inspiration for your post-ceremony I do's. The guest book serves as a special keepsake for the couple to cherish forever. Since it's signed by those present on your significant day, why not infuse some personal touches that uniquely speak volumes about the kind of couple you are! Here are 5 creative and out-of-the-box ideas to tickle your imagination!
(1) The Puzzle Portrait
Not only will this make an adorable addition to a couple's living abode as a coffee table piece, but it will also serve as a reminder of the love that blossomed into marriage for the main duo. The little heart pieces signed by those present at the ceremony makes this puzzle even more meaningful, don't you think?
[Wedding: Earthy Garden Charm / Photo: Eyesland Photography]
(2) The Fingerprint Tree
For nature-loving newlyweds, why not have guests sign using stamp pads and their thumbprints on parchment printed tree barks? It's a quirky and charming idea that really adds personality. Talk about leaving a long lasting mark!
[Wedding: Lifelong Love / Photo: Sophia Kwan]
(3) Polaroid Album
There's nothing wrong with sticking to the more conventional guest book trend of a polaroid album. Make sure to have sufficient film on hand as some guests may want to take more than one photo. The great thing about these albums is that there's enough space for dedications too!
[Wedding: Jungle Serenade / Photo: Jonas Peterson]
(4) The Globe Guestbook
If you're the kind of duo with a fascinating love story spanning countries and continents, then why not celebrate your international love with a globe guest book? How awesome would it be for guests who also come from all corners of the world to sign the spot they mark home! (Definitely one of my personal favorites on this list.)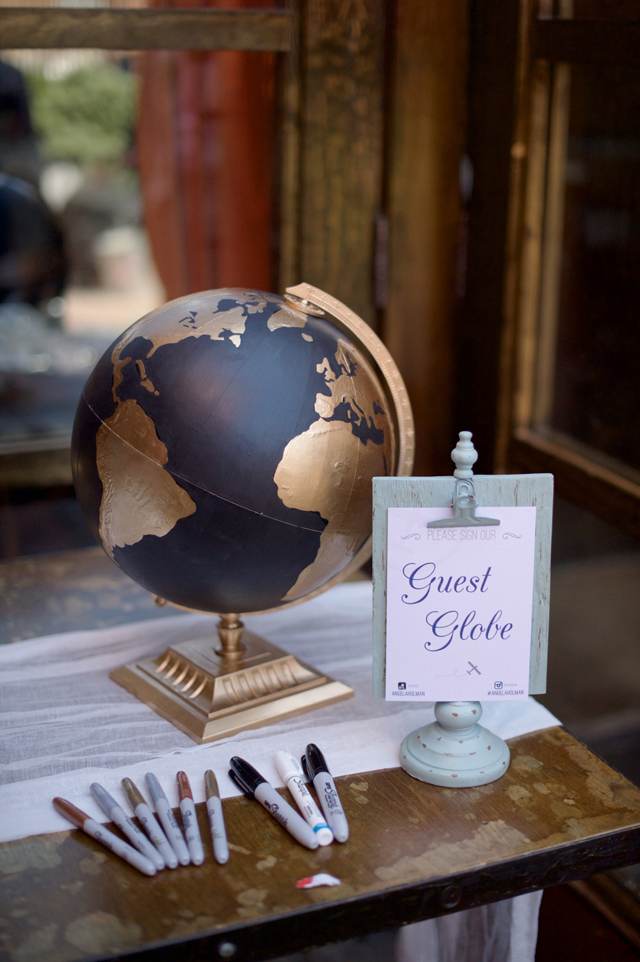 [Wedding: A Metropolitan Match / Photo: KC Professional Photography]
(5) The Jenga Tower
The couples who are fans of playing board games, video games, and the like will truly fancy this one-of-a-kind guestbook idea. Signing Jenga blocks with words of wisdom and love advice to stack up the start of a marriage is quite romantic when you think about it!
[Wedding: The Grandest Gesture / Photo: Nelwin Uy]
Well wasn't that fun? What I enjoy most about looking through guestbook ideas like these, is that I know how much thought brides and grooms put into adding their own special something into their ceremonies. With great guest books like these, I'm sure couples will cherish them for a lifetime. Not only is it a tribute to the newlyweds but also to the supportive family and friends who served as witnesses to the unfolding love stories! Definitely nothing short of magical!