It is obvious that red is a favorite color among Hong Kong couples, and there's not question as to why. Traditionally speaking, it's THE color for luck and good fortune! Since this color has been used over and over throughout the years, it's easy to fall into the cycle and lose inspiration. How do you create something different and new with this traditional color? Here's where we come in! Today, we've rounded up some red-themed wedding inspo ideas for you! Here are some tips on how you can turn it up with this color and make your red-themed wedding an event that's out of the ordinary.
Soften the look with a red ombre palette.
[Photo: Mary Ann Art & Photography]
Traditionally decorations for red Chinese banquets are very monochromatic, with the color red taking over almost everything–this can be quite overwhelming! So why not use red in more subtle ways, suggests Timeless Event Design? Here, instead of the usual backdrop, the couple's initials spotlight was shone on pale curtains instead, with lush floral arrangements on the stage, providing more depth visually. Also, rather than an all-red floral arrangement, mixing red with pink flowers will instantly give a more soft and romantic look.
Rock a red outfit for the Tea Ceremony and toasting.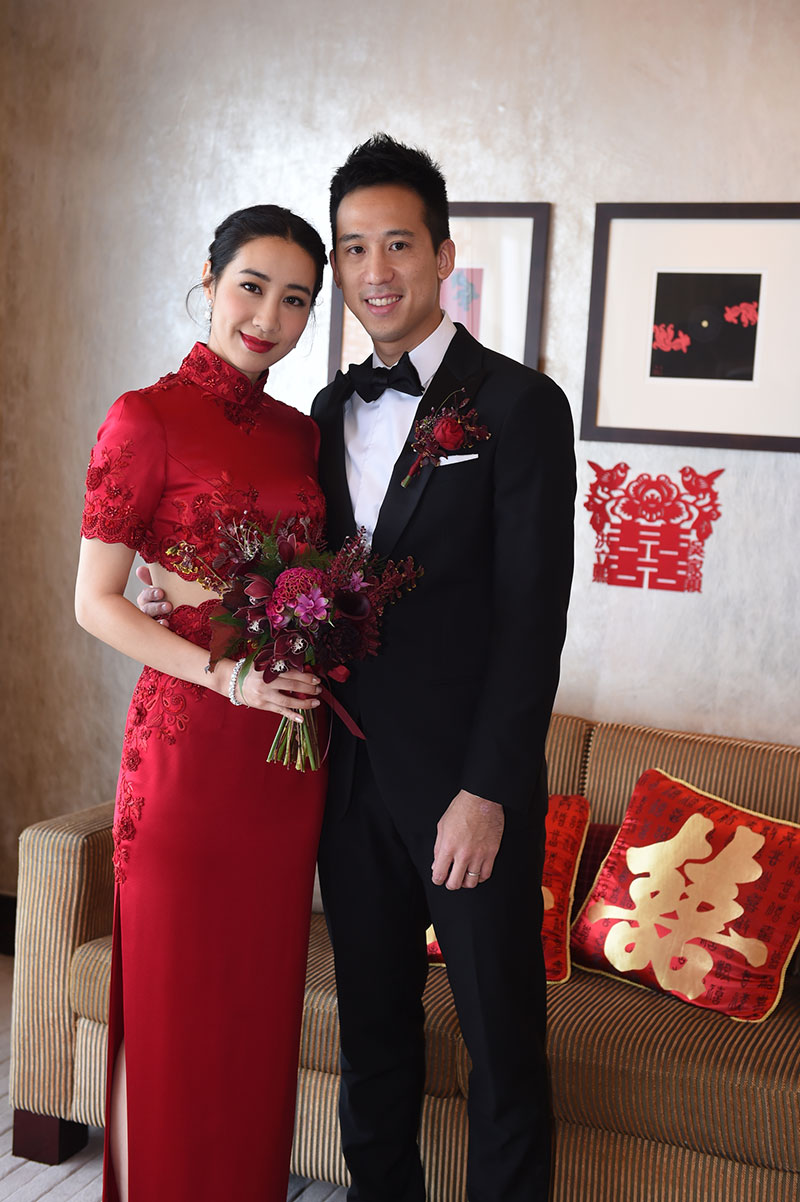 [Photo: Kary Ng]
For brides who do not wish to wear the traditional Qun Gua, a great alternative outfit is the Qi Pao or Cheongsam. Nowadays, there's no limit to the style given, says Timeless Event Design. It can be tailor-made according to the bride's preferences in order to suit her figure. Here is a stunning sample of a modern-style Qi Pao in a vibrant red hue. Yes, that's right, you can rock a red dress for the Chinese traditional ceremonies and banquet toast! Feel free to also make the look more current and modern–this is one way to play it up a little!
Use the color to add liveliness to your venue and surroundings.
[Photo: Alen Karupovic]
This bright pop of color momentarily adds liveliness, and depending on the hue, can set the tone to be anything from playful to very classy and sophisticated. Over the years, The Wedding Bliss Thailand has done some beautiful designs incorporating red, perfectly blending it with gorgeous Thai nature backdrops. For hotel banquets, take your cue from the ballroom look and take it from there! The trick is to experiment on how the color red and enhance your venue. You don't want it to clash with what's already there, so look at how you can accentuate and elevate existing features. This this in mind, we're sure your red-themed banquet will be a brilliant celebration!
Don't be afraid to mix and match.
[Photo: Wedding Photographer Phuket]
Let's say you also love other colors, but you really need to keep red in your wedding for tradition's sake. Don't be afraid to mix and match. You will be surprised with all the possibilities with the color red! In this wedding, styled by The Wedding Bliss Thailand, the color blue was paired with a deep crimson red. And guess what? It looked perfect with the stunning sea as the backdrop!
Let some lighting enhance the mood.
[Photo: Alen Karupovic]
Here's a little trick that's often overlooked: make use of lighting to enhance the mood. Red is a very romantic hue, especially when paired with dreamy lighting. In this wedding designed by The Wedding Bliss Thailand, candles and hanging lights made the red and blush themed wedding utterly romantic!
So, brides-to-be, when planning your red-themed wedding, don't forget to go beyond the norm and take keep these tips in mind!