Let's face it, having a tight budget to plan a wedding with is no easy feat. In fact, it's extra challenging. We've already highlighted several ways to cut on wedding expenses, but if you're still struggling, here are 5 things you can SKIP to drive down costs further.
(1) Skip the expensive dress or rent one instead.
Your wedding gown is one of the high price items in your wedding. So if you're working with a very tight budget, consider letting go of an expensive dress and working with a more reasonably priced one instead. There are many ways to make your dress look like a million bucks without actually spending a lot. You just need to be creative ans resourceful. You can also consider renting your dream dress instead. This second option allows you to get that designer dress, at a more affordable price.
[From: The Beautiful Yellow Color Palette Added Flair to This Country Club Wedding / Photo: zOO Wedding]
(2) Skip the outfit change.
Having many dresses will cost you, no doubt, so why not stick to just one dress for the wedding and reception? Or try a convertible dress, for a change. This simple trick will allow you to create a second look without having to buy a completely different second dress.
[From: 3 Ways to Convert Your Dress for an Instant Second Look / Photo: Oscar de la Renta]
(3) Skip peak season.
Venues usually charge more during peak season. Consider a date during the lean season, rates are lower and suppliers are also less busy–you save money and have their full attention.
[From: The Beautiful Flowers That Filled Peak Lookout Made This Wedding Extra Elegant / Photo: Daniel Tam]
(4) Skip the lavish centerpieces.
Pass on the lavish centerpieces if you have to save on costs. There are many alternatives out there that help you achieve stunning results without breaking the bank. You can ask your bridesmaids to help you make D.I.Y. centerpieces. You can also consult your florist on ways save on floral decoration costs early on. Finally, consider using candles for your decorations, they're inexpensive and elegant–the perfect combination there is!
[From: A Bold Burgundy Wedding at Beas River Country Club / Photo: Martin Aesthetics]
(5) Skip the fancy cake.
If you cut on some layers of that towering cake, you will save some bucks. Did you know single layer cakes are just as beautiful too? If you still want something on the fancy side, try some cake alternatives like a croquembouche, or a cheese cake (click here for more ideas). Or, do consider a dessert bar instead!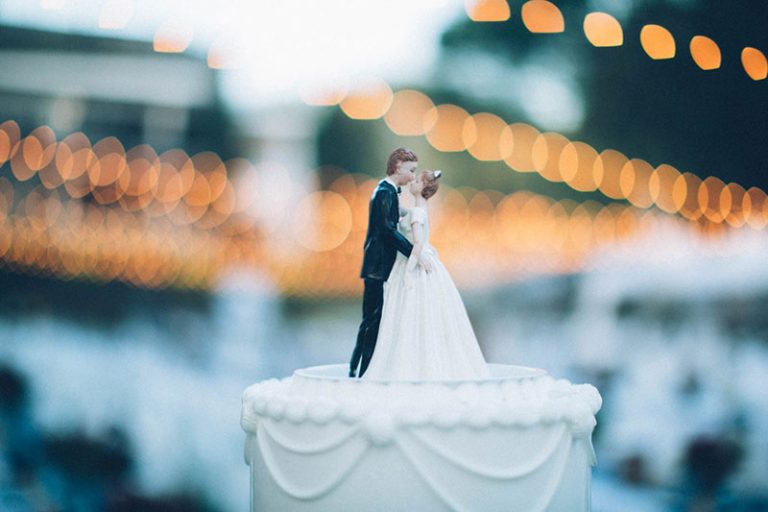 [From: A Bold Burgundy Wedding at Beas River Country Club / Photo: Martin Aesthetics]