Hi, brides! We're almost two months through 2022 and we know you're probably dying to know what's the latest in bridal fashion this year. Not to worry because our partners have given us all the juicy details about what's in and trendy this 2022. So if you haven't decided on what to wear for your special day just yet, you're reading this just in time. Scroll on now to see what kind of gowns are hot, hot, hot! Not only that, you can shop for these and other similar wedding dresses from the Hong Kong bridal shops mentioned below.
(1) Silhouettes
Slimming Cuts
2022 is all about looking your best and feeling your best in your wedding dress. This trend includes making brides look ethereal and dainty. Hence, slimming cuts are absolutely popular tips To Be Wed. A classic piece that exemplifies this trend is this ultra floaty dress made of off-white tulle with hand-sewn leaf-shaped appliqués from Italy. Thanks to the draping along the neckline that extends into the skirt, the cut makes the silhouette visually slimmer.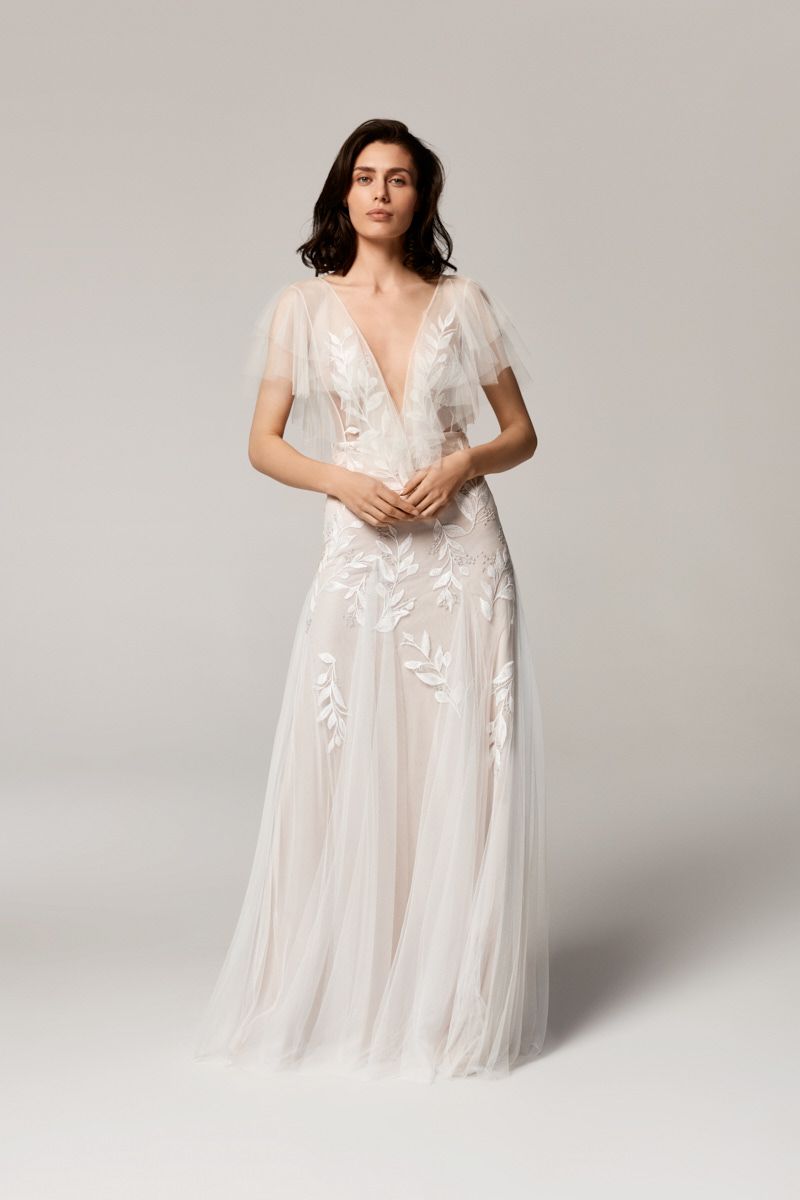 Deep V Necklines
Le Soleil Bridal Closet points out that this year is a great time for brides to try something new and maybe a bit daring. For instance, the deep V neckline is a styles that we're still seeing in 2022 and brides who want to show off more of their neckline can take a chance with this subtly sexy silhouette. Not to worry, many of these styles come with mesh cloth over the V cut so you're perfectly safe–no pee-a-boo moment!
Ball Gowns
Sennet Frères claims that the ball gown, a style that's fitted at the bodice and flares out at the waist, is a luxurious look that is here to stay in 2022. It has the most voluminous skirt out of all the wedding dress silhouettes and hence is a dramatic look that brides love time and time again.
A-Line Dresses
The A-line silhouette is a less dramatic choice than ball gown that still emphasizes the waist line. Mariee Bridal Couture shares that this look, along with an off-shoulder or spaghetti strap top provides a more polished look. This year, the A-line silhouette is still a hot style with new details and design styles worth watching out for.
Square Necklines
"The square neckline is a modern take on the traditional neckline," explains Tickled Pink Bridal Closet. "Because of the sharpness of the edges, it feels modern and it lends an air of glam, sleekness, and minimalism to any wedding ceremony." A dress's neckline is one of the most important components to an ensemble, though oftentimes, within bridal fashion, it's overlooked by brides. Thankfully, this season's collections bring the attention back to this design detail. Square necklines made a huge comeback on the runway.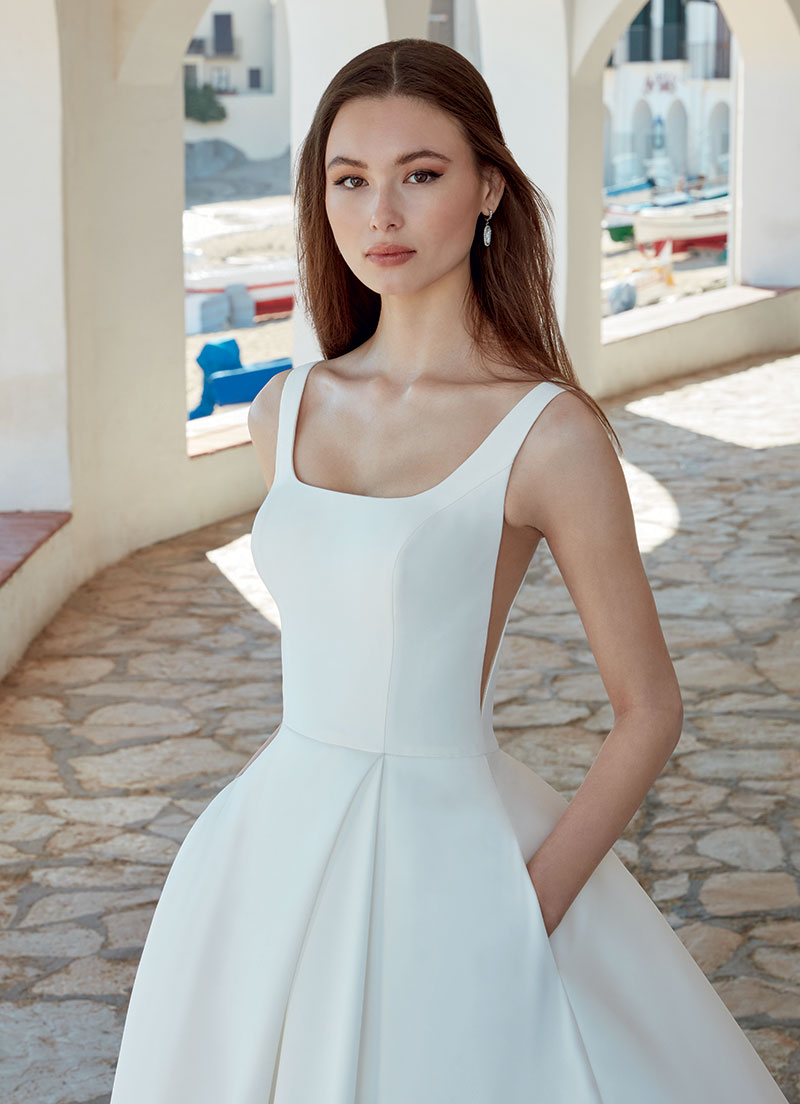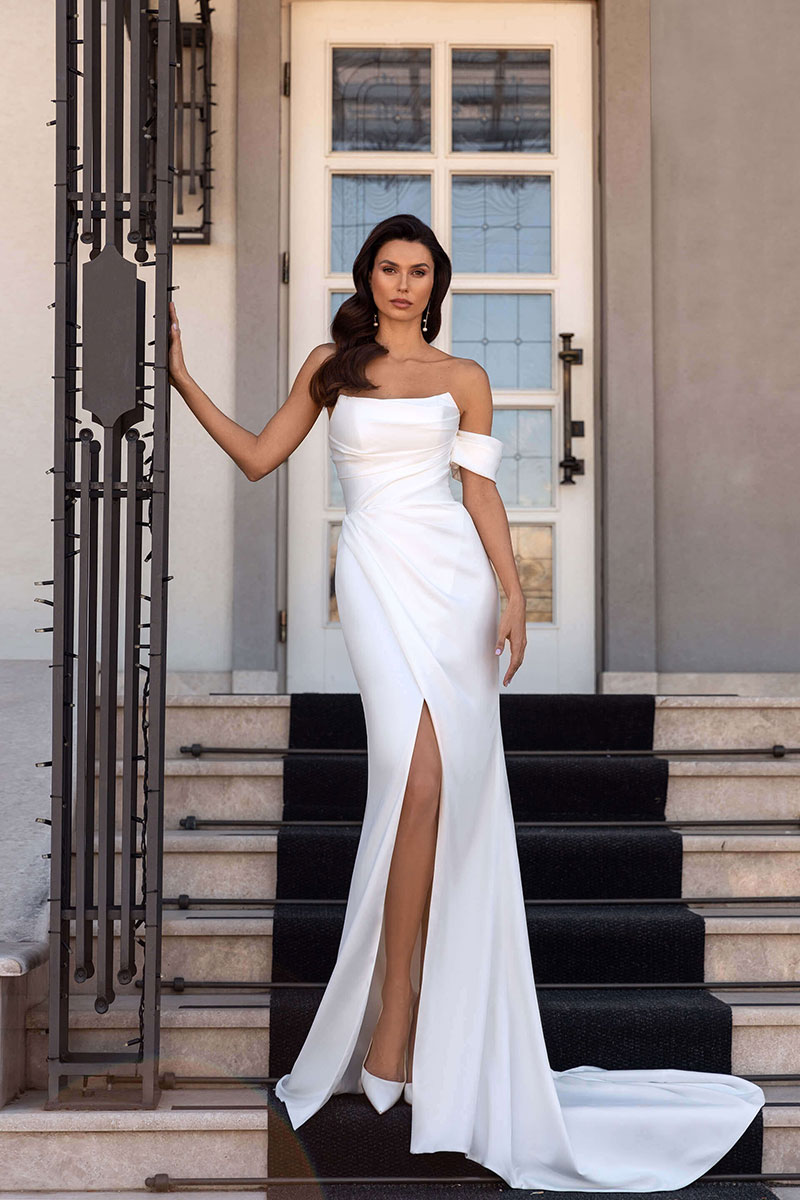 Off-Shoulder Necklines
According to Sennet Frères, off-shoulder necklines is a must-have this 2022 for brides who want to show off the décolletage and collar bones. With the straps or sleeves starting below the shoulders this cut offers some coverage of the arms, too while perfecting the feminine and elegant bridal look.
Mermaid Gowns
Last but not he least, Gardenia Bridal tips that the mermaid gown is also a 2022 style staple for weddings. It's a most flattering silhouette for a woman's curves and 2022 is bringing us more designs that adopt this dress cut.
Voluminous Trains
Who loves a long wedding gown train? We sure do! If you do too, then this 2022 look is right up your alley. Le Soleil Bridal Closet shares that 2022 is a time for brides to enjoy stunning voluminous trains. This will surely be a scene-stealer on the aisle.
(2) Styles and Embellishments
Two-way Wedding Gown
Ever since bridal separates and two-way gowns hit the runway, brides have not stopped clamoring for this style. Why? It's the easy and more cost-efficient way to cop two wedding looks. Therefore, 2022 will give way to more two-way wedding gowns, claims Gardenia Bridal. Think detachable puffy sleeves, multiple strap options, romantic detachable skirt layers, and more!
Ruffles and Layered Tulle
Throughout the years, brides have been embracing volume in dresses with oversized ruffles and tiered tulle. 2022 is no different as these voluminous styles are on the rise. Oversized ruffles and skirts made of tiered tulle will both be common in 2022, giving wedding dresses a more dramatic look. Nothing says weddings quite like ruffles, and we couldn't be more excited to see this trend the majority of the Fall 2022 collections, stresses Tickled Pink Bridal Closet. From full voluminous skirts to ruffled hemlines and tiered tulle, this cascading style is quintessential for those who want to feel like the belle of their ball.
Puffy Sleeves
 To Be Wed shares that puffy sleeves are too glamorous to make an exit this 2022. Instead, more designers have revealed that this style is a gorgeous addition to any bridal ensemble. As an example, this gown features spectacular sleeves cuffed at the wrist beautifully combined with a simple crepon skirt with a side slit. The bodice is adorned with little embroidered appliqués, too. Overall, puffy sleeves are the cherry on top that you know will make all the difference.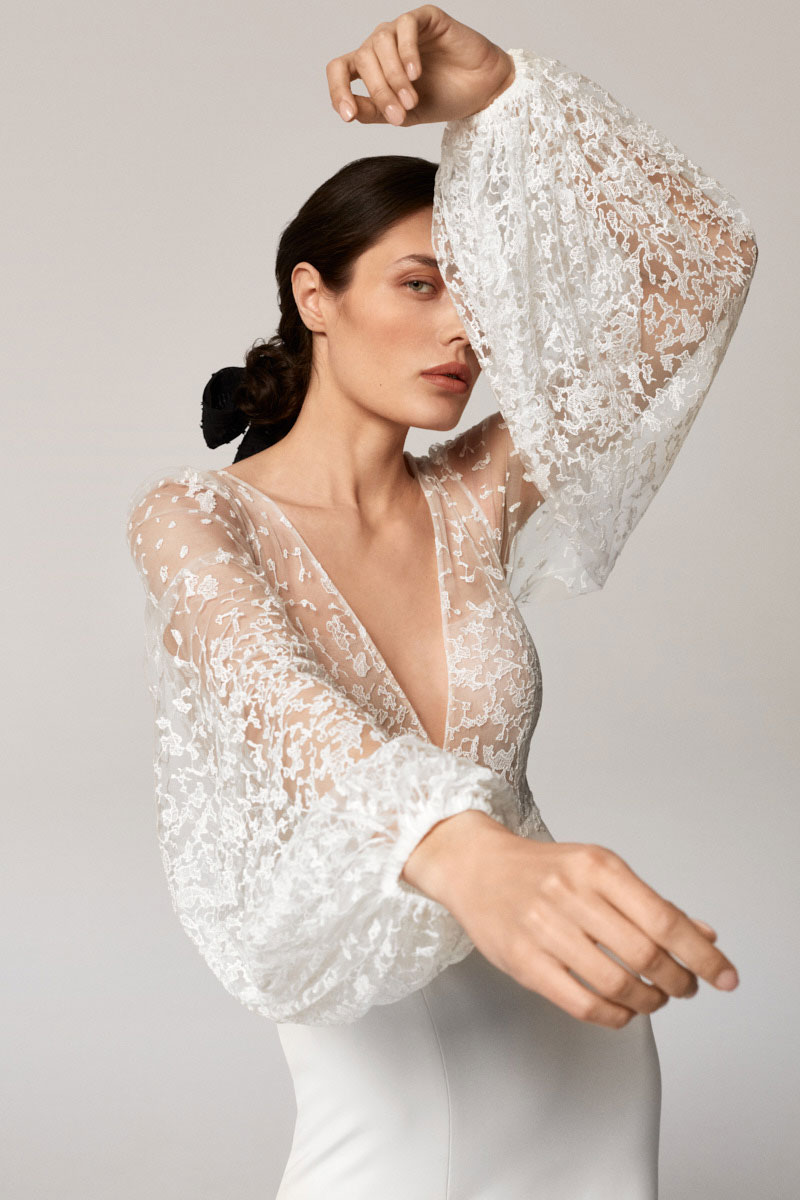 3D Flowers
May brides seek feminine looks. One of the most sought-after design elements that can achieve this look is 3D flowers. Sennet Frères shares that this detail is perfect for warm-weather weddings as floral wedding gowns mimic the blooms of the season. Moreover, they look beautiful against the backdrop of outdoor venues. These details are always eye catching and romantic. Thankfully, brides can take advantage of this hot style this 2022.
Ballet-Inspired Details
Shades of blush, grosgrain ribbons, and frothy tulle are nothing new in bridal. This year, get ready for an influx of ballet touches—from tutu-esque skirts to leotard-like necklines. Tickled Pink Bridal Closet also says that it didn't stop there: bows and ribbons galore, sheer details, and ballerina-pink palettes that were dreamy yet refined also popped up in various 2022 collections. The best ballet-inspired looks merge drama with dainty details, gossamer fabrics, and athletic shapes paired with layered ruffles and voluminous skirts. If you're after a theatrical element, this look is almost easy in all its grandeur; plus, it offers the movement that stiff silk and satin simply don't.
Big Bows
Yes, big bows are here to stay! But that's not all either. With convertible dresses becoming a staple in bridal fashion, you can expect the big bow trend to merge with this style. Le Soleil Bridal Closet shows us an example with this modern dress. You can appear on the aisle in a sleek-cut dress and then surprise everyone at the banquet with a beautiful bow at the back.
Minimalist with a Hint of Lace
 To Be Wed says 2022 will teach brides that sometimes, less is more! A minimalist dress with unique details is all you really need to shine on your wedding day. A dress made with a thin-strapped bodice and a straight neckline can look extra elegant when embellished with distinctive embroidery that extends from the back and into the insets on the sides, just like this one. What's more, the smooth crepon skirt features two spectacular gussets with more hand-sewn embroidery and appliqué. Did you ever imagine that subtle details would make so much of a difference?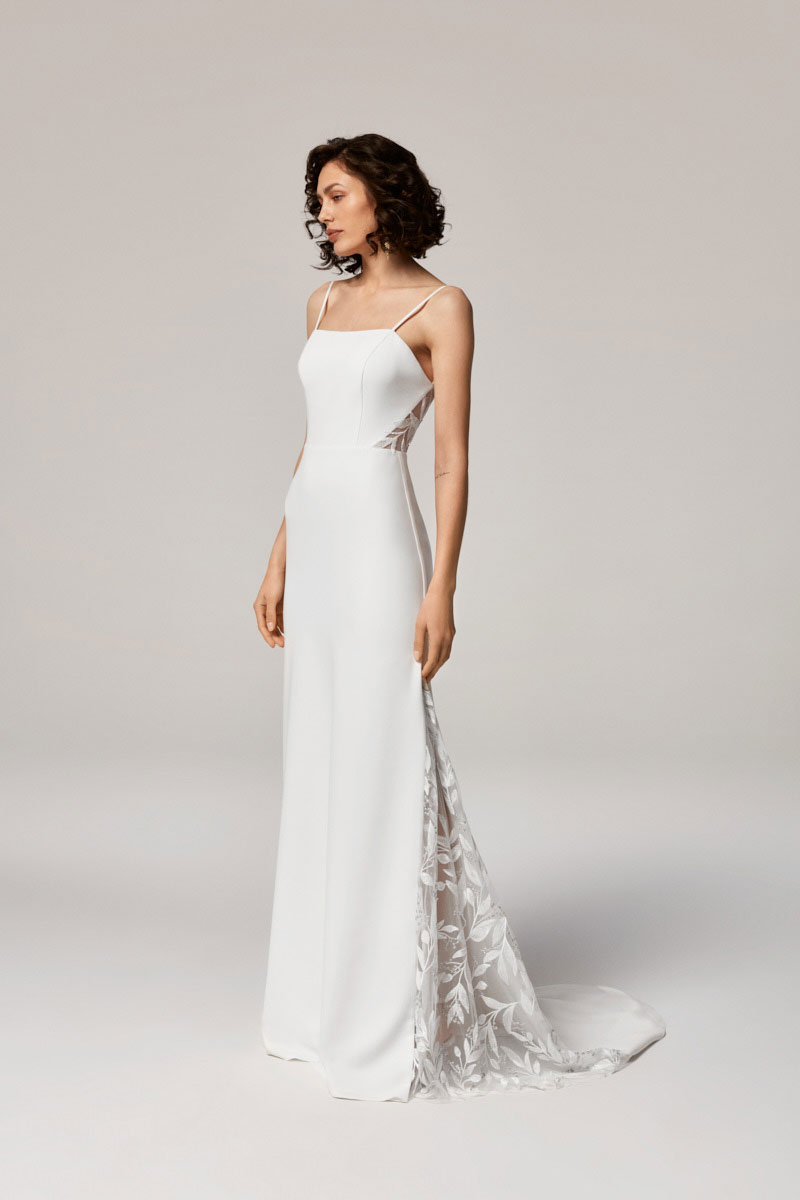 Corsets
You can also expect to see many brides wearing gowns that have exposed corset bodices, says Tickled Pink Bridal Closet. Exposed corsets are becoming more popular in the bridal world not only because they show off brides' figures, but also because they spotlight how a dress is made. These wedding dresses are so beautifully crafted, and being able to see the corset that holds it all together emphasizes the work that went into making it. In addition, visible corsetry is less sexy and more regal than ever before.
Ethereal Glam
This year, brides can look forward to looks that combine femininity with glam, says Le Soleil Bridal Closet. These looks include sheer and lightweight fabric and sequins or beading that shine and sparkle playfully with the light. Such a look will take make any bride the star of the celebration.
[Photo: Flowerspace Production / Makeup: Queenie W Art and Makeup / Others: @carmaneysantiago]
(3) Fabric
Satin
Gardenia Bridal claims that satin is a current trend that is following through for the rest of 2022. Indeed, this fabric is a favorite because it exudes grace and sophistication at the same time. It's also a look that moves beautifully along with you when light hits the shiny fabric.
Light Tulle
This year, the Israeli wedding dresses will continue to be popular, because they're lighter and sexy–they ultimately reveal the natural beauty of women. With this, light tulle is taking the spotlight in 2022, according to Mariee Bridal Couture. Airy looks, light yarn, short and delicate trailing tails made with tulle will be the best option for that feminine bridal glow.
Silk Crepe
Modern and minimal, yet utterly captivating,  To Be Wed shares that this dress surprises with its unusual design is made of silk crepe. Luckily, this year will be full of surprises as this style is makes recurring appearances on the runway. This particlar dress includes an asymmetric one-shoulder bodice, which is perfect for exposing the shoulders. Additonally, the skirt features a daring slit and is tied at the waist, offering a variety of styling options.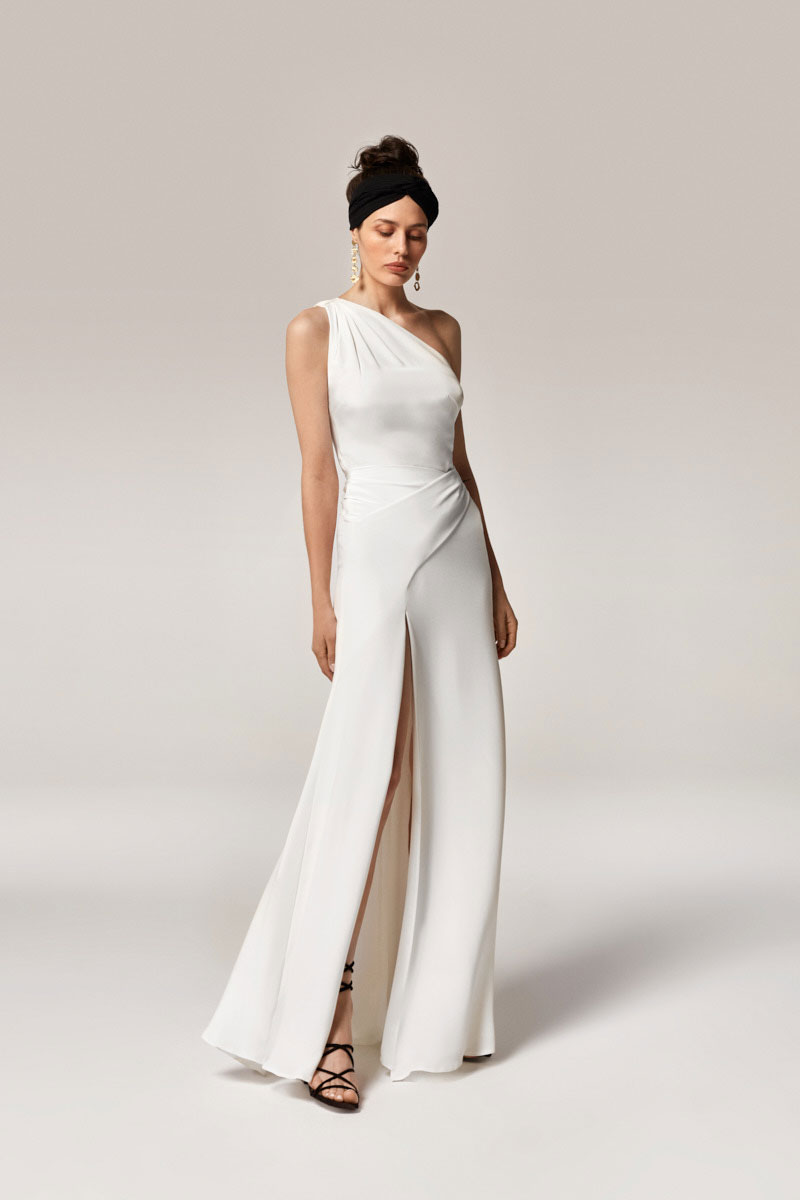 (4) Color
Soft Tones
Soft tones are here to stay, claims Sennet Frères. Aisle-appropriate colors, namely soft pastel yellow, coral, pistachio, dove, lavender, and sky blue are taking the scene. So if you're looking at an unconventional yet stylish look for the aisle, consider one of these soft tones instead of the traditional white dress.
Feminine Neutrals
Feminine neutrals are not going anywhere this 2022. Mariee Bridal Couture stresses that nude, ivory, and blush will continue to dominate the year, so keep these colors in mind while dress hunting.
Champagne and Sparkling Hues
Color is playing a bigger role in the wedding dress world. More and more brides have been embracing colorful dresses in recent years, and this break-the-rule trend will only get stronger in 2022, says Tickled Pink Bridal Closet.
"We've seen lots of beautiful pastels in terms of blues, blushes, and muted yellows," Other brides are mixing black and white fabric on their dresses, adding statement black bows or black lace detailing to their wedding gowns.
This trend is for the bride who can't be bothered with the status quo. Blush used to be a go to, followed by shades of ginger and champagne, but now, we're seeing cooler shades of pistachio, dove, lavender, and sky blue in the mix.
These soft tones are here to stay for a feminine yet cool take on aisle-appropriate color. In short: You can have fun with fashion and play dress-up, even for moments as epic as your ceremony.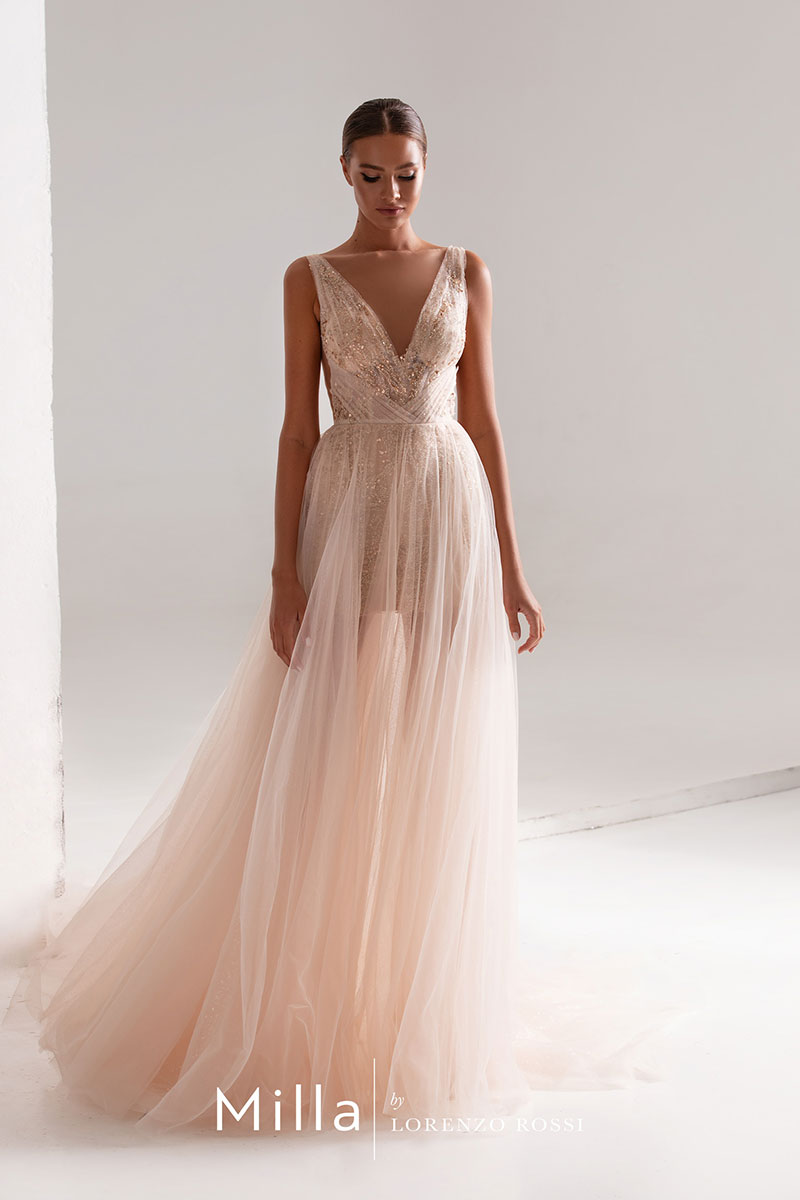 Ivory
To add a little something extra to the classic white wedding dress, choose something in ivory, says Gardenia Bridal. 2022 runway looks encourage this switch, especially for traditional brides who are still seeking to take their look to the next level.
(5) Accessories
Dangle Earrings
These dangle earrings are made with an 18K rose gold body plus 18 round shaped and 4 rectangular shaped white natural diamond. Lovebird Diamond shares that is a perfect accessory for your 2022 wedding look because the 18K rose gold piece is associated with style and elegance. This looks is also unapologetically romantic and refined.
Twist Style Ring

A classic and elegant oval shape with twist style ring is a perfect match for embroidered wedding dress. A sophisticated and unique 1.12 ct blue sapphire is in the sensational oval cut center, encircled by 68 round shaped diamonds.
Pear Shaped Diamond Ring

A crown represents love and loyalty. This crown style ring from Lovebird Diamond has a pear shaped natural 0.71ct aquamarine gemstone in the center that is marvelously encircled by 22 round cut diamonds. The aquamarine gemstone brings happiness to a new marriage and good fortune to women. Start your new life as man and wife with these blessings.
Water Drop Shape Pendant
The graceful water drop shaped halo pendant crafted with 29 round cut diamonds is a must in 2022. It features a 0.5ct round diamond in the center which allows substantial light to seep through giving a maximum sparkle for the necklace. This Lovebird Diamond creation is well worth it.
Three Earring Set
Lovebird Diamonds timeless and sophisticated three earring set allows mixing and matching with different dress styles. Water drop stud gives a simply dignified style to match with a clean and elegant dress for a minimalist bride. Furthermore, putting on the water drop shaped halo magnifies the elegance of the bride. And by turning the halo upside down, the earring is gracefully elongated and creates a vintage look.