How you behave as a wedding guest matters. While you're invited to enjoy the activities of the day and celebrate with the bride and groom, you're also expected to know what to do and what not to do as a guest. For example, are you aware of the basic dress code rules? How about the unspoken rules about time and taking photos using your phone? If you're not aware of these etiquette rules for guests, it's time to catch up!  Here are 15 ways you can act as a proper guest at a wedding.
(1) Follow the Dress Code
If the invitation says, "Black Tie," then come in a black tie outfit. If the invitation says, "Semi-formal," dress in a semi-formal attire or cocktail dress. Simply put, follow the dress code no matter what. The couple will not be happy if guests don't follow wedding dress code rules. For women, wearing a white dress is a big NO. Do not show up in a mini skirt either. For men, jeans are not acceptable, neither are sports shoes. If the invitation isn't clear on the dress code the safest attire would be a non-white dress or a dressy top and calf or ankle-length skirt for women, and a long sleeve button down shirt with dressy pants and shoes for men.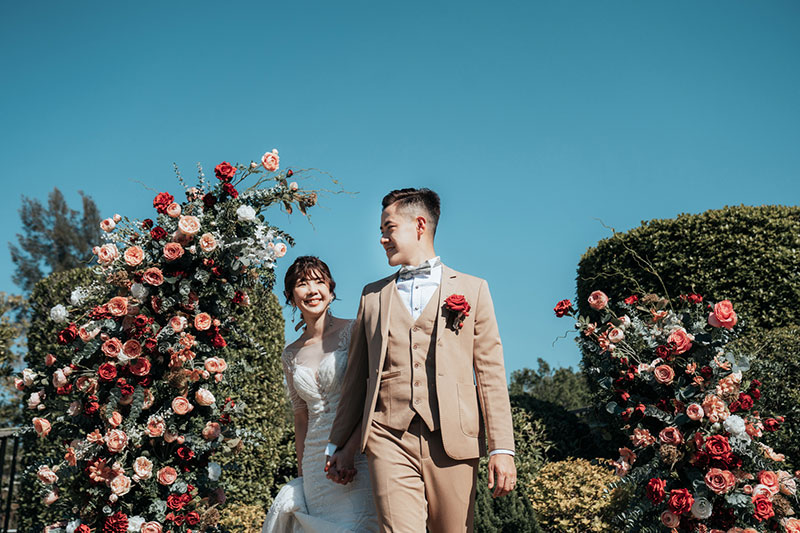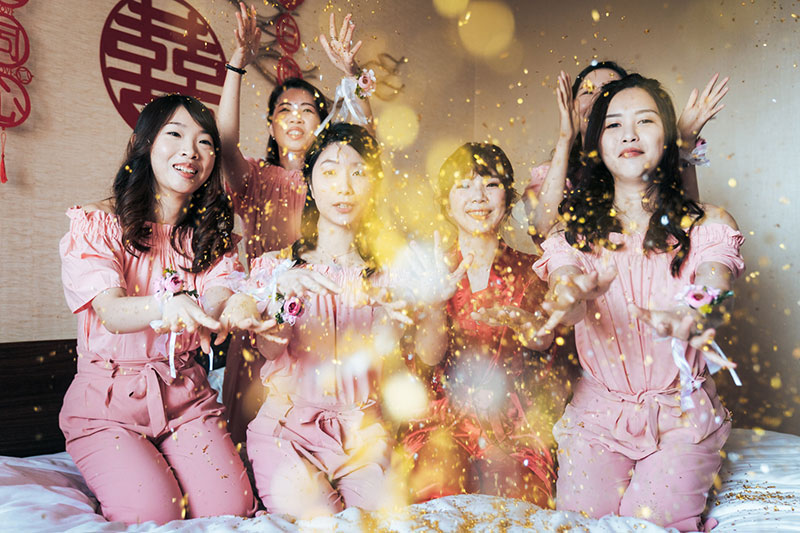 [From: This Couple's Carefree Garden Wedding Had Less Than 20 Guests Present / Photo: Kel Li Art Gallery]
(2) Be early.
Yes, you can be on time, but it will be even better if you come early–30 minutes before the ceremony or reception starts is ideal. Why? Usually it takes a few minutes to usher in guests and help them find their seats. Sometimes the family if the bride and groom also greet guests. Come early so you don't cause any further delay and avoid distracting people if the wedding is about to start.
(3) Bring your plus one if he or she is invited.
Do not assume that if you're invited, your plus one is, too. If the wedding invitation includes only your name or mentions only one seat allotted for you, then that means your plus one is not invited. If you'd like to bring your plus one, ask the bride and groom first.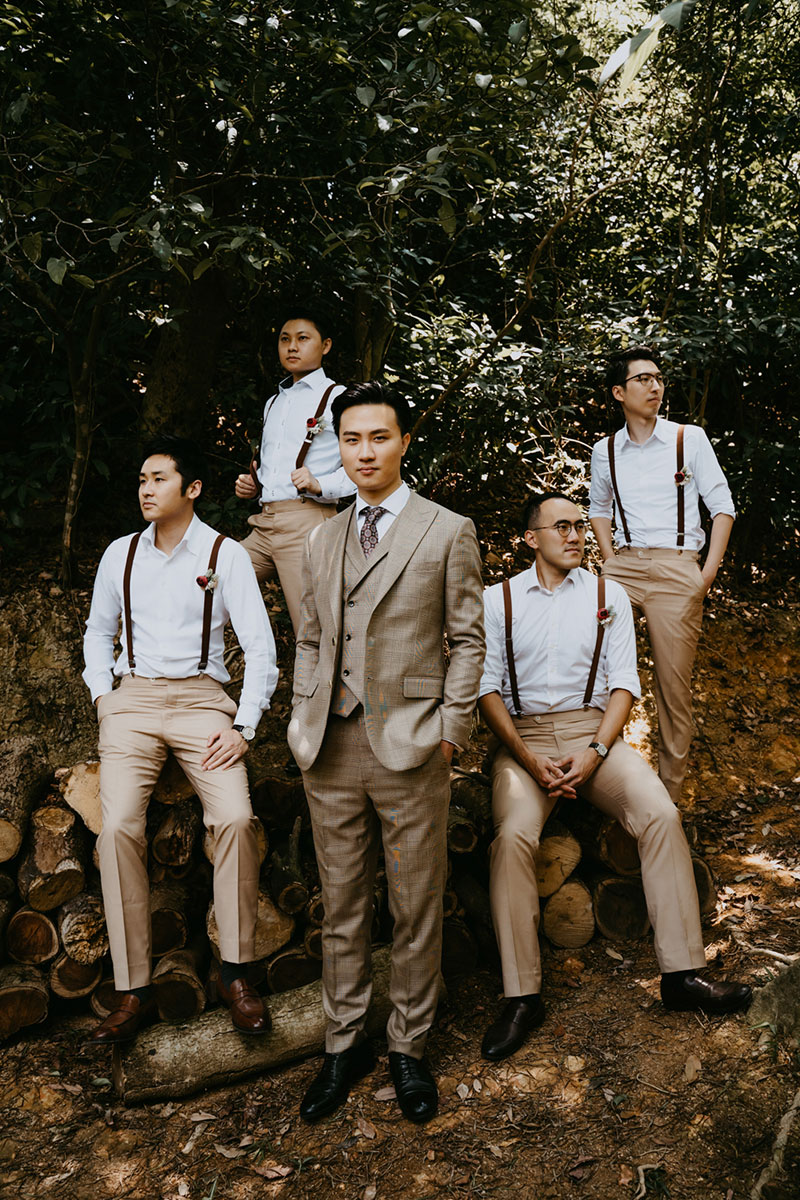 [From: This Couple Tied The Knot in a Romantic Garden Wedding at The Pavillion / Photo: Lovememo Studio]
(4) You need not pass your laisee directly to the bride and groom.
Because the bride and groom will be busy on their wedding day, you can pass your laisee to their family members or entourage at the welcome table. Usually, the couple will already have someone assigned to help collect laisees on the wedding day. You may ask around whom you may give your laisee to. You can read this article if you need to know how much money you should put in your laisee and this blog post details how to properly write on your laisee.
(5) Don't block the photographer.
All guests want to document such a special occasion! As soon as the bride is about to enter, guests usually have their phones out ready to get a first look of that epic walk down the aisle. While we can relate to your excitement, we'd like to remind you to be mindful of the couple's official photo and video team. If you are planning to take your own shots–whether of the aisle or at any other moment–make sure you're not blocking the official photo and video team. Remember that the bride hired them to capture all the best wedding moments. That last thing they will want is for guests to keep them from doing their best while on the job.
(6) Turn your phone's flash function off.
There's nothing more distracting and a flash that pops out of nowhere. Turn off the flash feature on your phone. Apart from being extra distracting, flashes can also disrupt the photo and video team and ruin their official wedding shots. Again, we can't stress enough the importance of staying out of the way so the photographers and videographers can capture the best photos for the couple.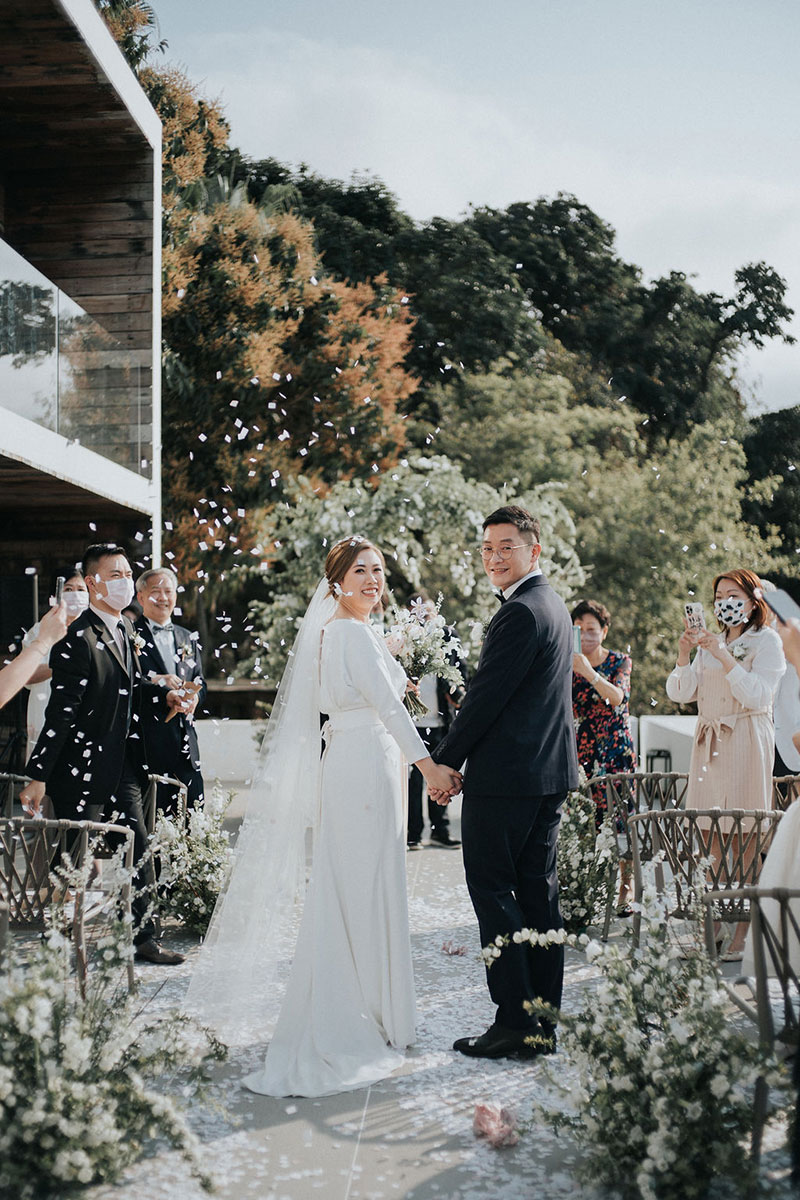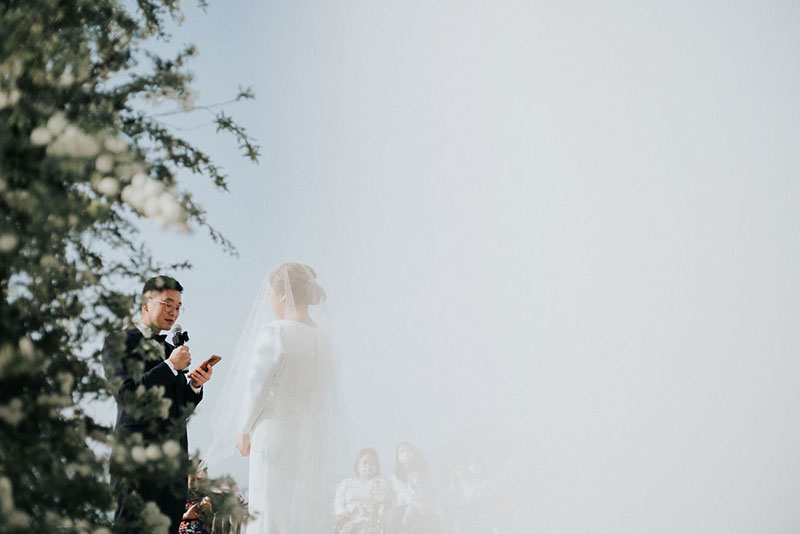 [From: In This All-white Wedding, The Bride and Groom Had Their First Look on a Ledge Overlooking the Sea / Photo: Aupho Wedding]
(7) Be yourself in front of the camera.
Photographers and videographers also like to capture guests' raw emotions. The bride and groom are too busy to see how everyone is reacting. Couples usually get to see guests' faces from the official photos and videos, after the wedding. So if you notice a camera focused on you, you can flash a smile or you can just ignore it and remain focused on the couple.
(8) Efficiently take group photos.
Weddings are usually grand reunions for both the couple and all the guests. Therefore, it's natural for you to want group photos with all your friends and with the couple. Go ahead and take as many photos as you want however be mindful of the time you're taking up. Efficiently take group photos and avoid causing delay, especially when it comes to taking photos with the couple. Remember that the wedding follows a strict schedule so keep it quick or wait until the official photos are done before pulling in the bride and groom for group shots.
(9) Listen to the official photographer's direction.
When taking official group photos with the couple's photo team, heed the photographer's direction–he or she is trying to get the best group shot. Meanwhile, to ensure that you're seen in the photo, make sure you see the camera in between heads and adjust by moving higher or lower if needed. If there are seats at the front, invite the elderly or kids to take the seats. But if in case the photographer asks you to take a front seat, avoid delay and follow his or her lead.
(10) Prepare your phone in advance if you want a copy of the group shot.
If in case you want a copy of the group photo in your phone, prepare your phone in advance and hand it over to the photographer's assistant or any other guest that is not part of the photo.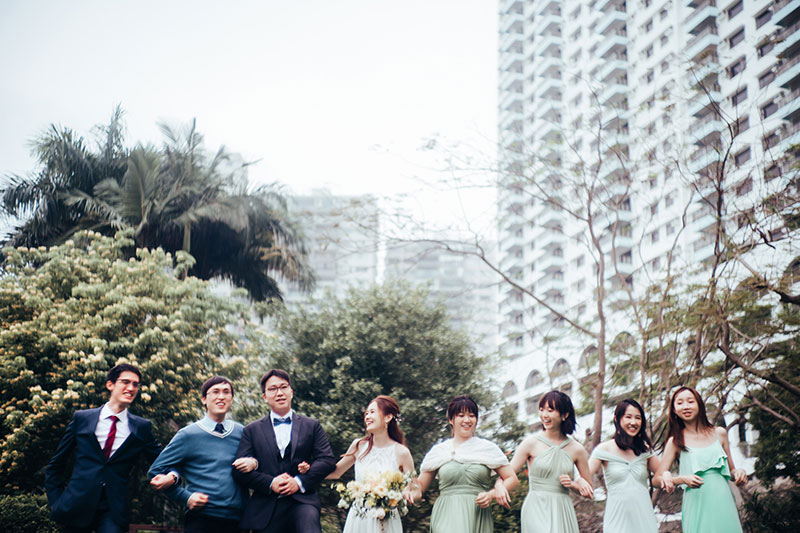 [From: A Serene Garden Wedding with a Peach and Cream Color Palette / Photo: 123cheese Production]
(11) Listen attentively to all the speeches.
Once the wedding speeches begin and someone is up on stage, avoid chatting with your seatmates and listen to the person in front. If you talk with others, you will create unnecessary noise which is first of all, disrespectful, and second, distracting to all those who want to listen.
(12) Follow the seat plan.
The bride and groom took time to arrange the seat plan, so do your part and follow the arrangements made. If you're unsure of your seat, refer to the chart that's usually by the entrance of the venue or ask a member of the entourage. If you want to mingle with other friends, you may go over to them after the formal ceremony and banquet.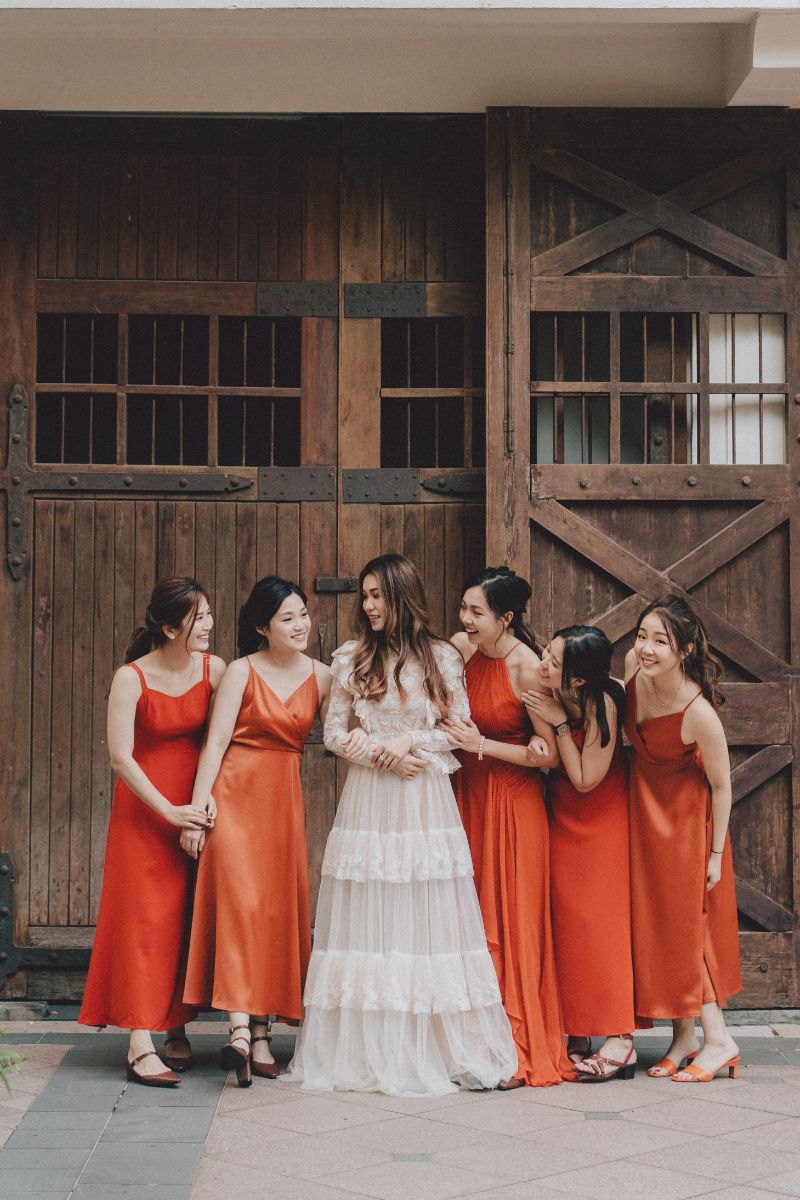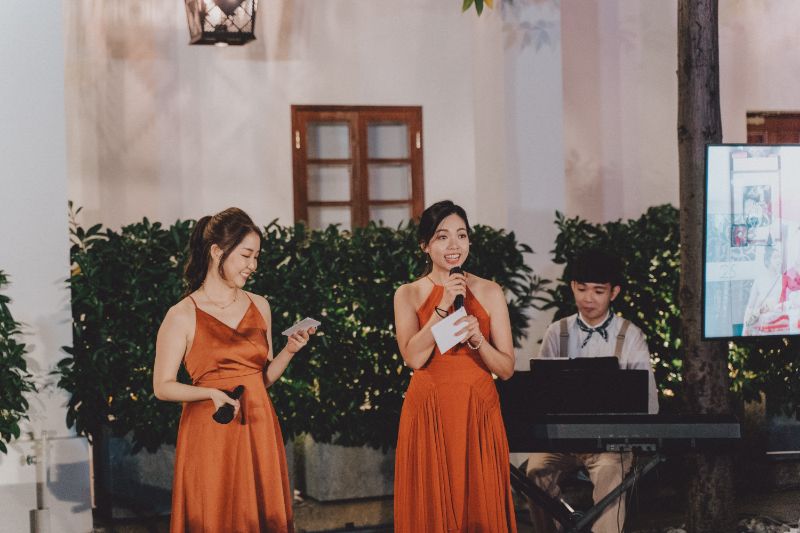 [From: This Couple Sang During Their Rust-themed Wedding at House 1881 / Photo: Moonbird Production]
(13) Think of your greetings in advance.
The reality is, the bride and groom usually don't have time to mingle with all of the guests for a long time. Make the most of your time with the couple by preparing your greeting for them in advance. Something short and sweet will do, then finish it off with a big, warm hug!
(14) Use social media mindfully.
When documenting the wedding day, follow the couple's guidelines. For example, use the official wedding hashtag. This will help the couple collect all your photos later on. You can also share your photos with them later on. If the couple also has any requests–like not posting preparation photos early in the day and the like–follow their wishes.
(15) You can take home some food.
If the venue staff offers take away food, don't be shy to accept the offer. If the food during the banquet isn't consumed, the staff usually offers the remaining food to guests, otherwise it all gets tossed in the bin. By taking home some food, you're helping with lessening food wastage.
And that concludes our list of to-do's for wedding guests. Keep all these in mind the next time you attend a wedding!
You may also read up on wedding guest etiquette here: Wedding Guest Etiquette Rules Everyone Needs to Know