Wedding planning hasn't been a walk in the park, especially with the times we're facing. If the past few months (and year) have been tough, it's high time to lighten the mood and fill your days with more optimism.
In this feature, we put together a list of heartwarming wedding-themed movies to help get you more excited about your own wedding. Laugh your heart out, cry tears of joy, and get that warm fuzzy feeling of love from all these movies. We hope that these movies will replace all your woes with nothing but feel-good moments and loads of excitement for your special day.
Let's get started, shall we? Slip into your most comfortable lounge clothes, grab a bucket of popcorn, and get ready to binge watch all day!
(1) Bridesmaids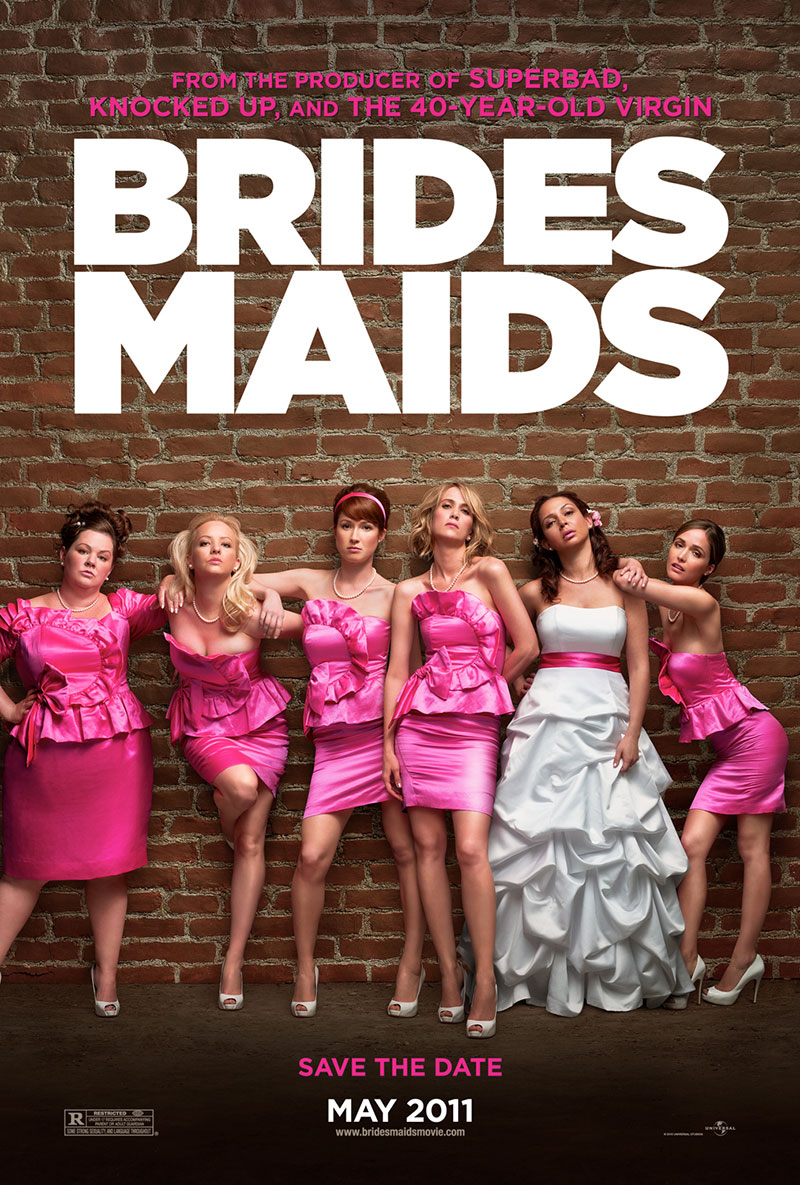 This romantic comedy is about Annie, a single woman in her mid-thirties, who is called to be the maid of honor at her best friend's wedding. Upon meeting the other bridesmaids, Annie becomes jealous of one of the other girl's close relationship with the bride and a competition of friendship with the bride, Helen, ensues. Watch this move now to find out what happens to their friendship and how Annie finds love in the middle of everything that happened.
(2) 27 Dresses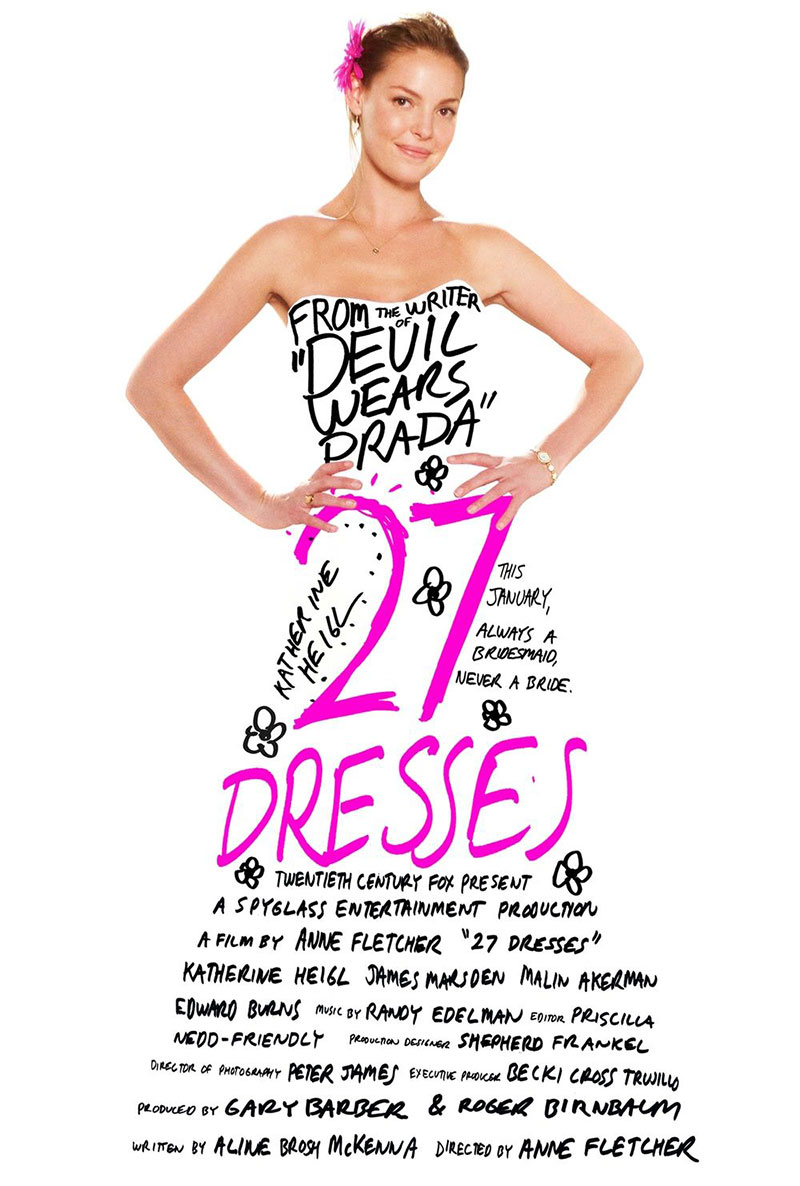 The protagonist of this movie, Jane, has been a bridesmaid 27 times and holds a cynical view about love and marriage despite being secretly in love with her boos, George. When her sister, Tess, comes over to visit her, Tess immediately notices George and pretends to be the kind of girl George likes–even if she's the complete opposite. Meanwhile, Jane meets a writer, Kevin at a restaurant who interviewed her for a piece about a "forever bridesmaid" and her bridezilla sister. Despite Kevin asking his editor to hold his article first after getting to know Jane more, the article gets published. Almost simultaneously, Jane tells George about what kind of person Tess really is which leads to a rift in their relationship and George calling off the relationship with Tess. But don't worry, because this story closes with a happy ending, Jane gets married with all 27 brides as bridesmaids at her own wedding. If you want to find out who the groom is, you'll have to add this to your watch list now!
(3) My Best Friend's Wedding
Jules and her best friend, Michael, made a pact that if they were both still single by the age of 28, they would get married. After years of not seeing each other, Michael calls Jules three weeks before her 28th birthday telling her that's was getting married to a girl named Kimmy in four days. Devastated, Jules finds ways to break the two up. When all her plans don't turn out as expected, she confesses to Michael and kisses him, which Kimmy witnesses. Will the wedding push through or will Jules finally end up marrying Michael? Find out by watching.
(4) The Wedding Singer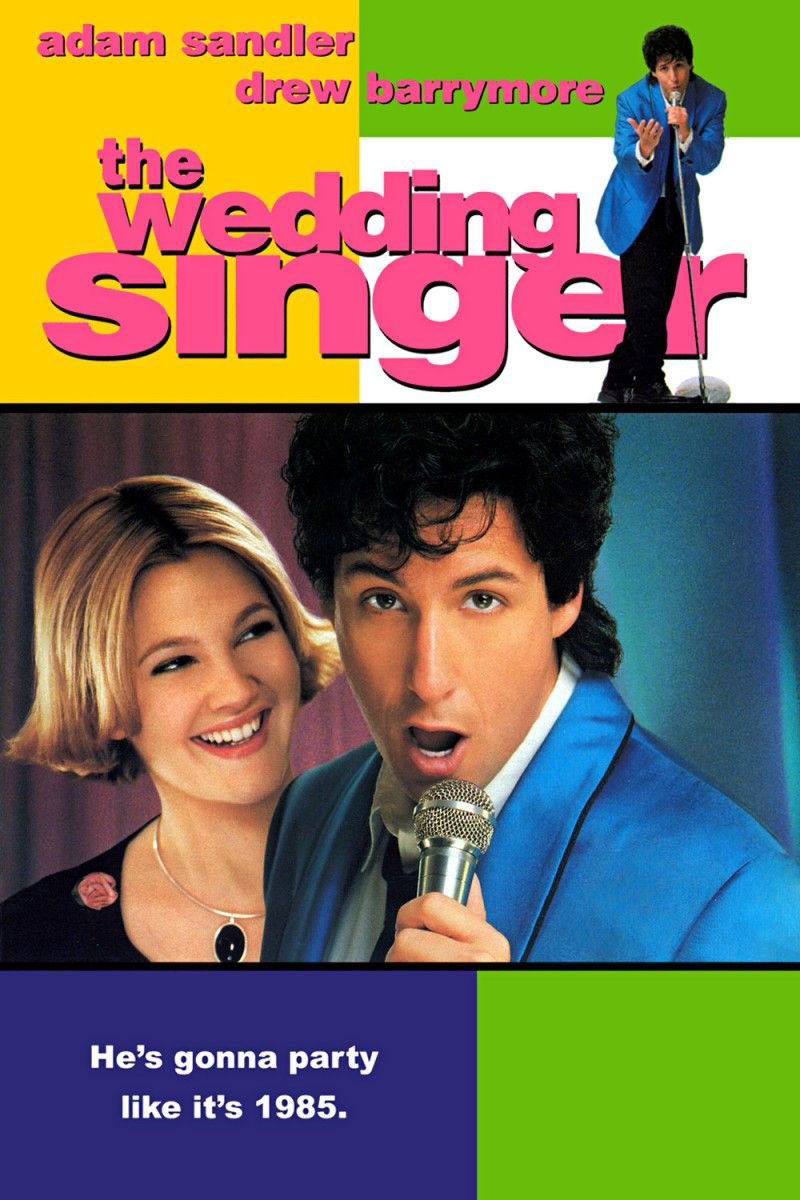 From the title of the movie, the story of this film revolves around Robbie, a wedding singer in New Jersey. Robbie is left on the alter by his bride-to-be, who was initially crazy about him when he had ambitions of becoming a rock star but is now ashamed of his profession as a wedding singer. Robbie is heartbroken and meets Julia, a waitress whose wedding is just around the corner. They become friends and Robbie promises to sing at Julia and Glenn's wedding. As their friendship blossoms, Robbie and Julie grow confusing feelings about each other but don't confront them. They also eventually get into a fight, but there's a sweet ending to this movie, so you should definitely check it out. Also, if you've heard of the song, "Grow Old with You", this is where it got popular!
(5) The Wedding Planner
This movie features an ambitious wedding planner named Mary. To boost her reputation, Mary agrees to plan the wedding of a catering heiress named Fran. About the same time of the agreement, Mary meets a name named Steve, who she goes on a group date with and kisses under the rain, only to find out that Steve is Fran's fiancé. Despite feeling fooled by Steve for leading her on, she decides to continue planning the wedding. Steve things he acted out of pre-wedding nerves, but later one realizes he has feeling for Mary when Fran leaves the country and entrusts the wedding planning to Mary and Steve. Can you guess if Steve sorts out his feelings and who he ends up with?
(6) Runaway Bride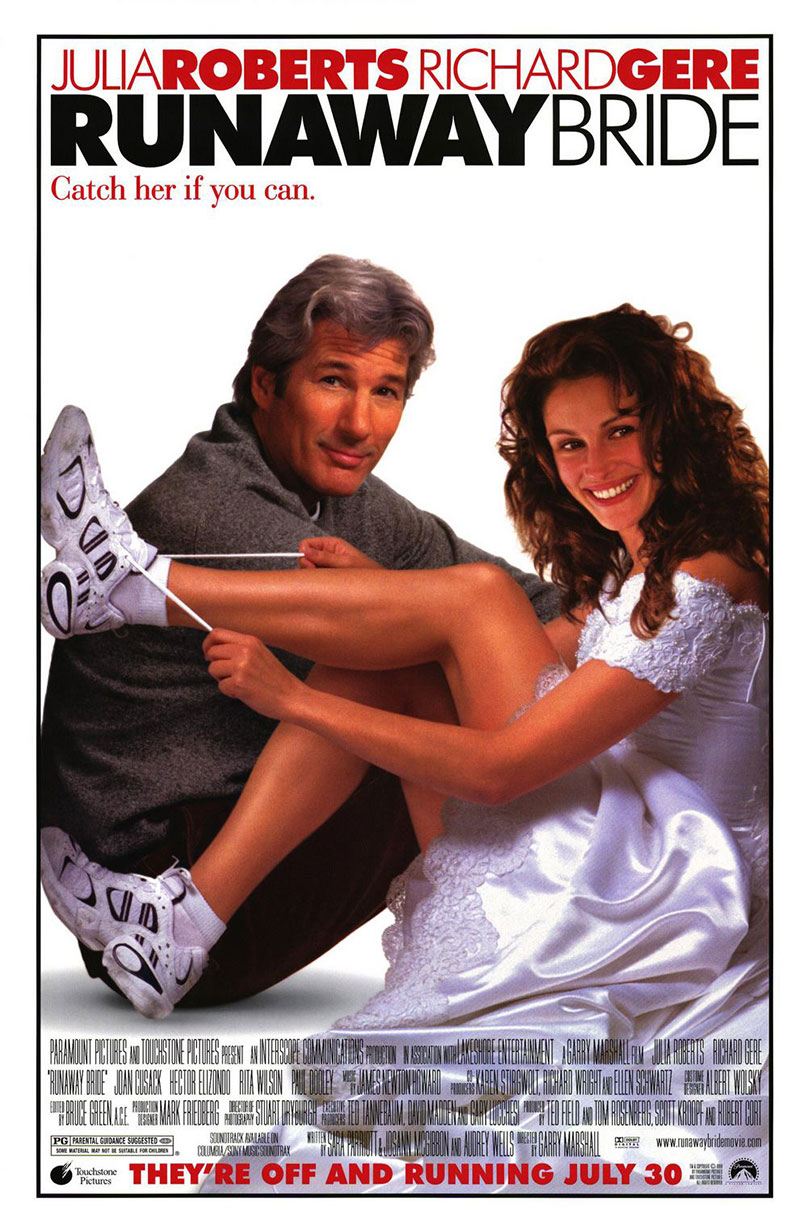 In this movie, Maggie, a spirited and attractive woman, has a long line of unsuccessful relationships. In her fear of commitment and marriage, a local tabloid names her the "Runaway Bride" who always leaves her finacés at the altar. A writer from New York name Ike, writes a story about Maggie as well, but gets fired because his article contained a lot of factual errors. To redeem himself, Ike flies to Maryland to find Maggie to re-write an in-depth interview about her and her story. While Ike spends time with Maggie and her family for his article, he gets to know her, realizes why her relationships keep failing, and falls for her. Maggie also finds herself falling in love with him, but does she still end up running away from the church? Take a guess and find the answer after finishing this movie.
(7) My Big Fat Greek Wedding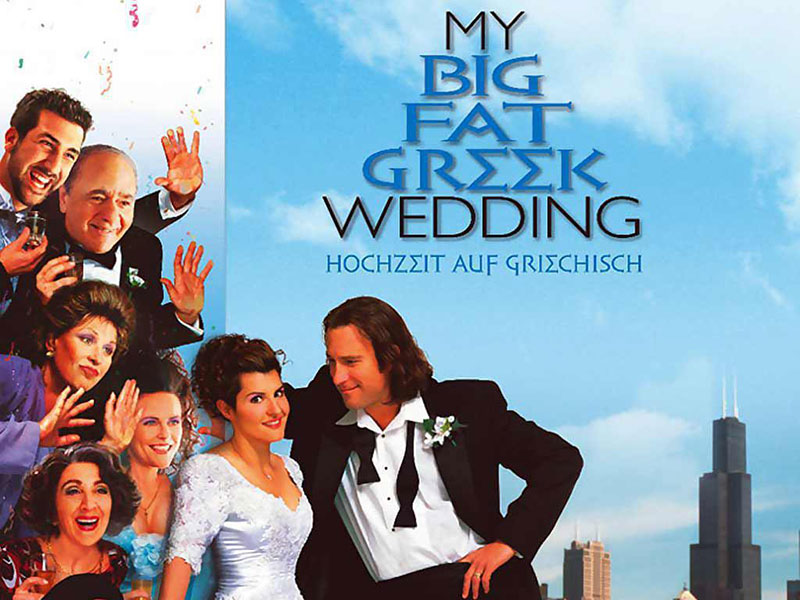 This film's protagonist, Toula, is part of a large, Greek family that's keen on her getting married and having children. Marriage wasn't in Toula's near future plan so she sets out to study courses on computers and tourism thinking she can eventually help her aunt in her aunt's travel agency business. While studying, Toula gains more confidence and updates her image, which caught the attention of Ian, a man who had once met her before at Toula's parents' restaurant. Ian recognized her and affirmed his affection for her so they continue to secretly date and get engaged. Eventually Toula's parents find out about Ian with her father furious because Ian did not ask permission to date Toula and because Ian isn't part of the Greek Orthodox Church. Determined to prove his love, Ian agrees to be baptized and gains acceptance from the family. What follows is a fun and chaotic wedding planning journey and a heartwarming speech from Toula's father at the wedding. Watch this movie for the most touching ending ever!
(8) Made of Honor
Similar to "My Best Friend's Wedding", this romantic comedy is about Tom falling for his best friend, Hannah. Tom only realizes about his feelings for Hannah when Hannah leaves for Scotland for a work. When Hanna returns, Tom prepares to confess his love but find out that Hannah got engaged to a wealthy Scot names Colin. Hannah immediately asks Tom to be her Man of Honor. Soon after they fly off to Scotland for the wedding and as Hanna's big day approaches, Tom eventually confesses his love by the door of Hannah's room. It's all up to you if you want to find out whether Hannah lives happily ever with Colin or rushes back to Tom!
(9) Bride Wars
If you have a BFF whom you've shared wedding dreams with since you were young, then the story of Emma and Liv will truly touch your heart! The best friends have always dreamed of marrying at the Plaza Hotel and when their boyfriends proposed at almost the same time, the two were over and above excited to plan their weddings together as each other's Maid of Honor. However, only one date remained open at the Plaza Hotel and neither of them were willing to compromise. With the pressure on and tension rising, the two end up in a rift trying to sabotage each others wedding. What happens next? Here's a hint only one wedding on that day pushes through. So what happens to the other? See the movie to find out!
(10) Father of The Bride
If your dad is having a hard time letting you go, then you will love this movie which follows George, who simply can't seem to accept that his daughter, Annie, is about to get married. From the onset, he wasn't fond of his future son-in-law, Bryan, and continued to scrutinize Bryan and the wedding planning. When Bryan and Annie get into a fight, George takes Bryan out for a drink, initially to get the two to split. But upon seeing Bryan and his genuine love for Annie, can you guess how George reacted? Watch this today and see for yourself. This feel-good movie will make you appreciate your dads even more and understand where their jealously comes from.