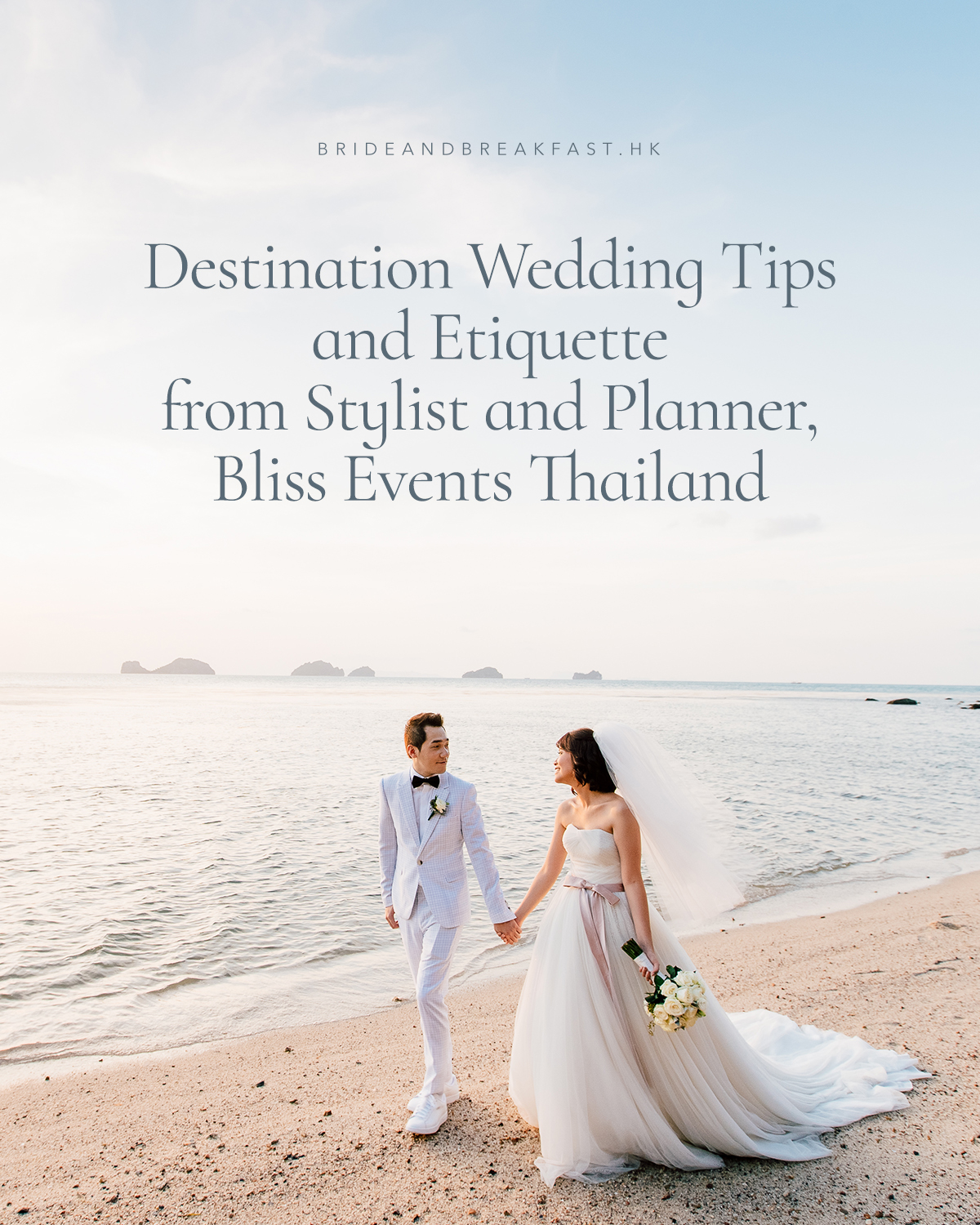 When planning a destination wedding, there are some details that are crucial and unique to having an overseas location. If you're a bride-to-be, how will you know what these details are? How can you prepare for the different needs of having a wedding in a foreign country? We talked to Bliss Events Thailand so they could enlighten us all on what details, tips, and even etiquette rules that brides and grooms need to be aware of when preparing for a destination wedding.
(1) Fix the ceremony one to two hours before sunset.
This is especially important if you plan to have the sunset as your backdrop. Have your wedding planner arrange the timing because this will avoid getting any black light in pictures during the ceremony. And after the ceremony, the bride and groom will have a romantic sunset for their post-nuptial shoot.
(2) Always check the dates and the season.
Whether it's in Thailand or any other country, always check the dates and season before setting a date. Even if Thailand is sunny almost all year round, some parts tend to be rainy at certain times of the year. For other locations, make sure to check the seasons as well. It's best to consult with your local wedding planner for the best time to wed so you can have beautiful weather on your special day.
(3) Be aware of public holidays.
Beware of public holidays in your destination location for several reasons. One, rates are higher if your wedding date falls on a holiday. Two, there may be local restrictions on public holidays. For example, in Thailand, Bliss Events shares that majority of the holidays are Buddhist holidays which means that alcohol is prohibited on these days. Depending on which holiday, the severity of prohibition is can be high or low. The public market does not sell alcohol during holidays, leaving you with a part without booze. For other destinations, make sure to check for similar local details when it comes to weddings close to local holidays.
(4) Consider pre-wedding photos with the entourage.
It's a good idea to have a pre-wedding pictures with the bridesmaids and the groomsmen prior to the wedding. Some couples have already done this a day or two before the wedding to avoid rushing and last-minute changes during the special day. This will be especially helpful if you have very tight wedding day schedule. Getting the wedding pictures with bridesmaids and groomsmen on different dates then the wedding date will leave you more time which you can allocate for other things.
(5) Have a phone-free ceremony.
We like to encourage couples to tell their guests to save the photos for the official photographers. Overseas wedding destination venues do give rise to the temptation to phones and take pictures all day long. There's no harm using that phone before or after the ceremony but refrain using during the ceremony. It's best to let guests know prior to the wedding if you want a phone free ceremony. You can also put up signs at your venue to remind them. Having a phone-free wedding will result in beautiful wedding pictures from the professional photographers. It will also allow the guests will be more emotionally engaged in the ceremony.