2019 is just around the corner and we talked to fellow wedding planners and stylists to get all the juicy details about wedding styles and trends to look out for! Here's what you can expect this 2019–looks like weddings will be even more beautiful this year!
A Classic Green and White Palette
Classic as ever and a color combination that has been around for generations, green and white wedding color themes are here to stay, says Thailand wedding planner and stylist, ME Events Phuket. It's a versatile mix than can be turned into a rustic look or and elegant one. And for an added element of surprise, adding this mirror floor aisle make everything come together perfectly!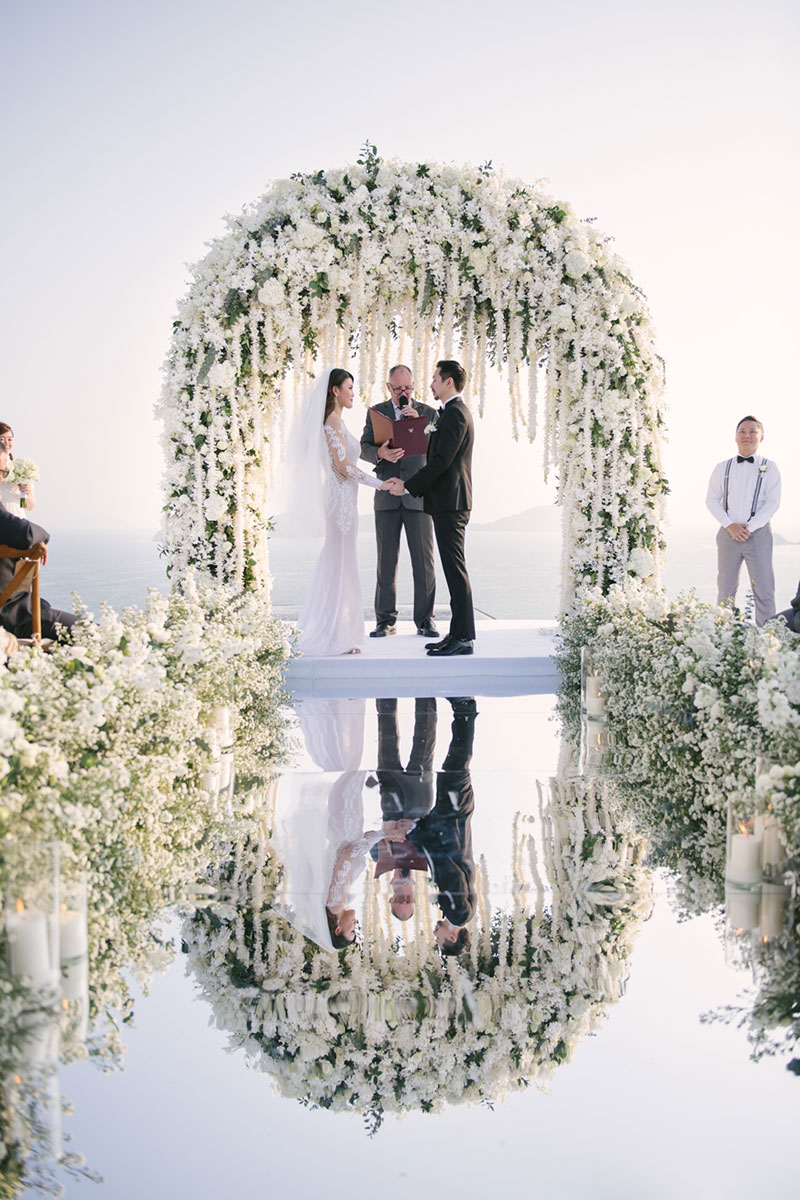 [Photo: Darin Images]
Letter Lighting
Letter lighting is always a hit at weddings, claims ME Events Phuket. And with all the beautiful calligraphy styles today, you can create beautifully lit letters of your names, words like "love", or even your wedding logo. 2019 will surely see more of these.
[Photo: Muse Photographer]
Modern Chic Themes
After an era of all things rustic and "gardeny", the modern chic trend is here to thrive! According to Hong Kong wedding planner and stylist Timeless Event Design, modern chic weddings are perfect for brides and grooms who crave a contemporary and stylish touch for their weddings. This can mean invitations with clean lines and dashing fonts like the "Audrey" font, unique floral displays, a graphic colour scheme and unconventional weddings venues such as galleries and exhibition centers.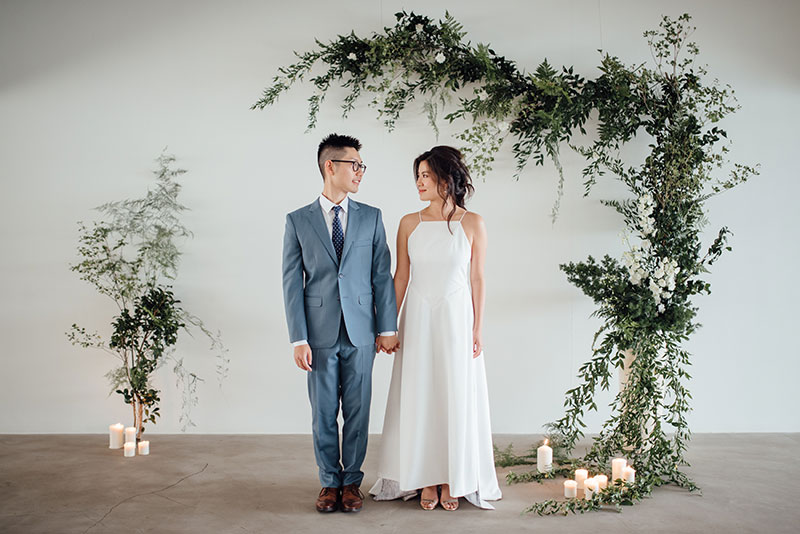 Minimalistic and Sleek Gowns 
Enter the rise of minimalism. Remember Miranda Kerr's silky long-sleeve custom Dior gown? And Meghan Markle's Givenchy boat-neck wedding gown? More and more bride-to-bes are going for a timeless, clean look that will stand the test of time, not without any good reasons: simple but lush materials like silk don't drown brides in overwhelming and intricate textures, allowing their intrinsic beauty to stand out and radiate from within. But don't mistake minimalistic and sleek for simple and blank, cautions Timeless Event Design. These minimalistic and sleek gowns usually have captivating qualities to draw admiration–be it a curvy big bow at the back, delicate beadings, or even meticulously calculated pleats. These gowns are ready to help you steal the show.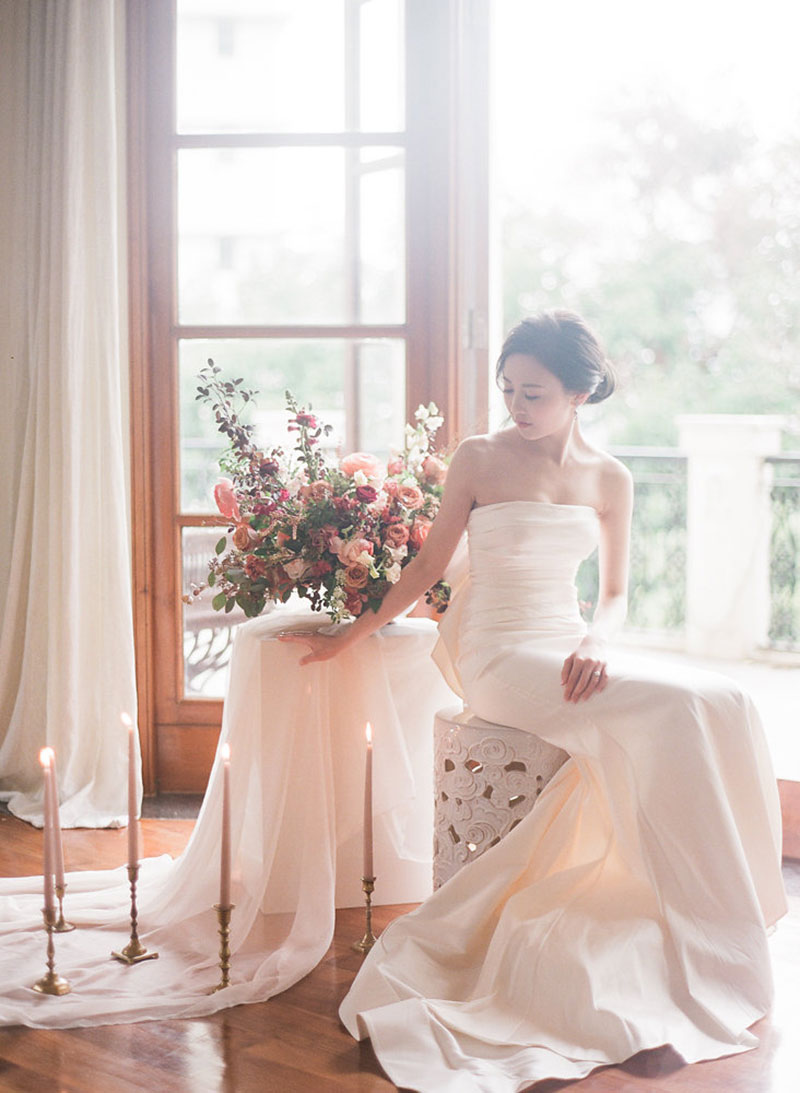 Organic and Earthy Elements
Couples today are now very much into the earthy, organic feel, even for weddings, says Luxury Events Phuket. It may not be a new thing–coming for the rustic craze–but it's trending more than ever with wooden chairs, simple greenery as decorations, and light colors mixed with contrasting table cloths.
[Photo: Liam Collard Photography]
Tropical Paradise Inspired Decorations
Coconuts as a decor have become very popular especially for destination weddings in Thailand. Luxury Events Phuket recounts that coconuts add that topical look and feel couples really look for especially in outdoor and beach weddings. Of course, paradise wouldn't be complete with coconuts, palms, and some piña coladas!
[Photo: Jaran Images]
Wild Flowers and Natural Settings
The organic look has been gaining its popularity in weddings for a while now, but never before had it looked more effortless and natural, exclaims The Wedding Bliss Thailand! This trend has given birth to the use of wildflowers and field grass against natural settings instead of newly-built artificial structures, giving the most romantic and exquisite result. Making use of the seasonal greenery as a lush canvas, further enhanced by just drops of color, is definitely in trend.
[Photo: Alena Karupovic]
Cozy Ambiance and Integrated Lighting
Rather than making your wedding feel like a staged performance with spotlights and huge chandeliers, opt for a more integrated lighting option: candles are a great examples. The Wedding Bliss Thailand shares that you can select from so many shapes and sizes, and create a multi-layered arrangement with just candles. Unusual lighting solutions, like designer lamps in modern spaces, rattan lamp-shades for beach weddings and so on, will also create a more harmonious look.
[Photo: Alena Karupovic]