Celebrity engagements are probably one of the most talked about events in the Hollywood. We're kind of obsessed to know the details of the proposal especially the stunning engagement rings of our favorite stars. You can always expect the biggest, brightest, and most exquisite rocks in their left ring fingers. These gorgeous gems are absolutely show-stoppers and swoon-worthy sparklers. So let's take a look back and indulge ourselves in the most memorable celebrity engagement rings of all time that definitely stole our hearts!
1. Paris Hilton & Chris Zylka
Paris and Chris got engaged during their romantic ski trip weekend getaway in Apsen, Colorado. Her blinding huge teardrop-shaped diamond ring is as extravagant as the heiress herself. Who wouldn't be thrilled wearing a 20-carat diamond ring worth $2 million?
2. Prince Harry & Meghan Markle
The royal enthusiasts are so ecstatic when Prince Harry and American actress Meghan finally announced their engagement. The Prince personally designed the stunning yellow gold ring (the actress' favorite color) inspired by his African love. It was made of a huge diamond stone that came from Botsawana, a country close to his heart, and two diamonds from Princess Diana's jewellery collection to make sure his mother is always with them as they take this new journey. Such a sweet and thoughtful lad!
3. Miranda Kerr & Evan Spiegel
Snapchat co-founder Evan and supermodel Miranda got engaged after a year of dating. He gave her a gorgeous ring with a round diamond flanked by tapered baguettes. A sleek and modern piece perfect for a former Victoria Secret's Angel.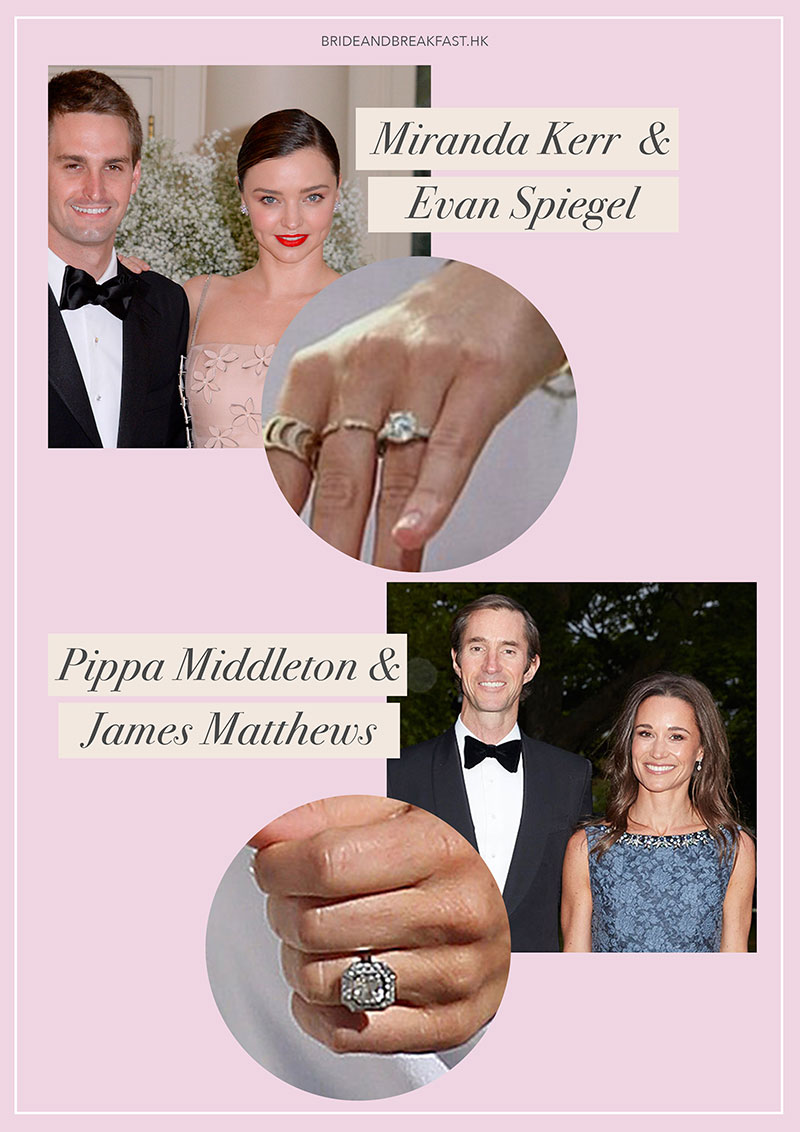 4. Pippa Middleton & James Matthews
Pippa and James' love story is all about perfect timing and patiently waiting. After a decade, the hedge fund millionaire proposed to the Duchess of Cambridge old sister and gave her an art deco engagement ring with a 3-carat Asscher-cut diamond at its center. Indeed, the long wait is all worth it for these two!
5. Brad Pitt & Angelina Jolie
Although, sadly, Brad and Angelina's union has come to an end, their love story is truly remarkable including the actress' engagement ring. The actor gave her an impressive rectangular diamond ring cut with more than 16 carats and is approximately worth $250,000.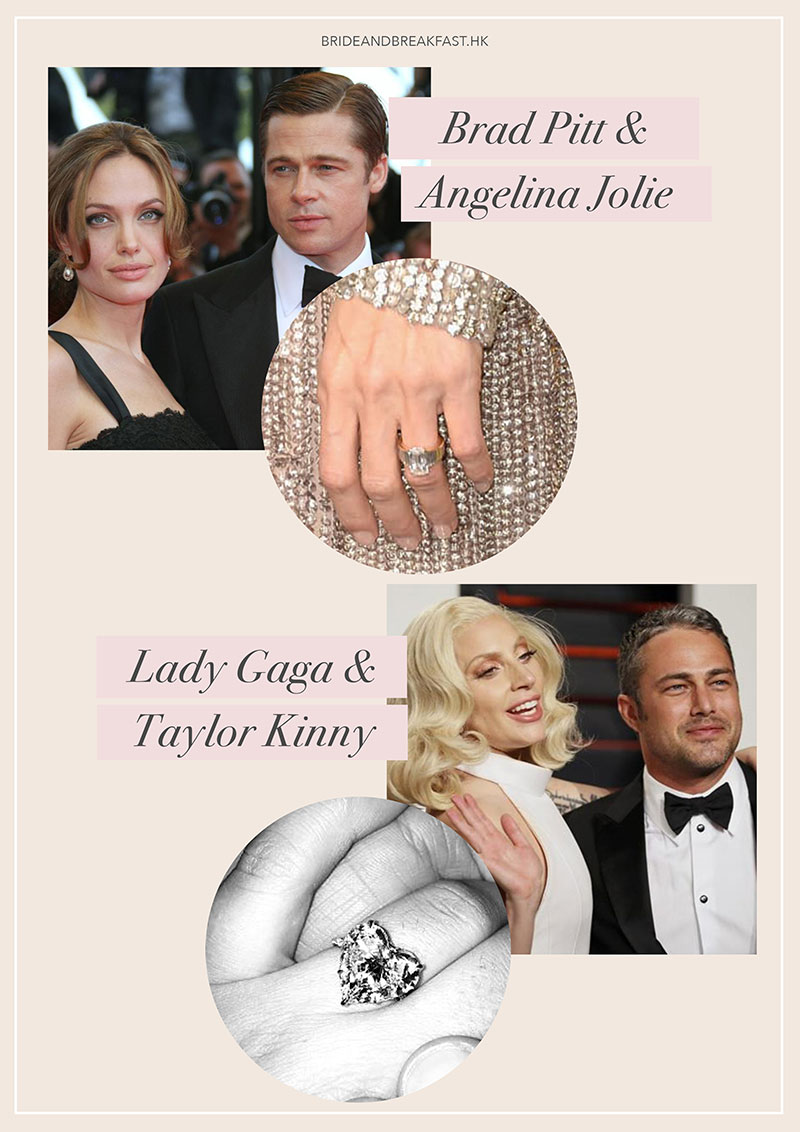 6. Lady Gaga & Taylor Kinney
Even after Lady Gaga and Taylor called off their engagement, we still couldn't help but fall in love with her custom made Lorraine Schwartz sparkler given by her ex-fiancé. Isn't this huge heart-shaped diamond ring too pretty?
7. Prince Charles & Princess Diana
Prince Charles and the late Princess Diana became engaged in 1981 but got divorced in 1996. Her engagement ring consists of 14 solitaire diamonds surrounding a 12-carat oval blue Ceylon sapphire set in 18-carat white gold. Truly a princess-worthy gem!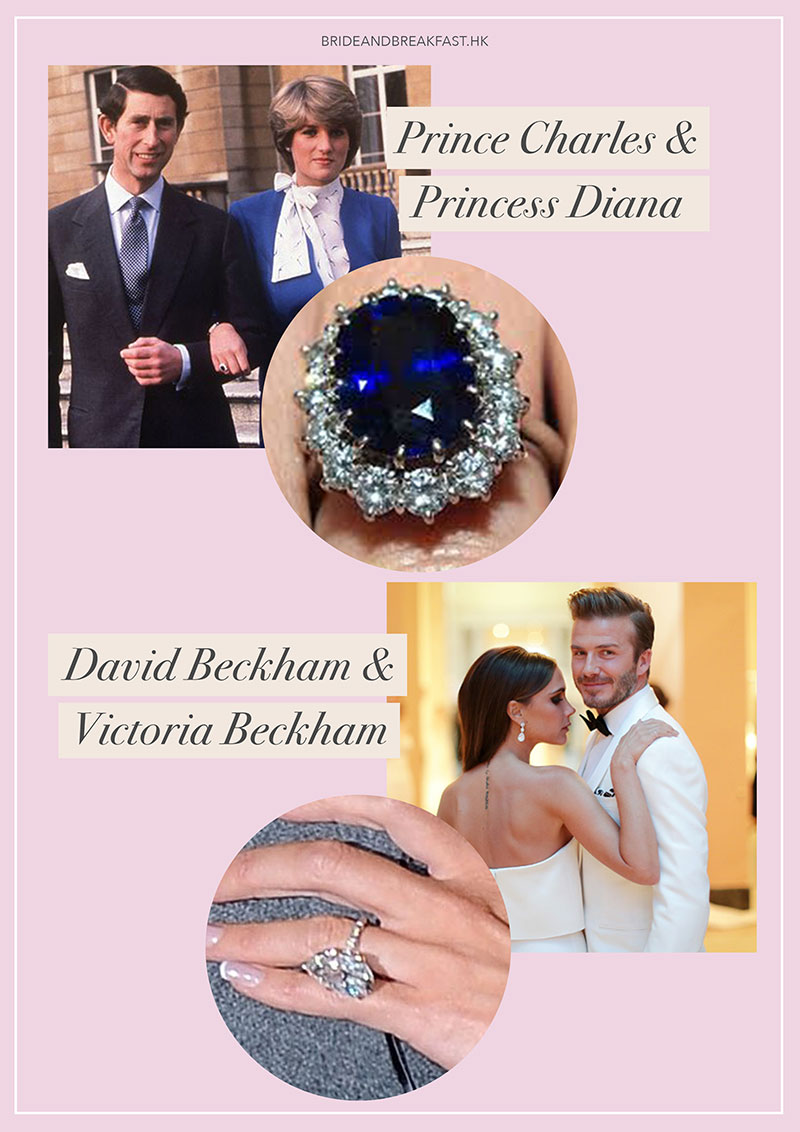 8. David Beckham & Victoria Beckham
David and Victoria has been married for nearly 20 years and still counting. The soccer stud gifted her former Spice Girl wife 13 different engagement rings. (Yes, that many!) Her engagement jewellery collection ranges from the very first simple design to the most stylish and fancy rocks that she consistently parade every now and then.
9. Anne Hathaway & Adam Shulman
The movie princess Anne finally got her own fairytale after Adam popped the question while they were strolling at the park one afternoon. He gave her a radiant 6-carat platinum and diamond ring that carries a price tag that costs around $150,000.
10. Donald Trump & Melania Knauss
One of the most expensive engagement rings so far with an estimated cost of $3 million is the 12-carat emerald cut of Melania given by Donald Trump, now her husband and the US President. It is described to be a Graff diamond ring nestled in a platinum setting where the finest stones were incorporated in its making.
11. Ryan Reynolds & Blake Lively
Ryan made a perfect choice of bauble when he gave Blake's first engagement diamond ring with the help of Lorraine Schwartz. It is a flawless light pink oval cut gem flanked by tiny stones. This 12-carat brilliant rock valued roughly $2 million.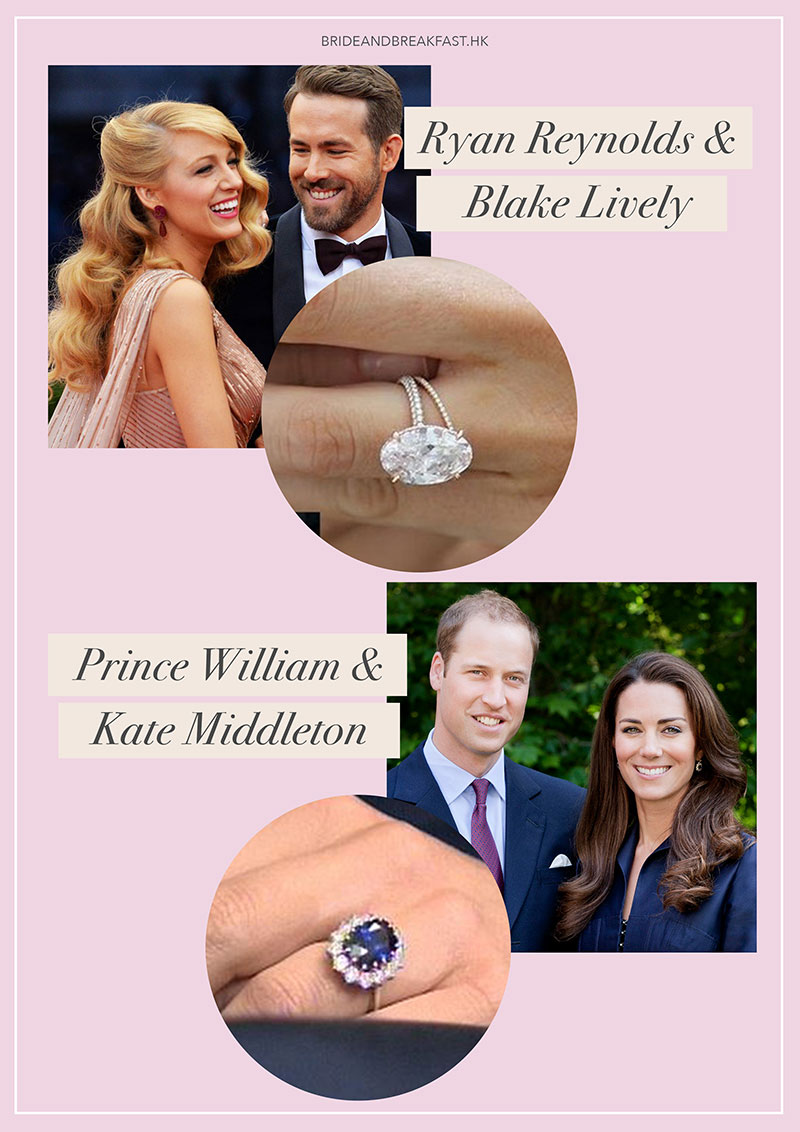 12. Prince William & Kate Middleton
Another love story with a happily ever after is the long term relationship of Prince William and Kate Middleton. The Duchess of Cambridge's engagement ring, though slightly altered to fit her dainty fingers' size, is very familiar because this is the same elegant sapphire gem wore by the late Princess Diana. Truly, it runs in the royal family the importance of their traditions in this modern era.
13. Scarlett Johansson & Romain Dauriac
Scarlet said "Yes" to her now estranged husband Romain in 2013. The French journalist has a unique taste as he gave the actress a flashy art deco sparkler which features three round diamonds surrounded by vintage rectangular setting with more diamonds. Absolutely one-of-a-kind!
14. Barack Obama & Michelle Obama
Former US President Barack Obama gave her First Lady Michelle a gorgeous engagement ring while they were having dessert in a small restaurant in Chicago back in 1991. This stunning ring reflects her classic and timeless style which features a one-carat solitaire diamond and gold band.
15. Kate Moss & Jamie Hince
Before Kate and Jamie's marriage is over, the supermodel sported a vintage diamond rock which is a replica of the legendary 1920's party girl Zelda Fitzgerald given by her rocker ex-husband.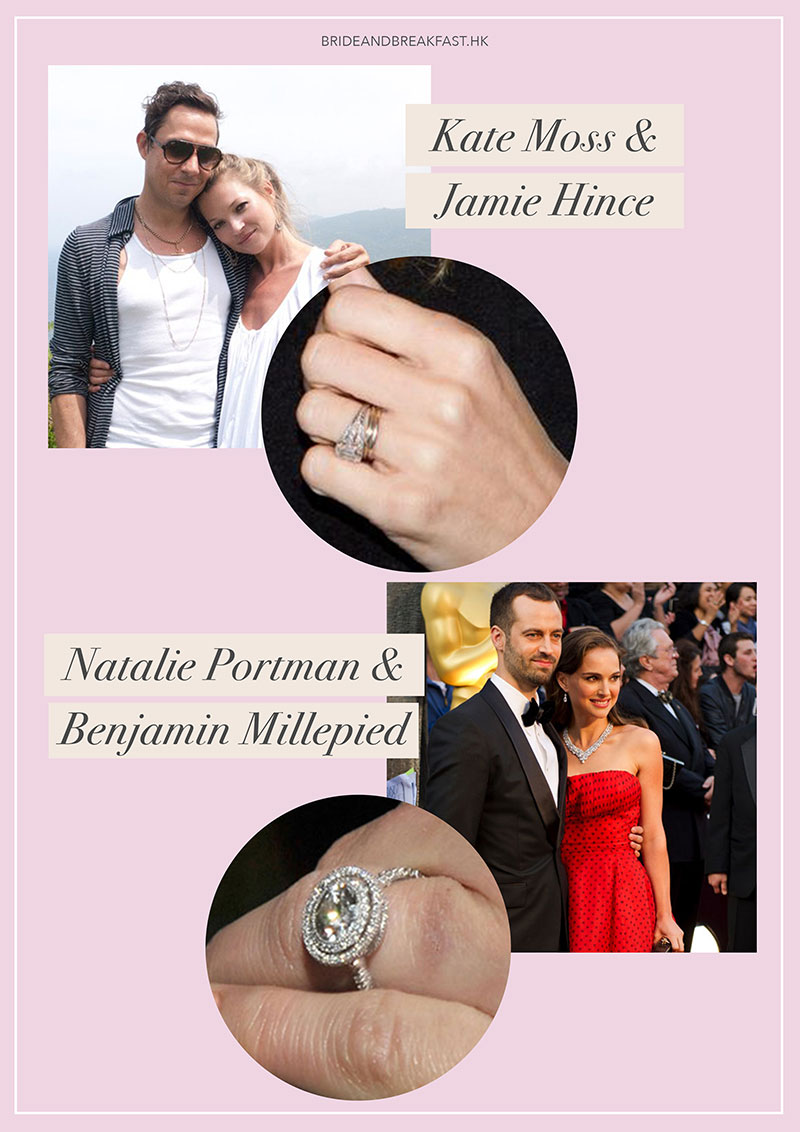 16. Natalie Portman & Benjamin Millepied
Natalie met her choreographer husband at the set of her movie "Black Swan." Her thoughtful and sweet beau carefully designed the ring with Jamie Wolf aligned to Portman's eco-friendly and vegan ideals. The ring is a round-cut antique diamond surrounded by smaller glittering stones which are certified conflict-free while the platinum is recycled metal.
17. Beyoncé & Jay Z
Jay Z didn't just put a ring on it but he totally went above and beyond for his wife Beyoncé. Her enormous 18-carat flawless diamond ring valued at over $5 million by jeweler Lorraine Schwartz. The style is simply classic, bold, beautiful and incredibly dramatic capturing the essence of the superstar's personality. Obviously, it's one of the most expensive and most famous engagement rings in the world.
[Photos: Daily Mail, IB Times UK, Pop Sugar, RTE, Her Campus, Mashable, NY Daily News, Parnelle Diamonds, Forbes, New First, Hollywood Gossip, Heavy, ABC News, Hello Magazine, The Sun, Vogue, AOL, Entertainment Tonight, Daily Mirror, Glamour, People, In Style, Watch Zeen One, Vanity Fair, Sky News, Marie Claire]