When all is said and done at the wedding ceremony, the newly wed couple and all their nearest and dearest guests flock on over to the reception. There they see the set-up and theme of the wedding brought to life through the details. One very large detail are the table settings. Here at Bride and Breakfast HK, we've curated some of the finest table setting designs in classic white for your perusal. Enjoy lovelies!
(1) For those with many guests, long rectangular tables dressed in white linen are the way to go. This wedding utilises glass vases with white roses and hydrangeas that are truly chic!
[Wedding: Breezy Paradise / Photo: Darin Images]
(2) Round tables are a way to have guests engage in more intimate convos. Dress these up in white with glass accents for that extra classy feel.
[Wedding: Endearing Romance / Photo: Jada Poon Photography]
(3) If your wedding theme is a bit more fun and playful, infuse white paper lanterns to hang down from the roof. With a beige table runner and greens for the centerpiece, it'll be unforgettable.
[Wedding: Long Distance Romance / Photo: Feel in the Blank]
(4) A country club reception hall will look the same if you don't change it up! Alternating heights for table centerpieces like tall candelabras and shorter floral pieces will add depth to the look of your reception.
[Wedding: Irish Castle Wedding / Photo: Brosnan Photographic]
(5) For those who will be having rustic weddings, wildflowers are a great floral addition to the centerpieces. Adding pictures of the couple are great personal touches too!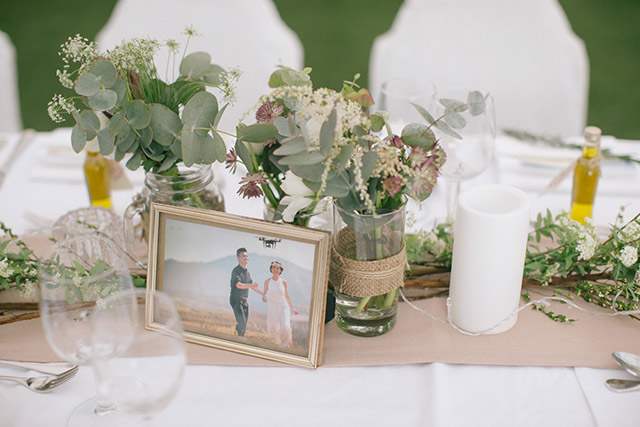 [Wedding: Earthy Garden Charm / Photo: Eyesland Photography]
(6) I j'adore these silver accented candle holders in varying heights for this white table setting. Mixed in with the baby's breath flowers are some long silver vases. What a divine situation I'm seeing!
[Wedding: A Winter Dreamland Tale / Photo: Hilary Chan]
(7) Keeping the floral centerpieces low for rectangular white table settings is also another route to explore. This will enable guests to have an easier time to converse and see each other over the foliage too!
[Wedding: Island Intimacy / Photo: Erika Gerdemark]
And that's a wrap! Having white table settings are very versatile and can easily be dressed up or down according to one's wedding theme. There is no shortage of ways to make it your own. We can't wait to see what you clever brides come up with!