It's a no-brainer that we're in love with garden weddings. There's just nothing quite as romantic as being outdoors, surrounded by nature and the warmth of the sun, and you also can't beat taking photos with an abundance of natural light. But to say that it's challenging to find such spaces in Hong Kong is a complete understatement, so we figured we roundup a list for those of you who are on a search. We manage to find something for everyone — for budget or luxury, casual or formal, intimate or large parties.
HONG KONG ISLAND
A luxurious garden with a view of the ocean
Capacity: 100 to 400 guests
Western food only (buffet or sit down) / Coach service available
Address: 109 Repulse Bay Road, Repulse Bay | Tel: 2292 2830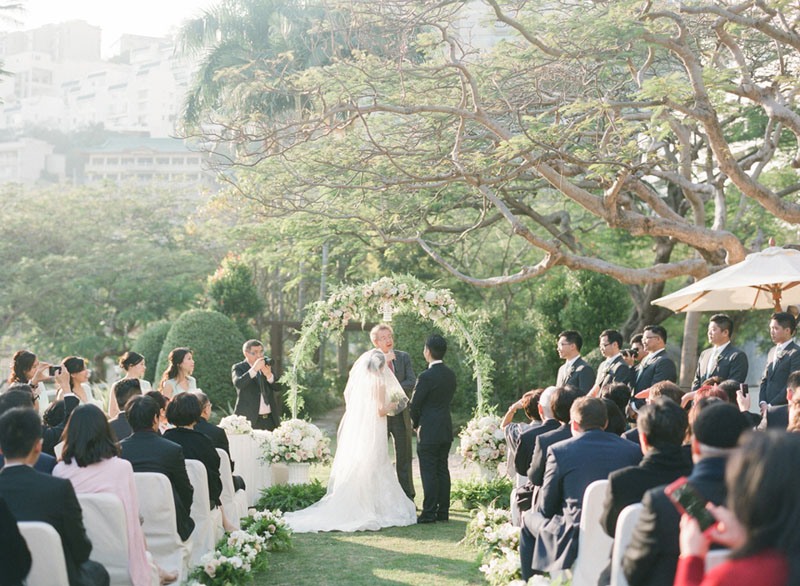 [Photo: Jada Poon / Feature: Endearing Romance]
A posh, secret garden in the heart of the city
Capacity: 70 to 120 guests
Cocktails and appetizers only
Lawn furniture can be cleared to accommodate more guests
Address: Level 6, The Upper House, Pacific Place, 88 Queensway, Admiralty | Tel: 2918 1838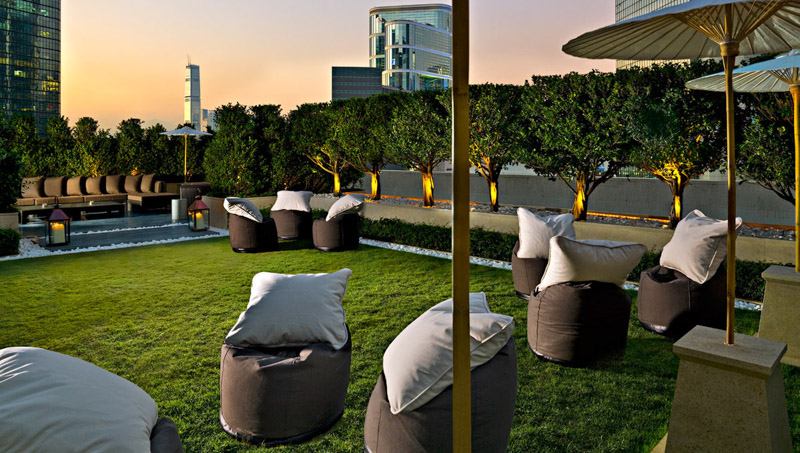 [Photo: The Upper House]
A spacious lawn with a view at one of HK's most prestigious clubs
Address: 188 Wong Chuk Hang Road, Deep Water Bay | Tel: 2870 6396
[Photo: Steve Steinhardt]
KOWLOON
A cozy garden space right in a historical setting
Capacity: 60 to 250 guests
Western and Chinese menu / Indoor options available
Address: 1881 Heritage, 2A Canton Road, TST Kowloon | Tel: 3988 0206
[Photo: Sophia Kwan]
5. Bauhinia Garden, Kowloon Tsai Park
A quiet, rustic park lined with beautiful bauhinia blooms
Capacity: around 150 guests
Foldable tables, lawn chairs, and signage stands available
Address: 13 Inverness Road, Kowloon Tsai Park, Kowloon City, Kowloon | Tel: 2762 2061, 2336 7878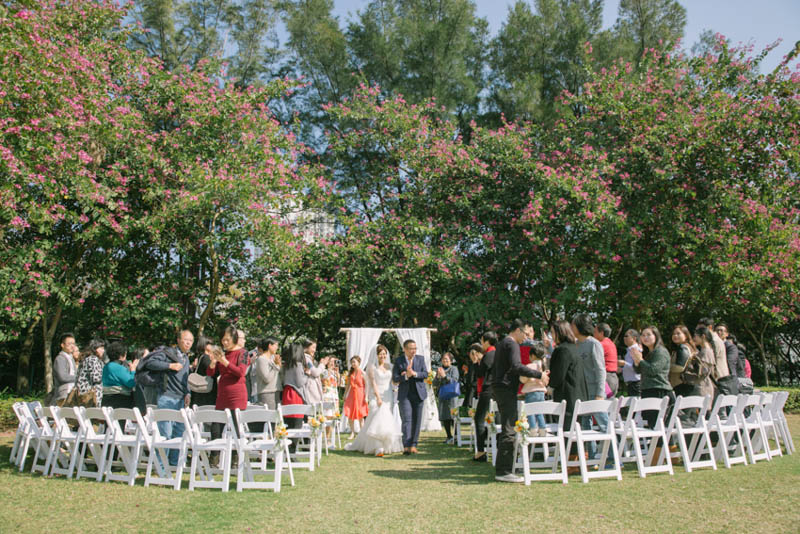 [Photo: Amee Cheung / Feature: Summer Sunshine]
An elegant outdoor area with a statement vertical garden
Capacity: up to 220 guests
Cocktail menu available / Private lift to garden area
Address: Kowloon Crowne Plaza Hong Kong Kowloon East, 3 Tong Tak Street, Tseung Kwan O | Tel: 3983 0328
[Photo: nikkiloveu]
NEW TERRITORIES
A French provincial style house, complete with a pond amongst lavish lawns and a beautiful backyard garden.
Capacity: Reception 300 Guests, Dining 200 Guests
Total Function Space: Over 10,000 square feet
Warm and cozy French-inspired garden
Address: 1 Ko Sheung Road | Tel: +852 5224 4860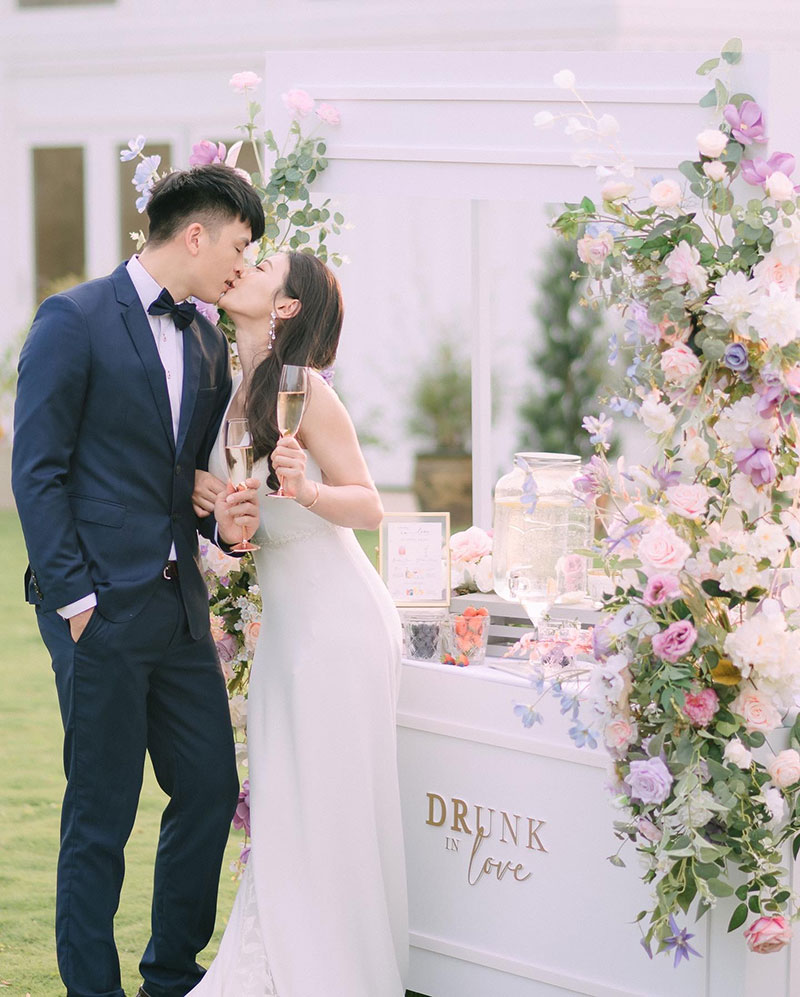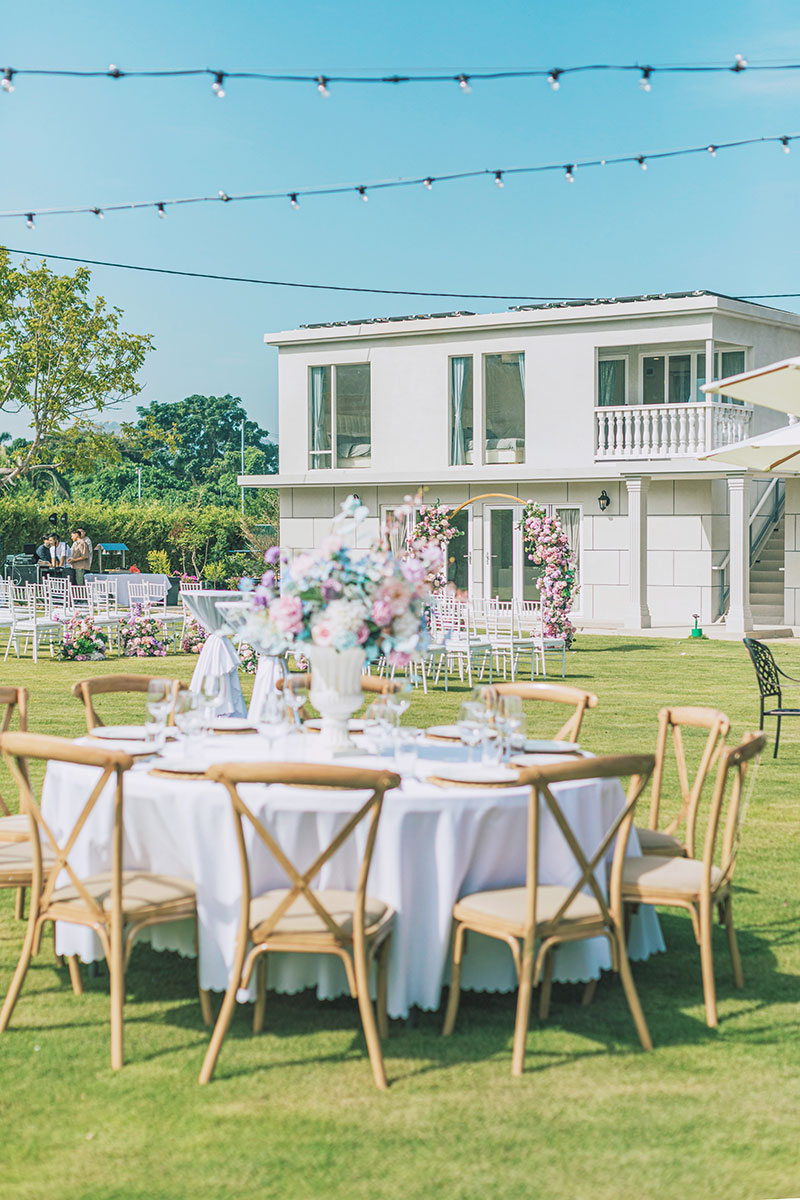 [Photo: siumingteam]
A flexible garden space area for a variety of setups
Capacity: 100 to 300 guests
Western menu only / Coach service available
Pose with the famous shetland ponies
Address: The Hong Kong Jockey Club, Kam Tsin Road, Kwu Tung | Tel: 2966 1977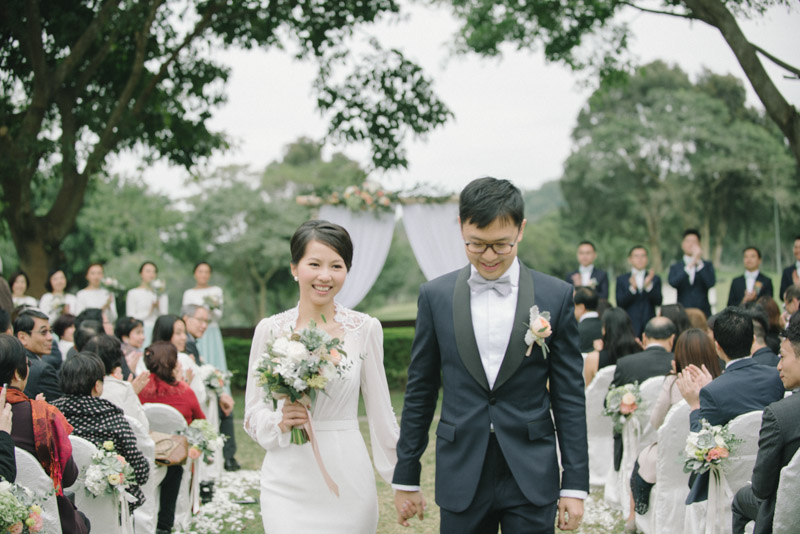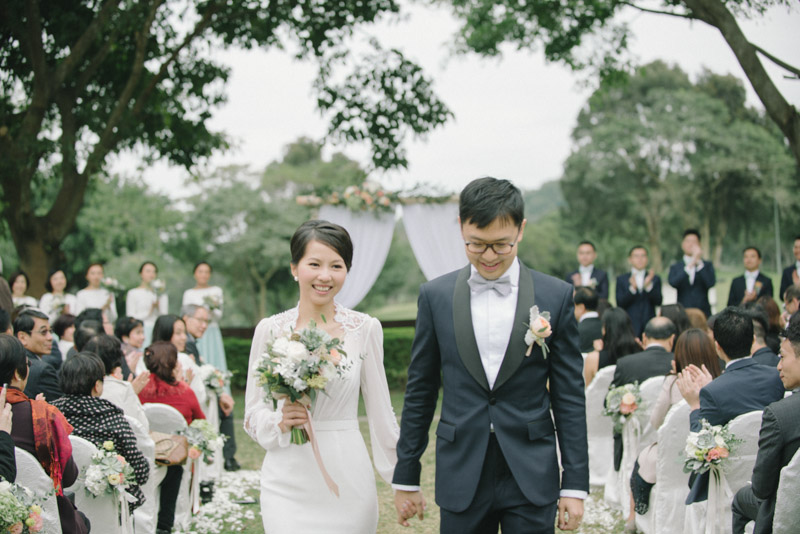 [Photo: Isa Photography / Feature: Harmonius Bliss]
An intimate garden surrounded by lush greenery
Capacity: 60 to 120 guests
Cocktail menu available
Address: 18 Chak Cheung Street, Sha Tin | Tel: 3723 1234
[Photo: Jada Poon]
10. Hong Kong Adventist College
A vast lawn space with a 1920s red brick building as backdrop
Capacity: up to 100 guests
Only available on weekends / Must be booked through Sharon Au wedding planners
Address: 1111 Clearwater Bay Rd., Sai Kung | Tel: 2836 6998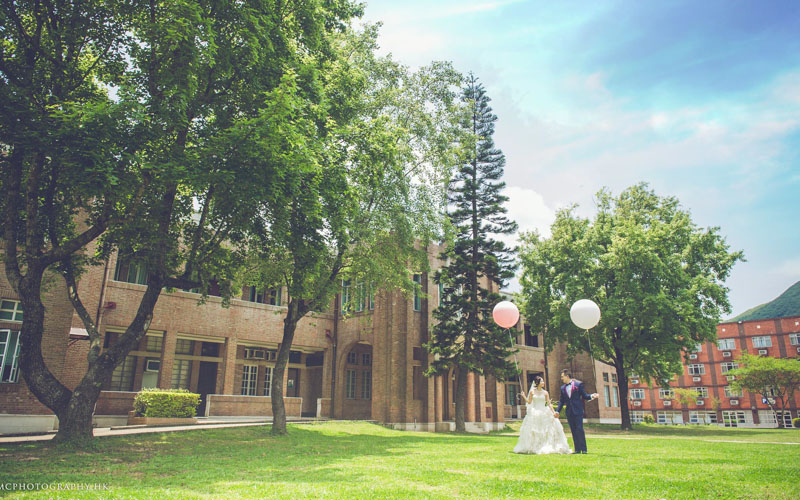 [Photo: MCPHOTOGRAPHY.hk]
11. Clearwater Bay Golf & Country Club
Scenic garden options with
Exclusive for members and relatives
Two lawn spaces available: Oasis Lawn (ocean view) / Marina Lawn (mountain view)
Address: 139 Tai Au Mun Road, Clearwater Bay | Tel: 2335 3700
[Photo: Jenny Tong]
12. Hong Kong Disneyland Hotel
A variety of outdoor gardens at the happiest place on earth
Capacity: 50 to 1000 guests
Western and Chinese menus available
Three (3) outdoor venue options: White Gazebo, Dreamers' Garden, West Lawn
Address: Hong Kong Disneyland, Magic Road, Lantau Island / Tel: 3550 3388
[Photo: Hong Kong Disneyland]
13. Gold Coast Hotel
A manicured lawn with an iconic pavilion
Capacity: 60 to 500 guests
Chinese and Western menu available
Address: 1 Castle Peak Road, Gold Coast, Tuen Mun | Tel: 2452 8888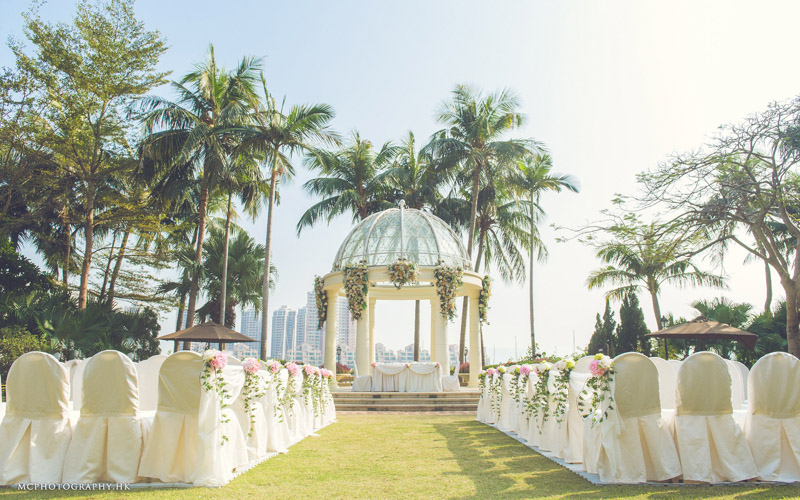 [Photo: MCPHOTOGRAPHY.hk]
14. One Thirty-One
A secluded garden with a breathtaking view
Capacity: 60 to 200 guests
Entire venue available for rent / In-house catering available
Address: 131 Tseng Tau Village, Shap Sze Heung, Sai Kung | Tel: 2791 2684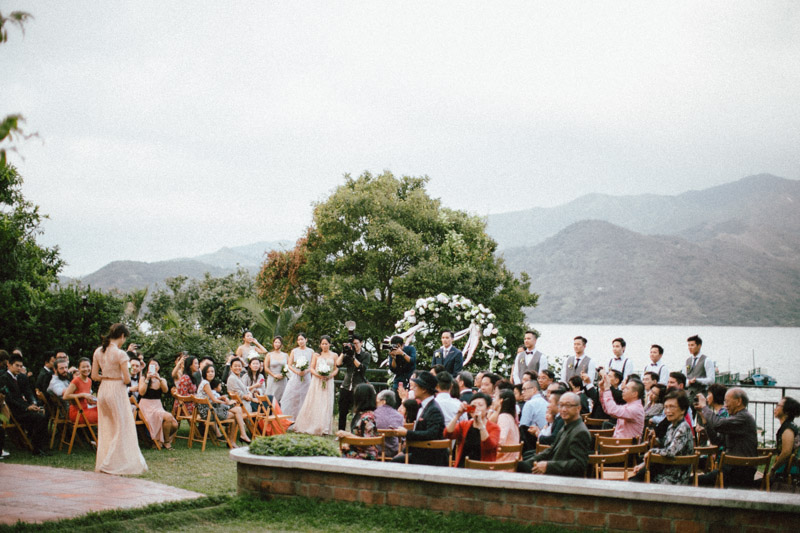 [Photo: Mary Ann Art & Photography / Feature: Peach Perfection]
15. Secret Garden
A quaint garden for an intimate affair
Capacity: 100 guests
Indoor banquet hall and bridal room available
Address: Wo Mei Hung Min Road, Sai Kung | Tel: 2882 2776
[Photo: Secret Garden]
A picturesque lawn with a canopied amphitheatre nearby
Capacity: 50 to 100 guests
Foldable tables, lawn chairs, and signage stands available
Address: Dai Hei St, Tai Po | Tel:  2664 2107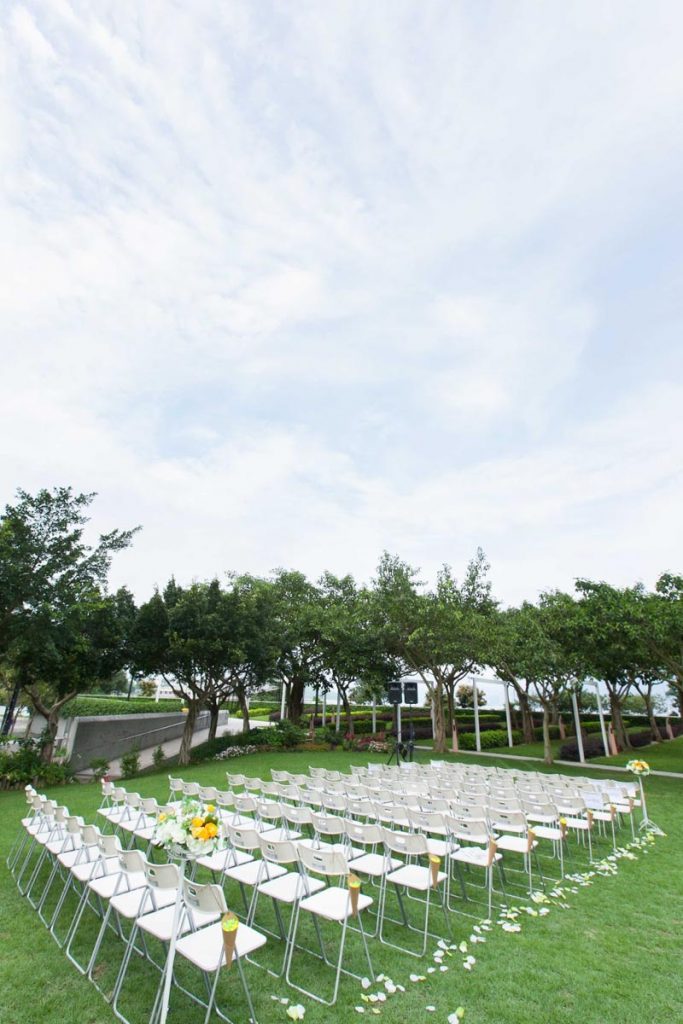 [Photo: Lazy Joys]
17. YWCA Sydney Leong Holiday Lodge
A rooftop garden space in a relaxed setting
Entire camp available for booking
Address: 10 A San Shek Wan, South District, Lantau Island | Tel: 2980 2321 / 2980 2804
[Photo: Lauhaus.co / Feature: Organic Garden Terrace Wedding]