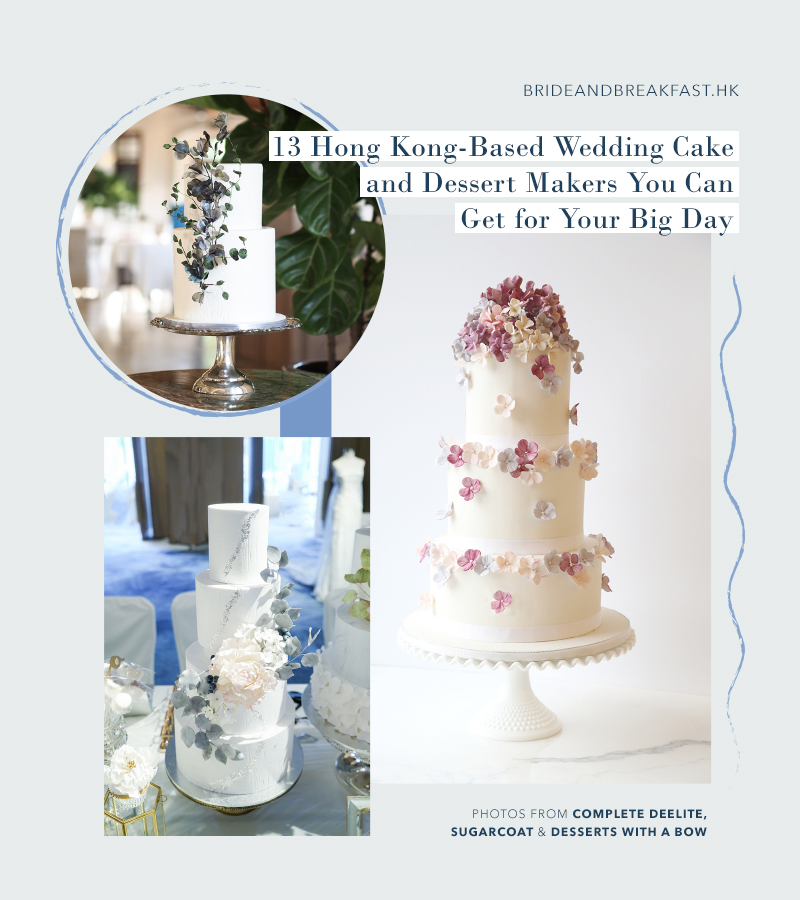 Hello, brides! We can all agree that the wedding cake is clearly the belle of your reception and not to mention, the grand focus of your dessert bar. Finding the baker fit for your celebration's theme, dietary needs, and style as a couple can be challenging enough. We rounded up these brilliant Hong Kong-based bakers that could cater to your wedding cake and dessert bar dreams. You'll certainly find one (or maybe even two!) that's bound to meet your needs and encapsulate the essence of your special day. Cut the cake of your dreams and take a bite of the married life's sweet first slice!
(1) The Sweet Spot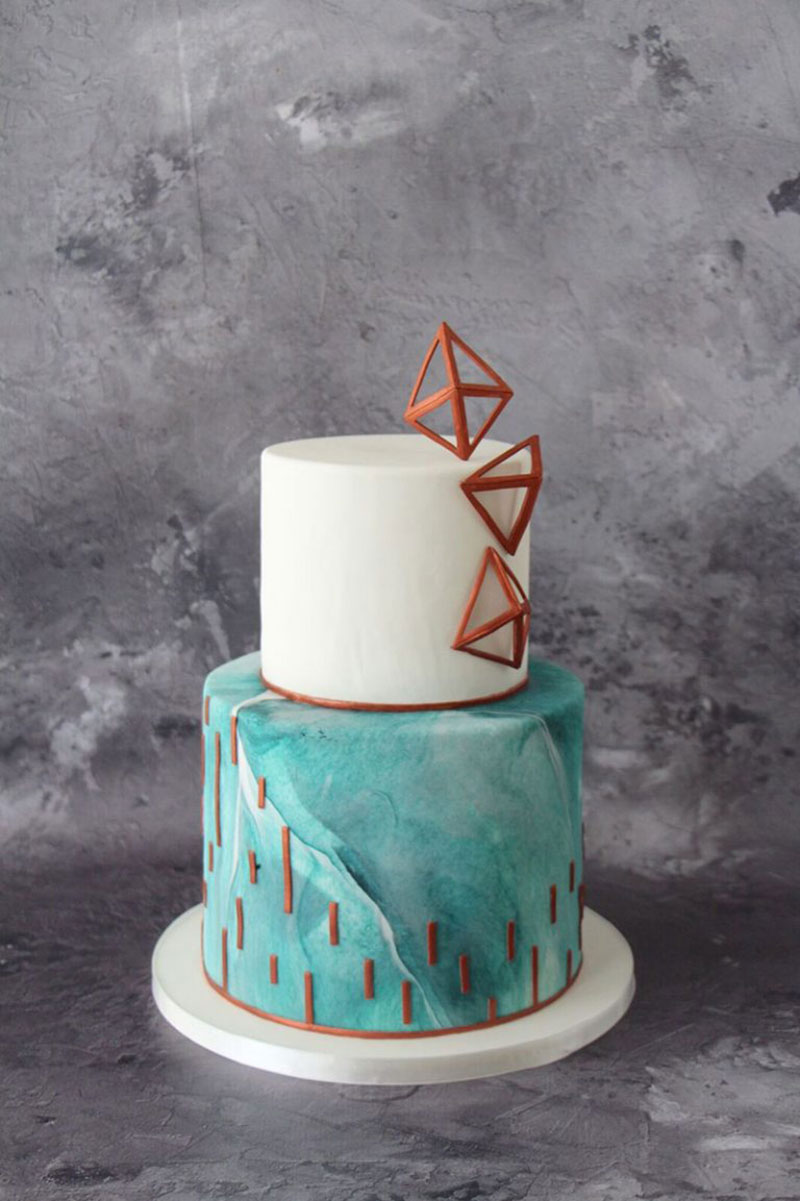 Whether it's for cake or just a simple decorative piece to be placed at home, it will be timeless and a special memory to be kept. From birthday celebrations and baby showers, to weddings, or even for enjoyment, The Sweet Spot strives to provide clients with a bespoke cake catered to all their needs. Cakes are individualized and made to order, with the team's undivided attention on every detail. Everything that's baked is made from scratch with quality ingredients and classic flavors. The Sweet Spot's love for floral decor in soft pastel and muted hues translates through their designs, a colorful reminder of the homey loving flavors from your own kitchen.
Starting rate for wedding cakes:
All wedding cakes are custom designed for clients. The price will vary depending on the complexity of the final design of the cake. The starting prices for wedding cakes are HK$4,000 with a minimum of 2 tiers.
(2) Phoenix Sweets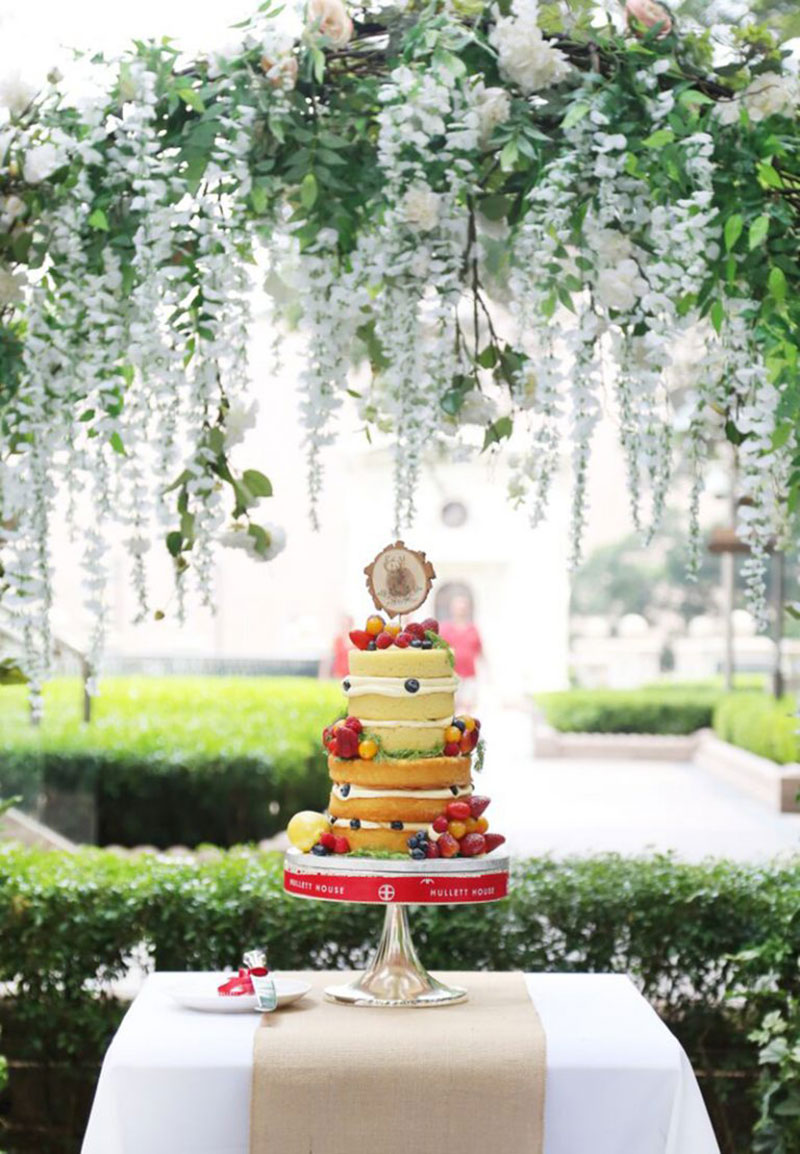 Phoenix Sweets is a bespoke cake brand based in Hong Kong. Founded by Ms. Phoenix HUI as an online artisan confectionery store, the team behind Phoenix Sweets is passionate about creating made-to-order cakes and baked confectioneries for weddings, business events, celebrations, and all memorable occasions. Phoenix Sweets uses the finest ingredients and craftsmanship to bake their artisan sweets. Each piece of their delicate work is a precious gift for your beloved ones.
Starting rate for wedding cakes:
For the most popular wedding cake sizes (i.e. 8″+6″+4″ and 8″+6″, diameter), the starting price is HK$ 6,980 and $5,680 respectively. Please note that the actual price of wedding cake depends on the finalized design requirement. ​
Starting rate for dessert table:
HK$ 1,280 for 24 pieces of mini cupcakes, 24 pieces of marshmallow pop, and 24 pieces of macarons.
(3) SIFT
Sift is modern patisserie driven by an exclusive passion to bring the most refined, gourmet cupcakes, French pastries, macarons, and cookies to our customers. They source the world over for the highest quality ingredients–whether it be their Madagascar bourbon vanilla, Valrhona and Callebaut chocolate products, or dairy imported from France, they believe in using the very best. Every item is flavoured with all-natural ingredients, real strawberries, cherries, etc. flown in fresh to guarantee the most pure and unadulterated of flavors.
Starting rate for wedding cakes: 6" + 8" diameter 2 tier celebration cake HK$ 1,440
Our celebration cake is one of the best option as wedding cake! It can be in a form of 2-tier cake, best for 50+ people.
Starting rate for dessert table:
HK$ 1,880 for 30 pieces of mini cupcakes, 24 pieces of macarons, 24 pieces of cookie lollipops, and 24 pieces of marshmallows.
Founder and Creative Director, Vivien Lau, established Vive Cake Boutique in 2014 with a vision to design, create unconventional desserts, and eat with style. From cake creation, styling, to photography, the brand portrays a soft and feminine aesthetic which has been much loved by a growing number of audience. She strives to provide visually appealing and scrumptious treats to their customers for all special occasions. Vive Cake Boutique also creates tailor made cakes for all special occasions, wedding cakes, and wedding flavors for clients who would like something a little different.
Starting rate for wedding cakes and dessert package:
HK$4,000
(5) Complete Deelite
From a very young age, Jacinta has always been fascinated by arts, fashion, cakes, and baking. After graduating from Fashion Institute of Technology in New York, Jacinta worked in a couple of fashion houses and decided she needed to explore her creative talent in an edible art form. A chance visit to an international food fair allowed her to enrol with Wilton Master Course in 2002, and the rest is history. Over the ensuing years, besides being mentored by some very experienced cake artists, she has developed her passion for conceptually designed cakes. From the beginning of her journey till this day, she has seen a huge shift in the way the market perceives cake decorating and is truly appreciative that she has been able to follow her dreams. Complete Deelite remains to be her dream job and whilst being a busy mom with a young, growing family, Jacinta continues to challenge herself in this artistic field.
Starting rate for wedding cakes:
Depending on the number of people and design, Complete Deelite provides cakes for all price points:
Wedding Cake to Go: Can be ordered 2 days before the event and price starts at HK$ 2,850.
Customized cakes start at HK$ 5,000
Starting rate for dessert table:
Rent A Cake: Perfect options for the dessert table or for those who prefer not to have a real cake starts at HK$ 500.
Glamorous Wedding Cake is the first and only dummy cake rental shop in Hong Kong specializing in dummy cake rental, candy corner, and dessert tables for weddings and birthday parties. Tailor made dummy cake services are also available for selling to hotels and restaurants . All their cakes are special because they're handmade with love.
Starting rate for wedding cakes:
Rental rate starts at HK$480.
(7) Penney Pang Designer Cakes
As one of Hong Kong's leading cake designers, Penney Pang Designer Cakes provides some of the most exquisite cakes in town. Her signature sugar or handcrafted flowers have won several medals in professional competitions around the globe, in particular, at a highly regarded International Exhibition run by the British Sugarcraft Guild. She is often interviewed by televisions, newspapers, and magazines, both local and abroad. Penney is passionate about creating couture and bespoke cakes, and believes every cake is a celebration of love. Whenever a cake is cut and served, not merely joy and blessings are shared among family and friends–it also celebrates life with a gift of love, the most precious gift that any person can provide and receive.
Starting rate for wedding cakes:
All their cakes are custom made and priced based on complexity of the design, size, and flavour.
(8) Sugarcoat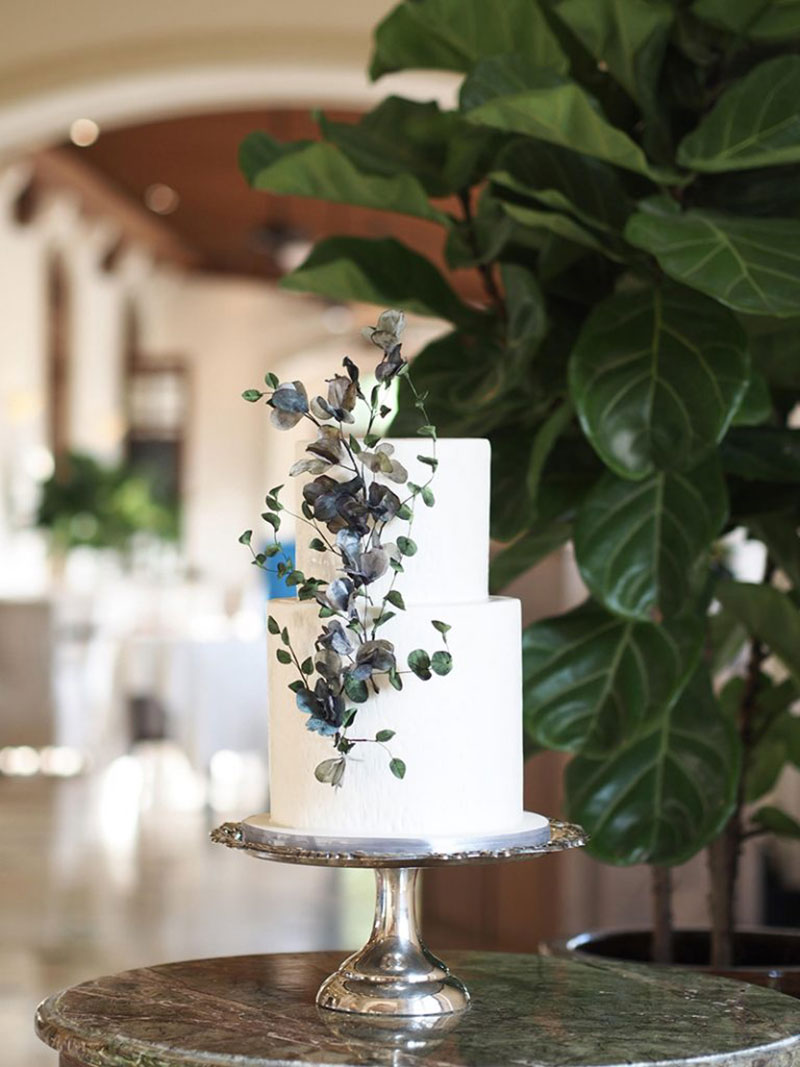 Sugarcoat's main expertise has always been wedding cakes. The brand's founder, Olivia, adds: "I work with couples and wedding planners to understand what kind of wedding cake they are looking for. They will usually send me mood boards or inspirations and I just take it from there. If they request for a brand new design, I do a sketch for them so they can better imagine the real wedding cake." Inspiration for a cake design can come from anywhere –fabrics, fresh flowers, and other art pieces, so Olivia always keeps an eye out for fresh, new ideas. Her style is classic elegance with beautiful blooms.
Starting rate for wedding cakes:
Starting rate for a 2-tier wedding cake is HK$3,000.
(9) Sweet Secrets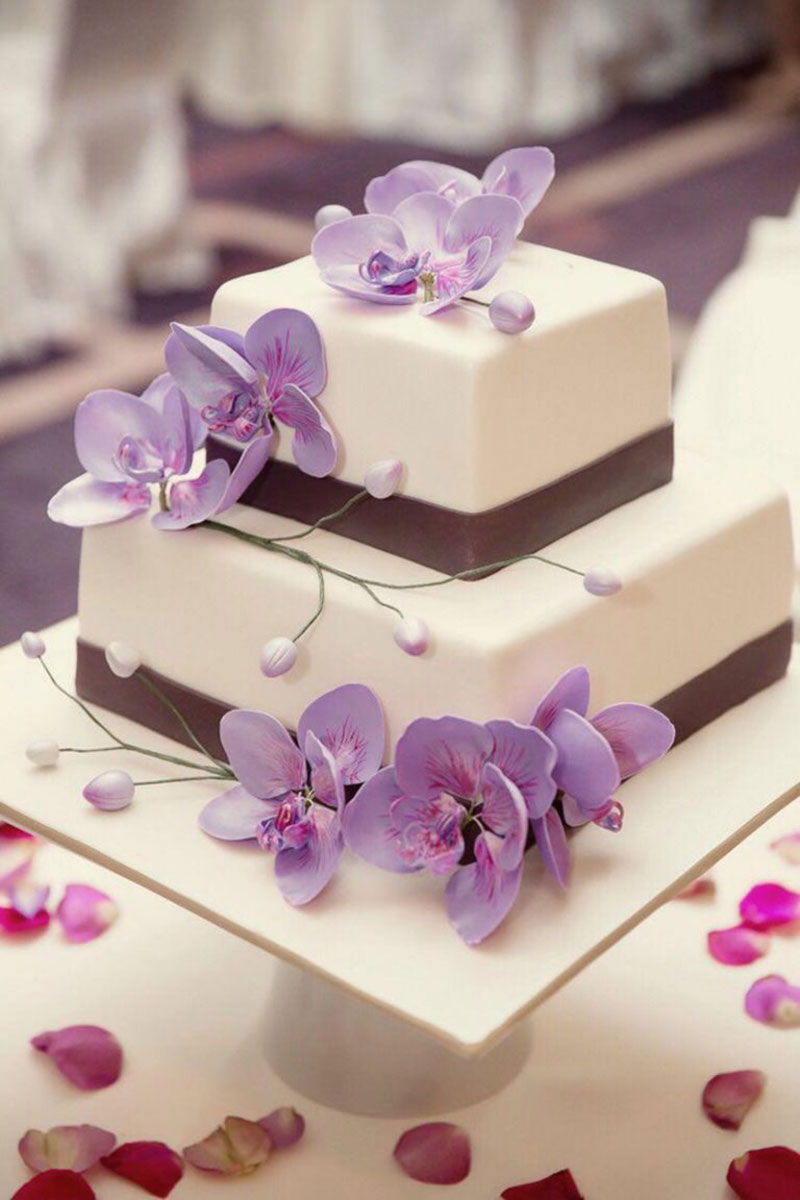 Sweet Secrets specializes in western style cakes and desserts, and artisanal baking, where their cakes in small batches are made by hand, from scratch, and without artificial additives. They take pride in using only high quality ingredients–the basis of good tasting cakes. In 2011, Sweet Secrets was the first bakery in Hong Kong to offer cakes free from gluten and refined sugar for those with gut health or sugar concerns. As varying health issues arise in the community and some customers are no longer able to enjoy a simple indulgence, especially on special occasions, Sweet Secrets pushed on to develop what is seen as the widest range of plant-based cakes and desserts in Hong Kong, free from eggs, dairy, nuts, etc.
Starting rate for wedding cakes:
The smallest cake is 6" with 4"H which works for a couple with an intimate family dinner. This will start from HK$2,000.
3-tier cakes will start from HK$7,000 serving 100 pax or more.
Pricing is based on serving size, design specification, and type of cake. (Cakes are mostly made of organic ingredients such as coconut sugar and coconut oil, for our free-from cakes).
(10) Aesthetics HK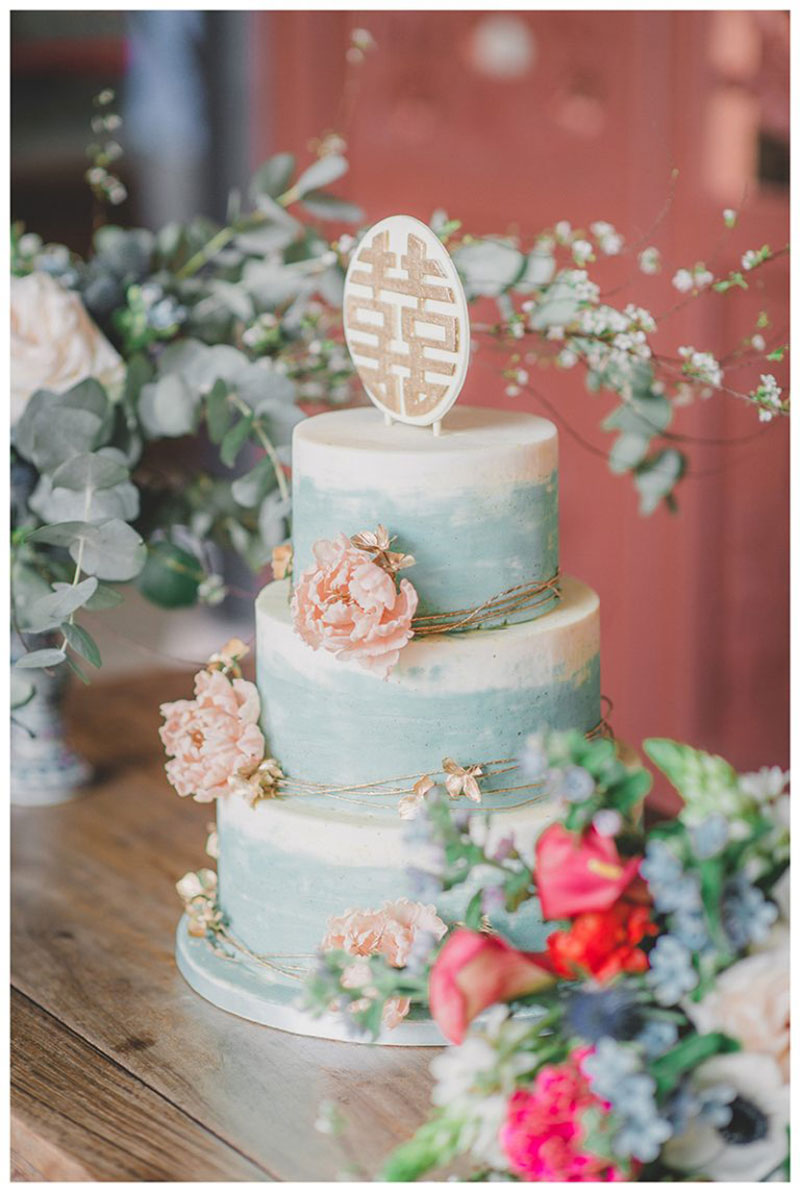 Aesthetics specialises in custom-made wedding cakes and sweet tables, as they aim to create a unique experience tailored for each couple to bring out their own love story. Crossing Parisian romance with elegant beauty, Aesthetics infuses a range of edible art pieces and ideas with sweetness. Every cake is 100% handcrafted for each customer. Garnish your special occasion with their artistic delicacies.
Starting rate for wedding cakes:
Starting rate for 2-tier and 3-tier wedding cake is from HK$ 3,980 (2 tier: 6″(D) + 8″(D)) and HK$ 4,980 (3 tier: 4″(D) + 6″(D) + 8″(D)). Respectively, final cake price is subject to the size and design that as been agreed upon with the customer.
Starting rate for dessert table:
They have 3 standard sweet table packages with prices is HK$ 3,980, HK$ 6,080 and HK$ 7,980 respectively and custom packages are available upon request.
(11) Tea Saloon by AnotherFineDay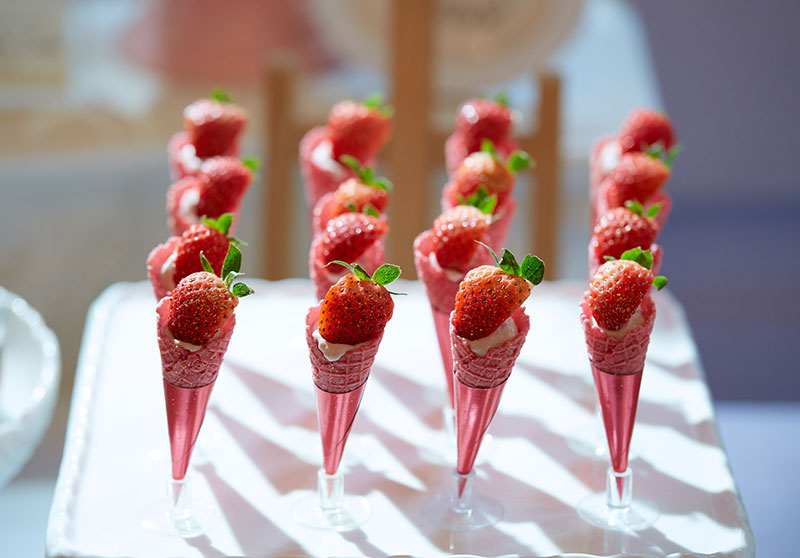 Nestled in a quaint corner on the mid-levels, Tea Saloon by AnotherFineDay is not only renowned for its irresistibly pretty afternoon tea and party services. It is also a perfect venue for bridal showers, intimate wedding parties and even pre-wedding photo sessions. Headed by veteran advertising creative director, Karen Lai and her avid baker partner, their cake atelier specializes in creating luxurious, contemporary cakes and catering tables which are highly personalized. Fusing exceptional concept and design, exquisite craftsmanship, and most importantly, the finest ingredients–their delicious creations range from the slightly quirky to the downright fantastical, with whimsical detailing inspired from touches of the event design–just the perfect accompaniment to all of life's celebrations. True to their company philosophy, they are passionate in bringing you "another fine day" every day and especially, on your big day.
Starting rate for wedding cakes:
Wedding Cake Service including consultation, tasting and design starts at HK$6,000.
Starting rate for dessert table:
Wedding Dessert Tables & Catering starts at HK$8,000.
(12) The Symphony Designer Cakes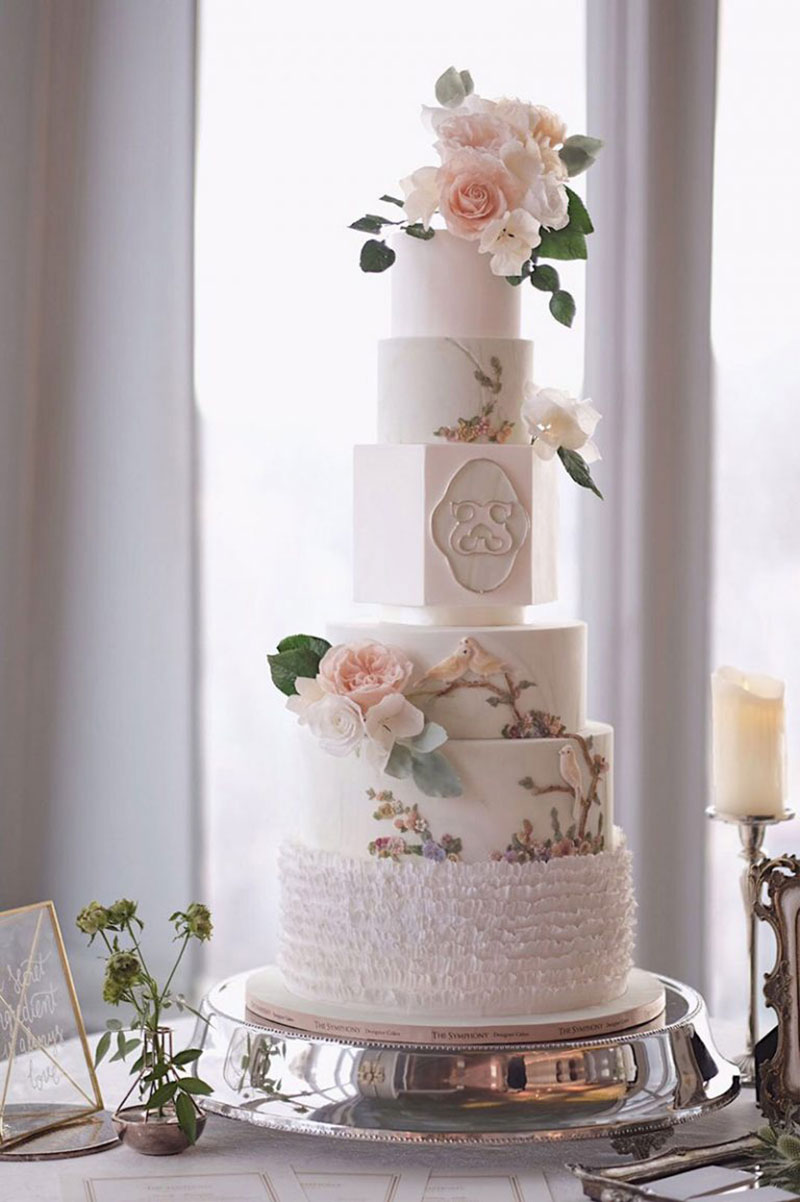 Creations of The Symphony Designer Cakes follows the passion of Ms. Melody, dating back to 2013 where she first discovered the beautiful marriage of craft and cakes. Although she initially follows the path of Accounting, graduating from England, her true calling was more creative. Launching The Symphony Designer Cakes presents her with the opportunity to bring her unique artistic vision to life, making customized couture cakes pieces for her clients' most important events. The Symphony Designer Cakes believes that aside from looking like a work of art, your cake must taste fabulous, too. They only offer the freshest and finest quality ingredients for all of their products which are made completely from scratch in their licensed bakery. The dedicated team often works on exploring flavours beyond the usual and will ensure your cake is truly a mouth-watering piece of art.
Starting rate for wedding cakes:
All fondant wedding cakes start from 2 tier up at HK$4,280.
Starting rate for dessert table:
HK$6,800 and up.
The story of Desserts with a Bow started when two Girls, who are passionate in all edible sweet things, met at Le Cordon Bleu Paris. Together, they started their first establishment in Shanghai, Lazy Baking. The goal of Lazy Baking is to share the joy and happiness of baking to everyone. Soon after, BOW, the second establishment, opened in Shanghai and Hong Kong. BOW specializes in bespoke cakes and sweets for weddings and all other occasions. All the desserts at BOW are created with love, passion and the finest ingredients. The name of BOW came from the idea of the ribbon bow on a present with the hope everything from BOW would be the sweetest treat for clients and their loved ones. For weddings, birthdays, anniversaries, celebrations, or any other special occasion, BOW perfects your special day with the sweetest treat.
Starting rate for wedding cakes:
The 2-tier wedding cake starts from 4″6″ rounds, HK$1,680, and the 3-tier cakes 4″6″8″ rounds HK$3,680, at approximately 13cm tall for each tier. Complimentary tasting sessions are available for all wedding cake customers after securing their dates.
Starting rate for dessert table:
The Candy Corner Package starts from 80pcs, at HK$1,380.
Disclaimer: All prices may change without notice. Final prices will depend on final arrangements with the vendor. For more details and price confirmation, please get in touch with the vendors.