The perfect wedding day look–a lot goes into achieving this. every little detail matters, from the hairpiece, jewellery and gown, down to the shoes! Yes, shoes. Today we're going to zero in on wedding shoes because even if they might not be as visible under your wedding dress, your wedding shoes matter! In fact, choosing the right wedding shoes is very, very important because you'll have a long day ahead of you. You'll want to look good but also feel comfortable all day long. Here are some tips that can help you cop the perfect shoes for your special day. Read up now!
(1) Define your wedding day style.
Are you going for a modern look or a sweet, Boho look? How about a luxurious, regal look? Before you decide on your shoes, nail your wedding day style and built your look–that includes the kind of shoes–around this style.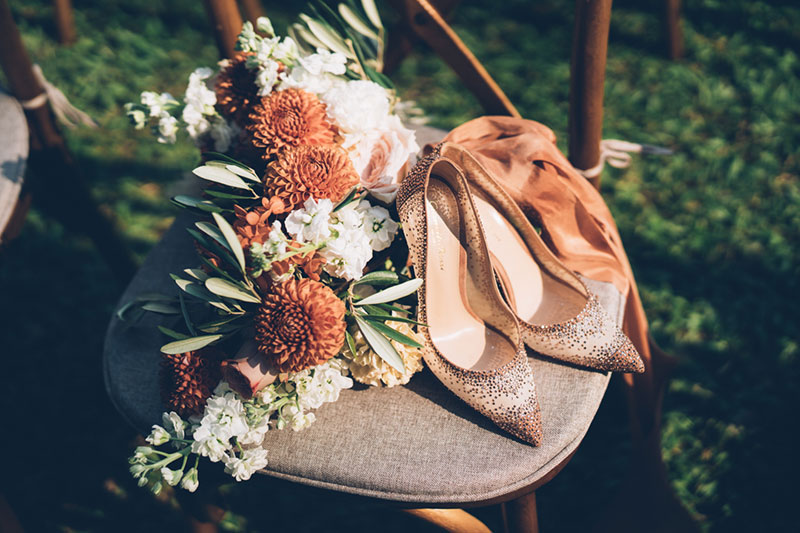 [From: A Rustic Garden Wedding at The Pavillion Filled with Peach and Cream Flowers / Shoes: Gianvito Rossi  / Photo: Martin Aesthetics]
(2) Choose the dress first.
Knowing your wedding style helps narrow down your choices, but that doesn't mean you can go ahead and buy your shoes right away. Wait for the dress. Pick your wedding dress first because this will be the focal point of your entire bridal look. Your shoes are meant to accessorize and complete the look. Once you have your wedding dress (or dresses), you have a better guide on the wedding shoe styles you can consider.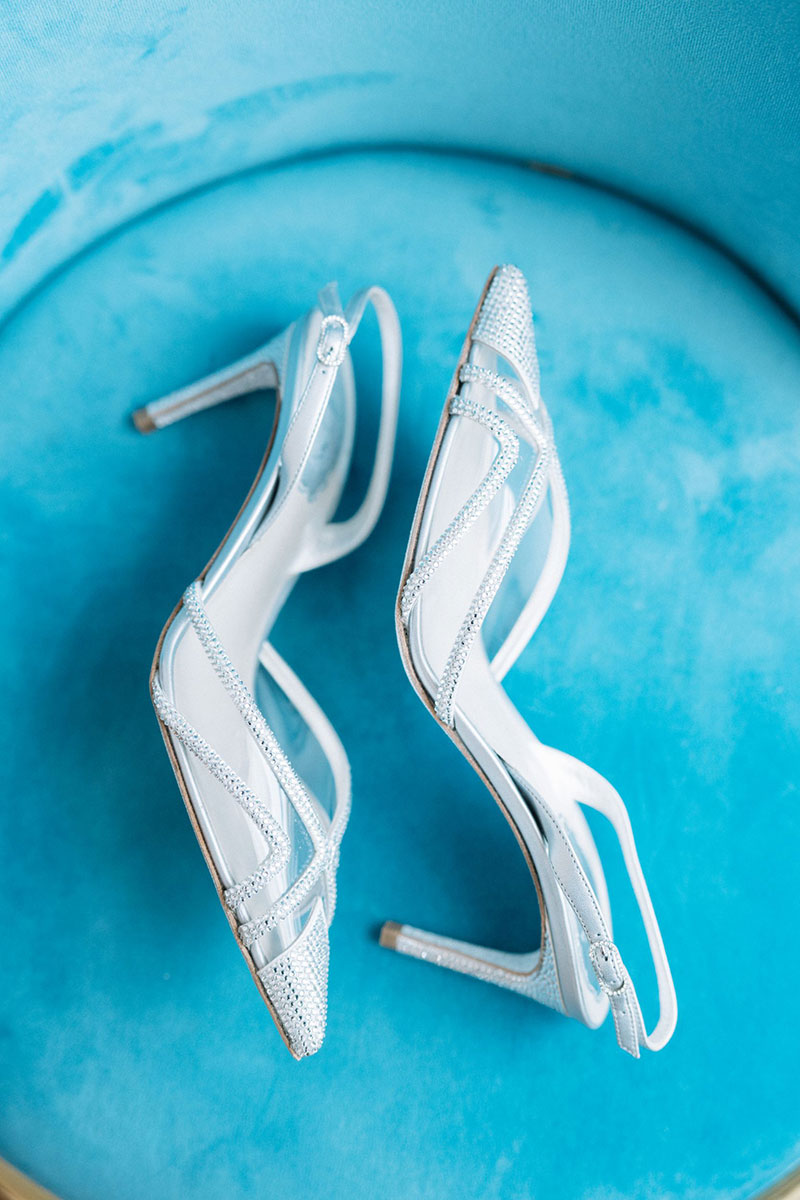 [From: After Postponing Twice, These Lovers Finally Had a Dreamy Phuket-Inspired Wedding in Hong Kong / Photo: Derek Photography]
(3) Do your research.
After you've chosen your wedding dress, start researching on styles and bridal shoe vendors or shops. You can definitely buy shoes off the rack, but you may also consider custom-made shoes. This is especially useful if your wedding theme and bridal look are very unique or if you're looking for something particular that is not available locally or easy to ship over.
[From: A Classic Union at The Grand Hyatt Hong Kong Pool House / Photo: Patrick Photography]
(4) Try them on.
No matter how pretty shoes look, make sure you try the shoes on before committing to them. Visualize your wedding day and think about how long you will be wearing your shoes. Now do you see how important it is that you test out your shoes first? You want to be comfortable all day long!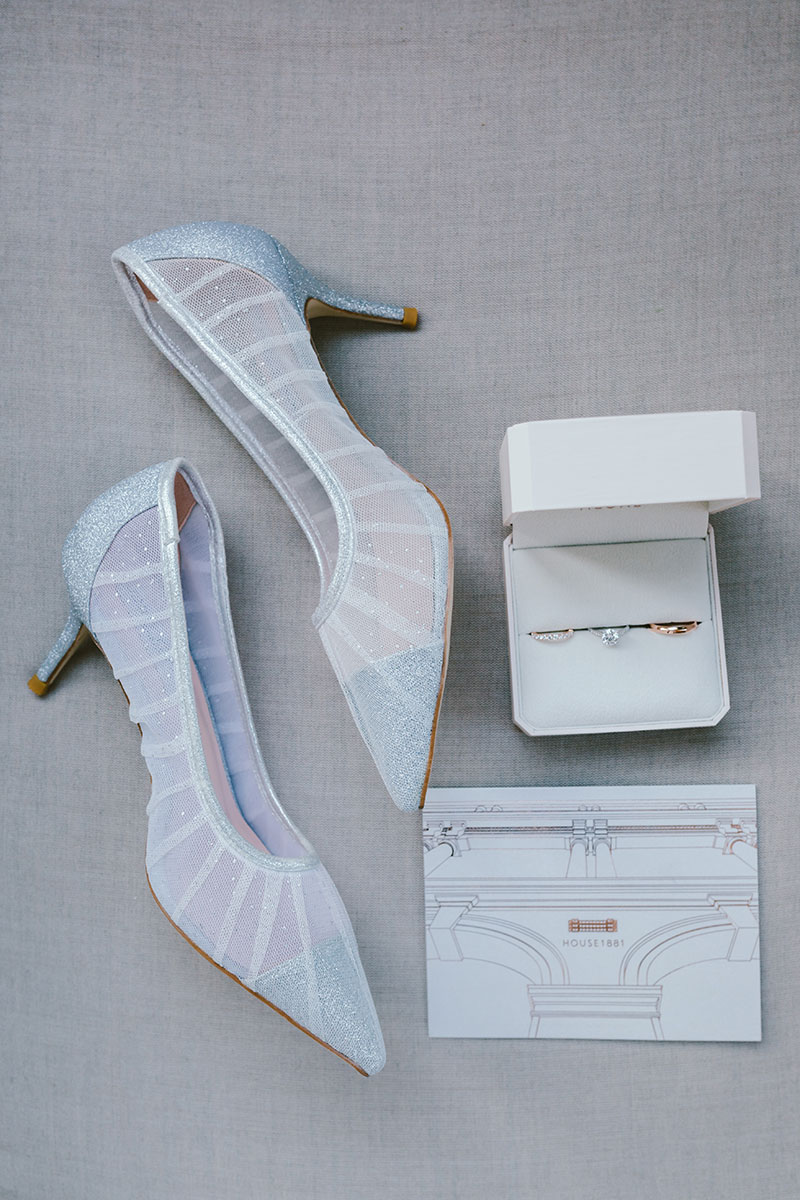 [From: This Couple Went for A Neutral Palette for Their Wedding at House 1881 / Shoes: Jimmy Choo / Photo: Mattie C Fine Art Wedding Photography]
(5) Consider your venue.
When you do an ocular visit to your wedding venue, take note of the paths you will be walking on. Things to look out for: grass, sand, cobble stone steps, uneven ground, and anything that might be difficult to walk in. If you will be walking on these, take into consideration what shoe style will best suit your venue. You don't want to have sinking stilettos when you walk down the aisle, don't you?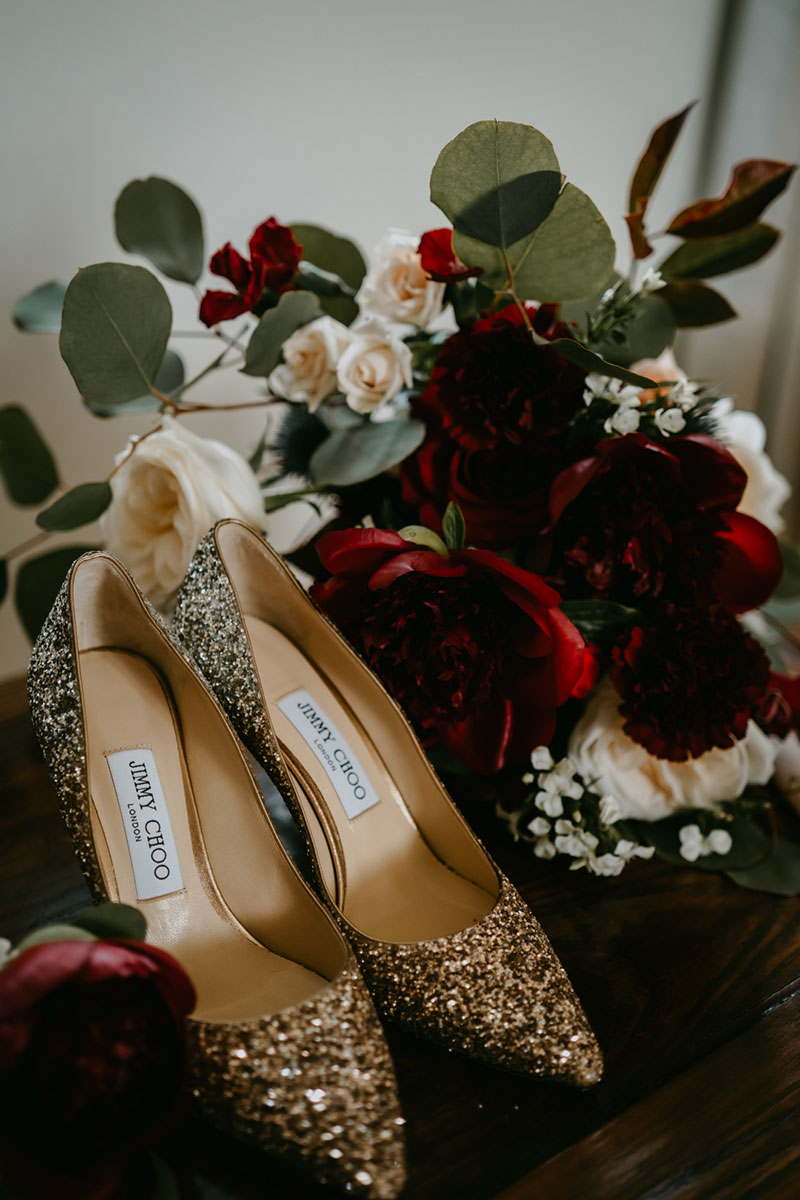 [From: This Couple Tied The Knot in a Romantic Garden Wedding at The Pavillion / Shoes: Jimmy Choo / Photo: Lovememo Studio and Mattography]
(6) Have a backup.
You never know what can and will happen on your wedding day. As much as we all hope and pray that your wedding day is a smooth sailing event, it's best to be prepared. Have backup shoes ready any time just in case of any unwanted shoe mishap.
[From: A Chic All-white Wedding at The St. Regis Hong Kong / Shoes: Christian Louboutin, Malone Souliers / Photo: Jeremy Wong Weddings]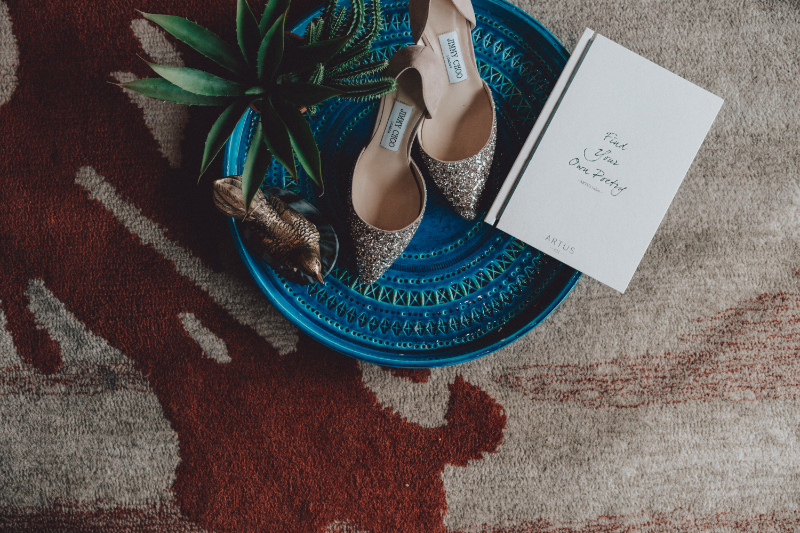 [From: A Stunning Garden Wedding with An Elaborate Cross as The Backdrop / Shoes: Jimmy Choo / Photo: Moonbird Production]
(7) Choose a realistic height.
Looking tall and statuesque on your wedding day sounds like a dream come true–we totally agree–but let's be realistic. Go with a wedding shoe height that you can manage and last all day in. We can't stress enough how feeling good and comfortable comes hand in hand with looking good.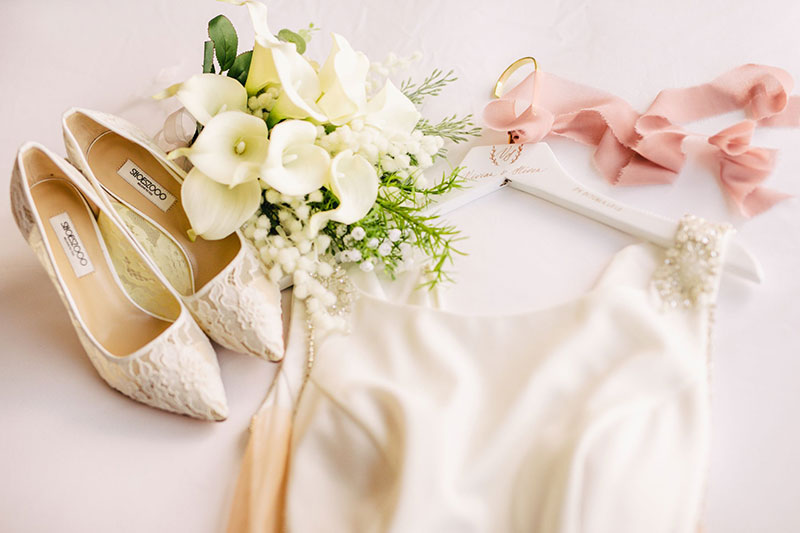 [From: A Romantic Glass House Wedding at Crown Wine Cellars / Photo: The Hour Gallery]
(8) Yes to traditional shoes.
If you're going to wear a classic gua for your Chinese wedding activities, then do go for traditional wedding shoes too. Just like your Western wedding shoes, make sure you also choose your shoes after the dress and fit them first.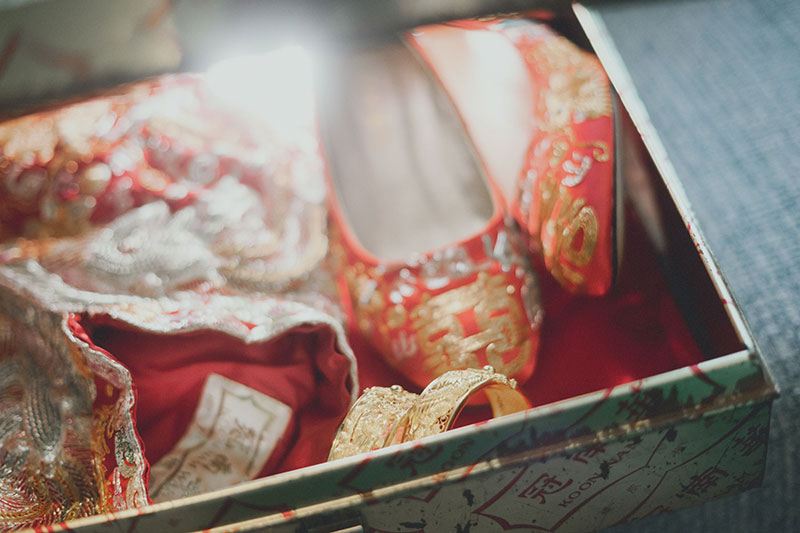 [From: Bold Colors Made This Hotel Wedding an Extra Romantic Celebration / Photo: The Fotop Perry Vision – Storyteller and Jeff Lee Pictures]
(9) Allocate enough time to look around.
Don't rush shoe shopping. Choosing the perfect wedding shoes takes time, so start early and make sure you allot enough time for this wedding detail.
[From: A Serene Garden Wedding with a Peach and Cream Color Palette / Photo: 123cheese Production]
(10) You can go for elegant red shoes.
If you don't want to wear traditional wedding shoes for your Chinese look, elegant red shoes are a good option. Aside from being a more modern accessory to your Chinese attire, your red shoes can be worn even after the wedding. Take them for a spin during a date night or during your next formal event.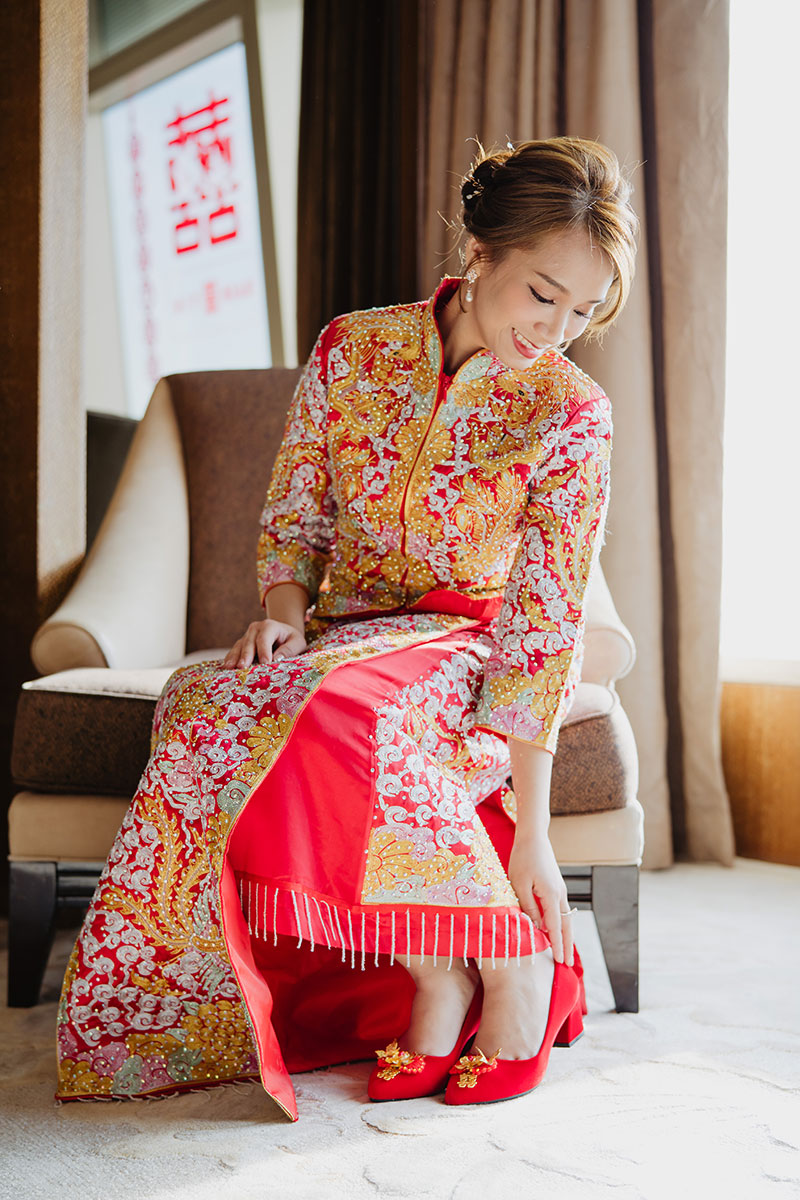 [From: A Classic Wedding at Ritz-Carlton, Hong Kong with Priceless Moments / Photo: Lily and Moon]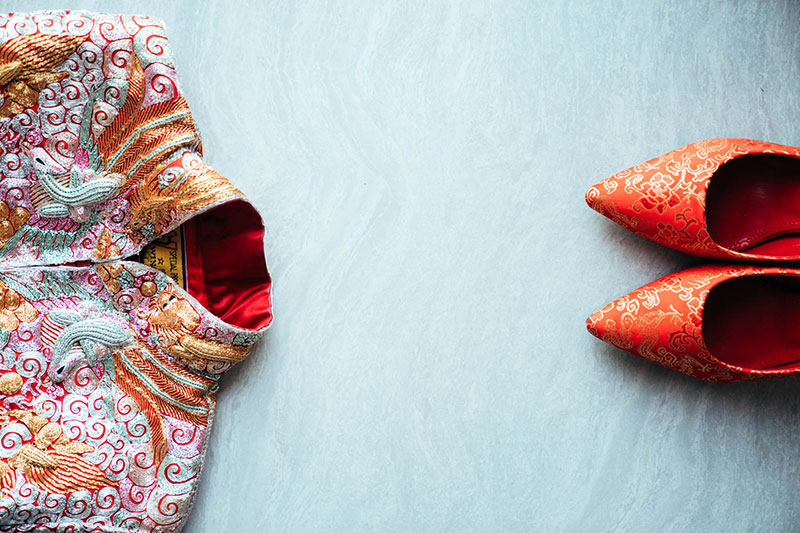 [From: This Charming Wedding Took Place at The Hong Kong Adventist College / Photo: Kel Li Art Gallery]
(11) Yes you can wear flats!
Who said a bride can't wear flats on her wedding day? This is totally not true! It's your day so your rules apply. And if you really want to be extra comfortable, then don't be ashamed of wearing flats. There are many classic and stylish flat shoe designs that can complete any wedding look.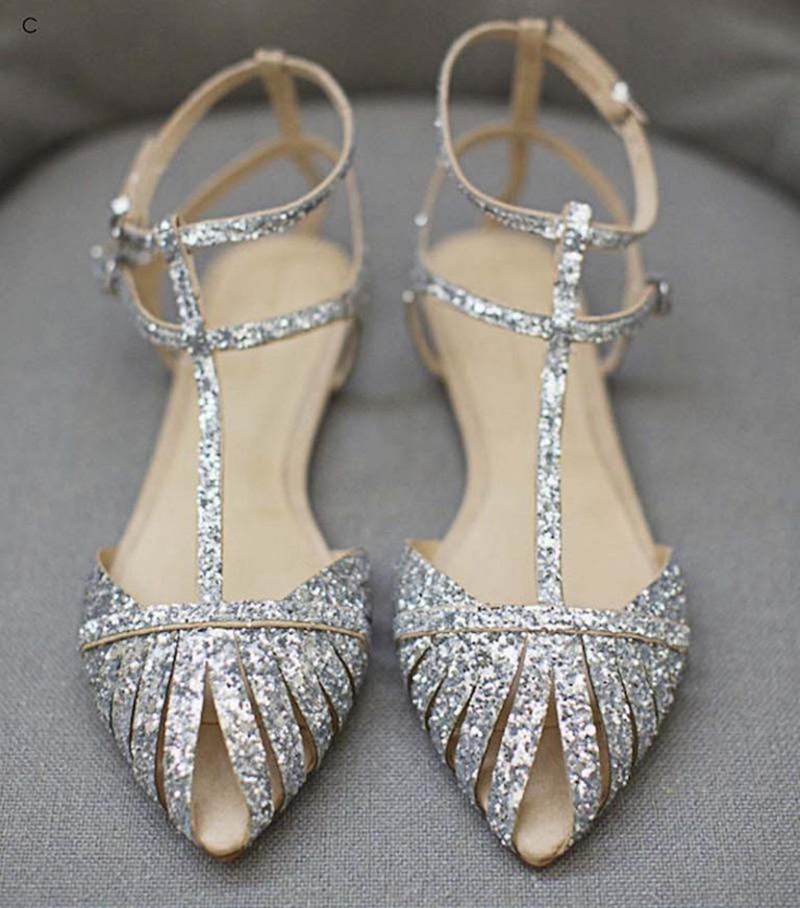 [From: 17 Elegant Flat Shoes You Can Definitely Wear During Your Wedding / Shoes: Zara via Diana Elizabeth Blog]
(12) Block heels work too.
What if you want to be more comfortable on your wedding day but you also don't want to wear flats? As a compromise, block heels will give you both. Get the heel height you desire and still save your feet from the ache from a day's worth of celebrating with block heels.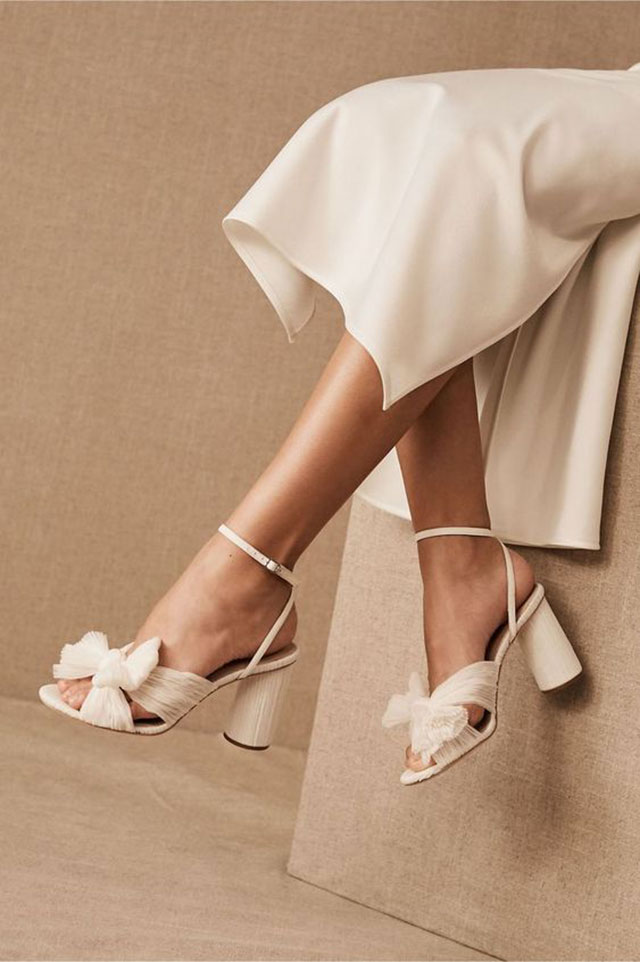 [From: 20 Classy Block Heels That Will Keep You Comfortable Throughout Your Wedding / Shoes: BHLDN]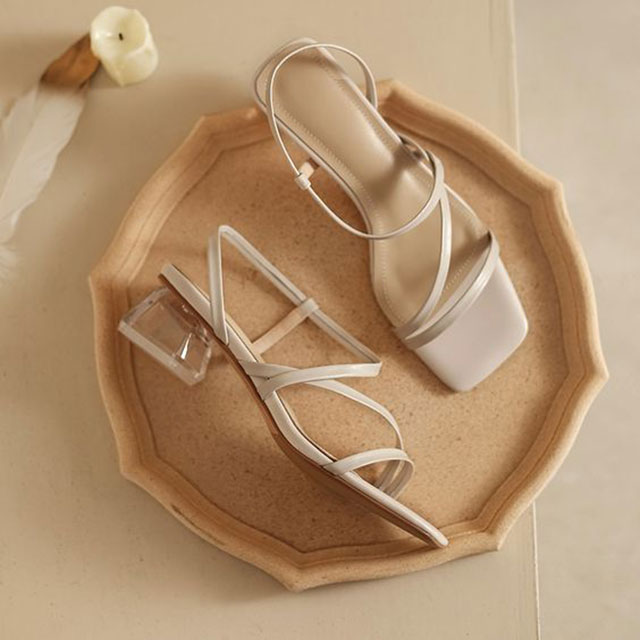 [From: 20 Classy Block Heels That Will Keep You Comfortable Throughout Your Wedding / Shoes: Chiko Shoes]
[From: 20 Classy Block Heels That Will Keep You Comfortable Throughout Your Wedding / Photo: Pear and Bear Photography / Shoes: I am Florence]