Naturally, there are just some things about the wedding that usually only the bride can handle–the dress, the flowers, and the bridesmaid dresses are some to name a few–but that doesn't mean there's no room for the groom to help. It's always a good idea to remind your grooms that it's their special day too! Here are a handful of things that the groom can take charge of during wedding planning!
[From: A Classic Love Story / Photo: Martin Aesthetics]
1. Venue scouting
It goes without saying that venue is key. It's where one of the most important events in your life will take place, so don't take it lightly! It's always good to have options, so the more choices, the better. Your grooms can help you by rounding up a list of worthy venues, and can even accompany you during oculars!
2. The guest list
One of the biggest struggles of wedding planning is managing the guest list. It can be a tad bit overwhelming at times. As much as possible, we want all our loved ones and relatives to be there, but we have to remember that we have to be practical. Grooms can, at times, put things into perspective by asking the important questions like, "Do I want this person at my wedding?"
3. Choose the best man and groomsmen
Naturally, the groom would be the one to know who to pick as part of the his entourage. He can pinpoint friends and family that are responsible and trustworthy to handle groomsmen duties, such as keeping the rings, or checking the bill.

4. Dress up his entourage
The groom can decide on his outfit and the outfits of the best man and groomsmen. Of course, you can step in to check and make sure everything is still in sync with the wedding theme, but do give your groom the chance to style himself and his male party if he wants to. Remind him to pay a visit to their tailor and accompany the groomsmen when they try on their suits too!
5. Grooming
If the bride puts in effort to look stunning on her wedding day, the groom should too! Grooms can pamper themselves too by going for a nail appointment, getting a haircut, and a shave!
6. Gifts to groomsmen
Since the male party is made up of the groom's friends and family, he will probably have an idea of the what kind of gift they'd like. So, let him choose the tokens for the groomsmen. You can help him out by hinting items like pens, ties, bowties, cufflinks, and the like, but let him make the final decision on this one.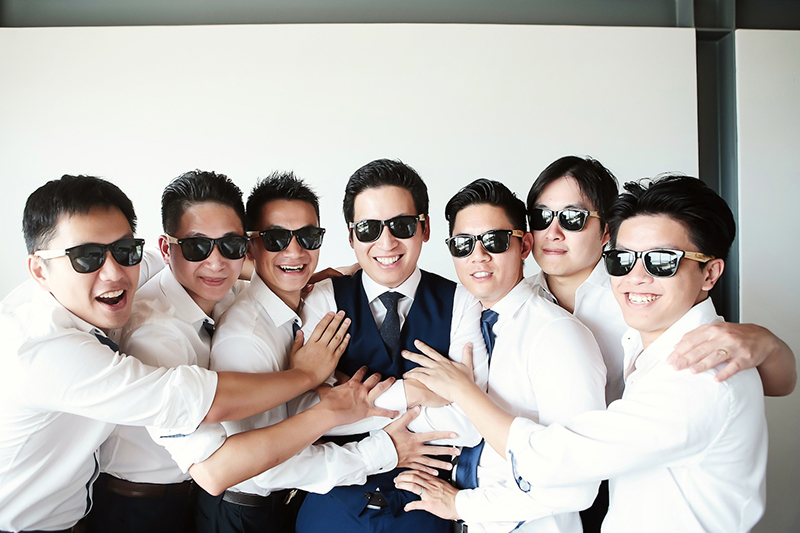 7. Booze
Perhaps a fun and challenging task your groom–picking out the selection of alcohol for the wedding! If your soon-to-be husband knows a thing or two about the best brews and wine, this will be no big deal for him. He might also be resourceful enough to look for the best deals and bundles to save money!
8. The honeymoon
The honeymoon is a time for both the bride and groom to enjoy themselves as they dip their toes into married life. Grooms should weigh in on the possible places they want to go to with you, their soon-to-be wives, and plan what they want to do too. It's important that both of you will be able to look back on your honeymoon and remember it fondly.
9. Music
If your fiancé is really interested in and particular about his music, let him take over this part of the wedding! From the band choice to the DJ, he should have it covered.
10. Hands-on labor
If he is especially handy, he can lend a helping hand in D.I.Y. decorations such as signs or placards to be placed in the reception area. If your groom is feeling extra creative, he can even go the extra mile and D.I.Y. wedding table favors!
11. Transportation
First, the bridal car. The groom can take change of booking this, after all, cars are "toys for the big boys." He will love choosing the car–it could be a personal favorite car, a vintage car, a sports car, or a luxe car. And since he's already working on transportation, he can take charge of logistics for others parties like bridal party and other guests as well. He can hire a big coach, or ask some of groomsmen if they can be drivers for the other parties on the wedding day.
12. A second opinion
Sometimes, brides can feel exhausted and tired after planning. Grooms offer a fresh set of eyes to weigh in on important decisions. Be it the invitation, the cake, or the flower arrangements, ask your fiancé for his opinion and his favorite choices.