Today we're taking a closer look at off-shoulder wedding dresses. What makes this style one that brides keep coming back to? First of all, don't off-shoulder dresses give you that regal, princess-like feel? If you grew up watching fairy tales, you know exactly what were talking about! Second, off-shoulder dresses can make you look effortlessly elegant since they accentuate the collar bone and shoulders. If these are your best assets then you know this design will work wonders for you! Lastly, modern executions of this wedding gown design are taking off-shoulder dresses to the next level! There are many, many options for you to choose from so you can find a style that fits your body and your wedding theme. No wonder this wedding gown style is a staple on the aisle. We can talk about this style all day, but we'll let today's roundup of off-shoulder dresses shed light on why this style is a stunning option for your walk down the aisle. Scroll on to see our 12 picks now.
(1) March into your wedding looking extra feminine with this off-shoulder dress from MyTailorist that features small 3D flowers on sleeves and a shining mermaid train.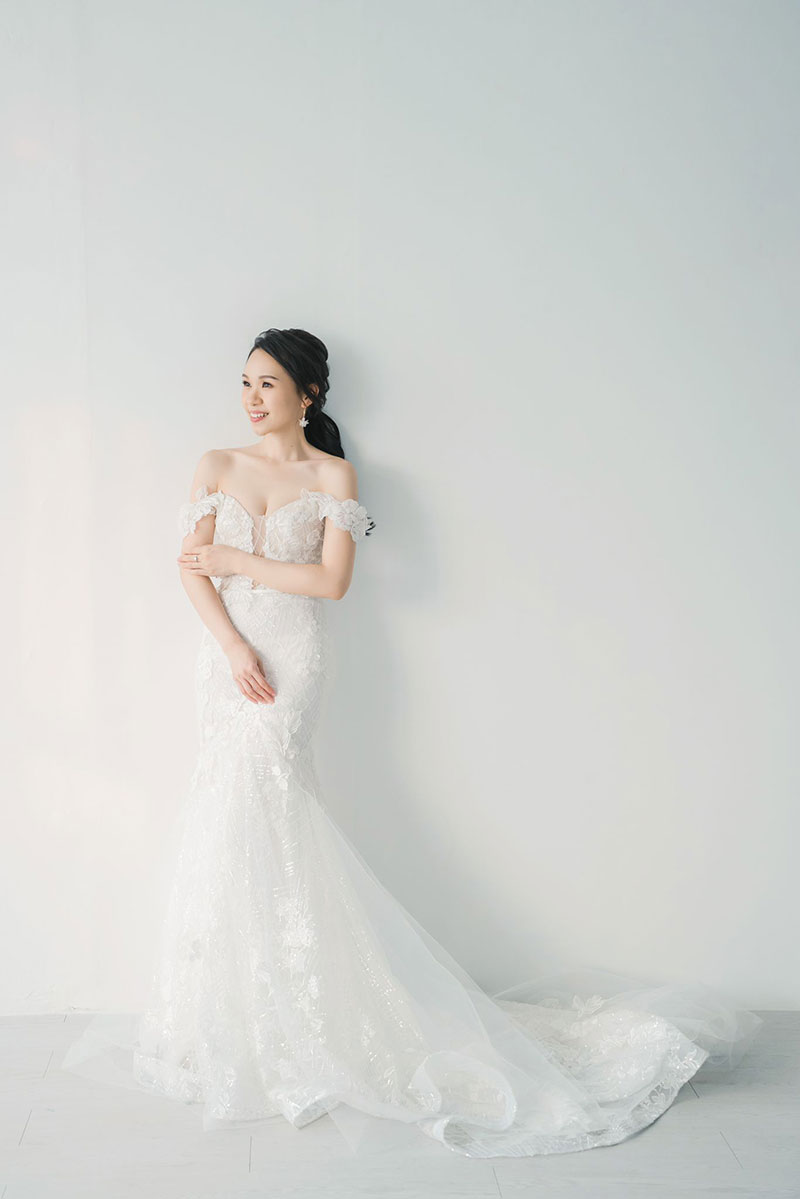 (2) Looking for a dress that's fit for a princess? Make heads turn with this elaborate dress from S.A. Bridal. The intricate details crawl over to the shoulders, it comes with voluminous layers, and it has a vintage European air to it–absolutely stunning!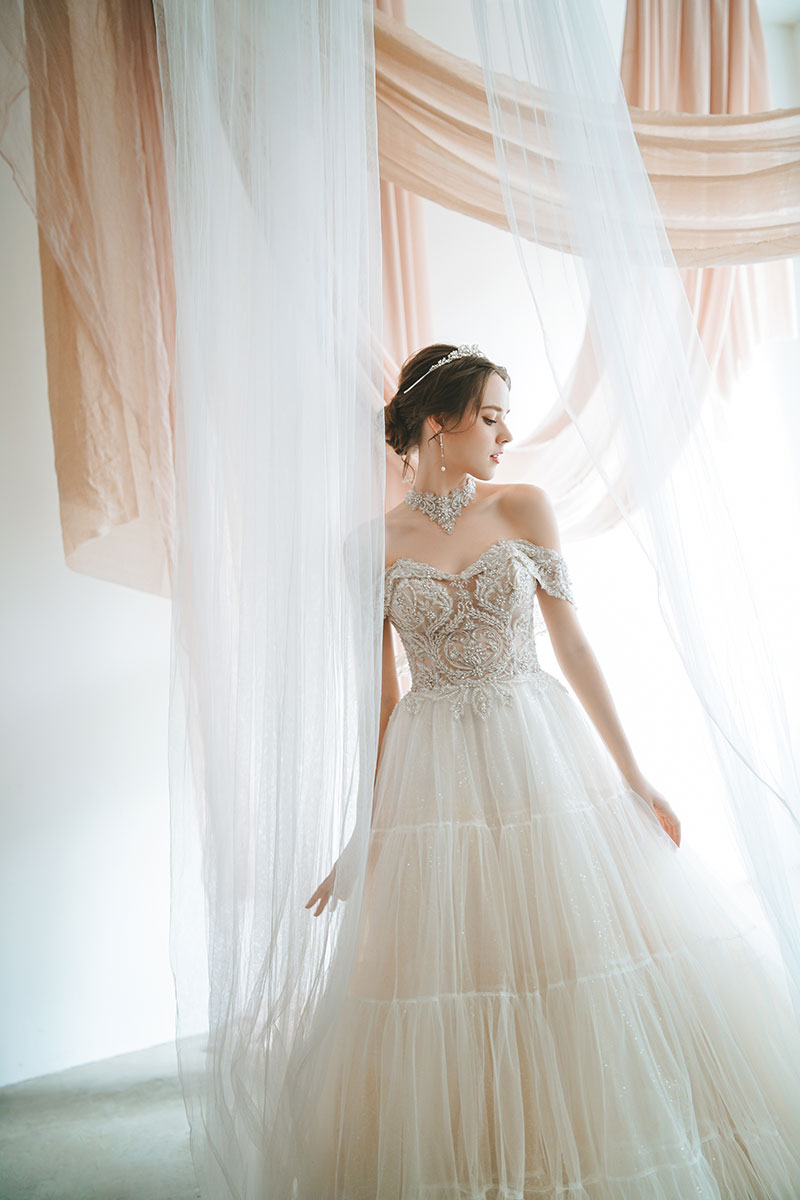 (3) This dress which pairs a boat neckline with structured off-shoulder details is a chic rendition of modern minimalism. Hey Bride Hong Kong shares how this is exceptionally apt for brides who seek a bridal look made with simple and clean lines.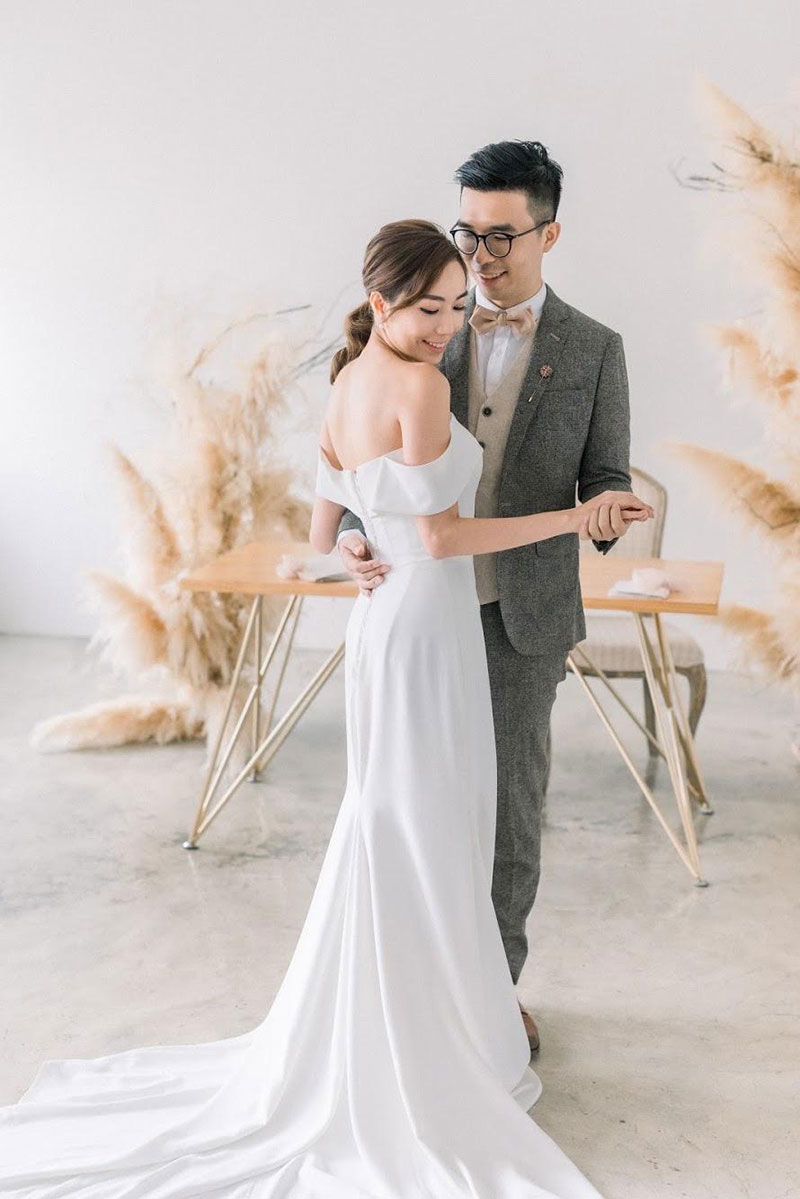 (4) Looking ethereal on your wedding is not as hard as you think. You can achieve this look with this piece from Noel Chu Atelier. This off-shoulder A-line wedding dress is made with sheer soft tulle and a beautifully draped bodice with cut-out detailing on the side. The final touches of textured lace appliqué make this style even more romantic.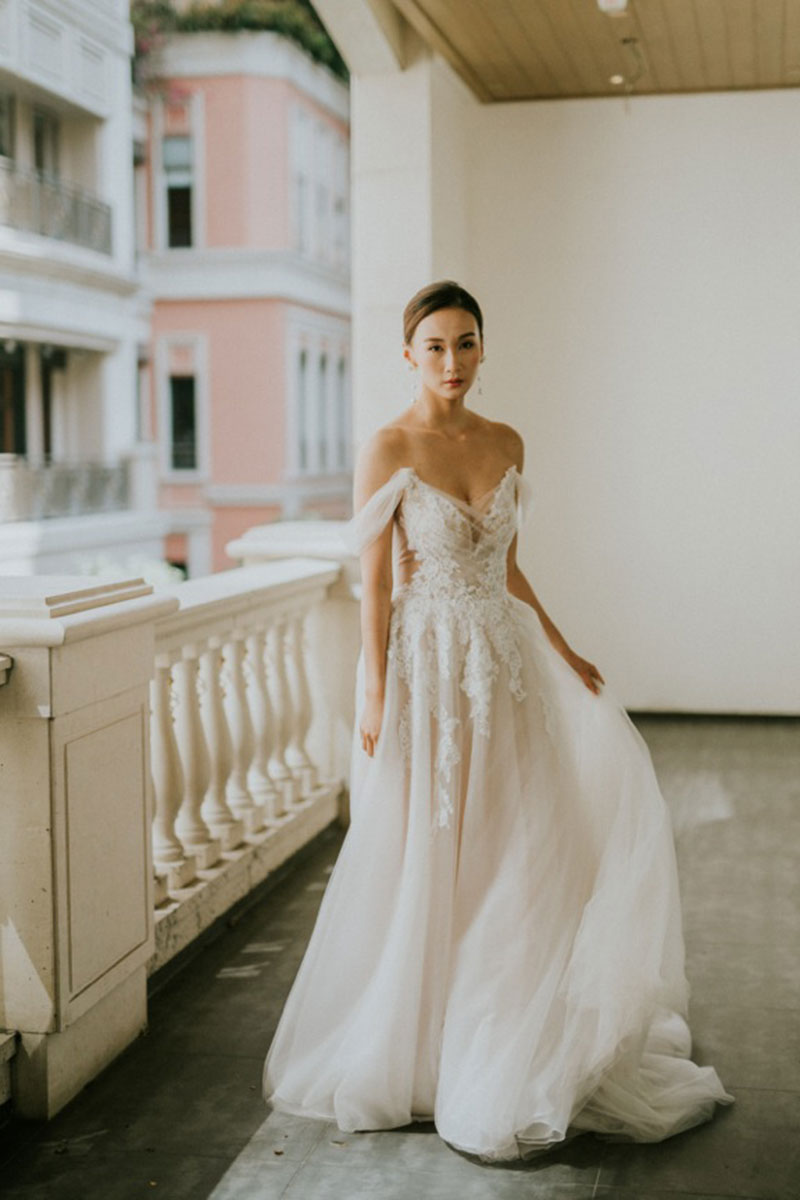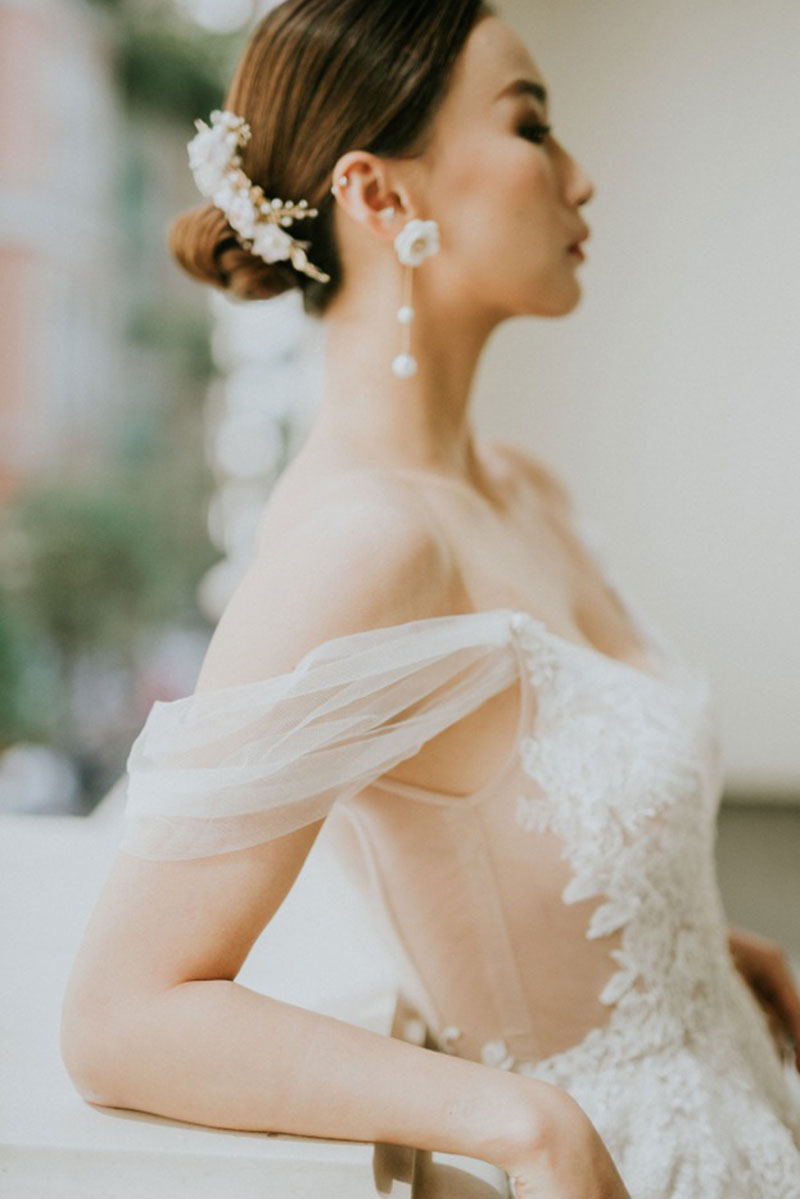 (5) Did you know you can opt for detachable off-shoulder details? Thirty30 shares that this satin gown is popular among brides who love minimalism and comes with detachable off-shoulder ruffle details. Look classic and chic at the same time with this two-in-one wedding dress!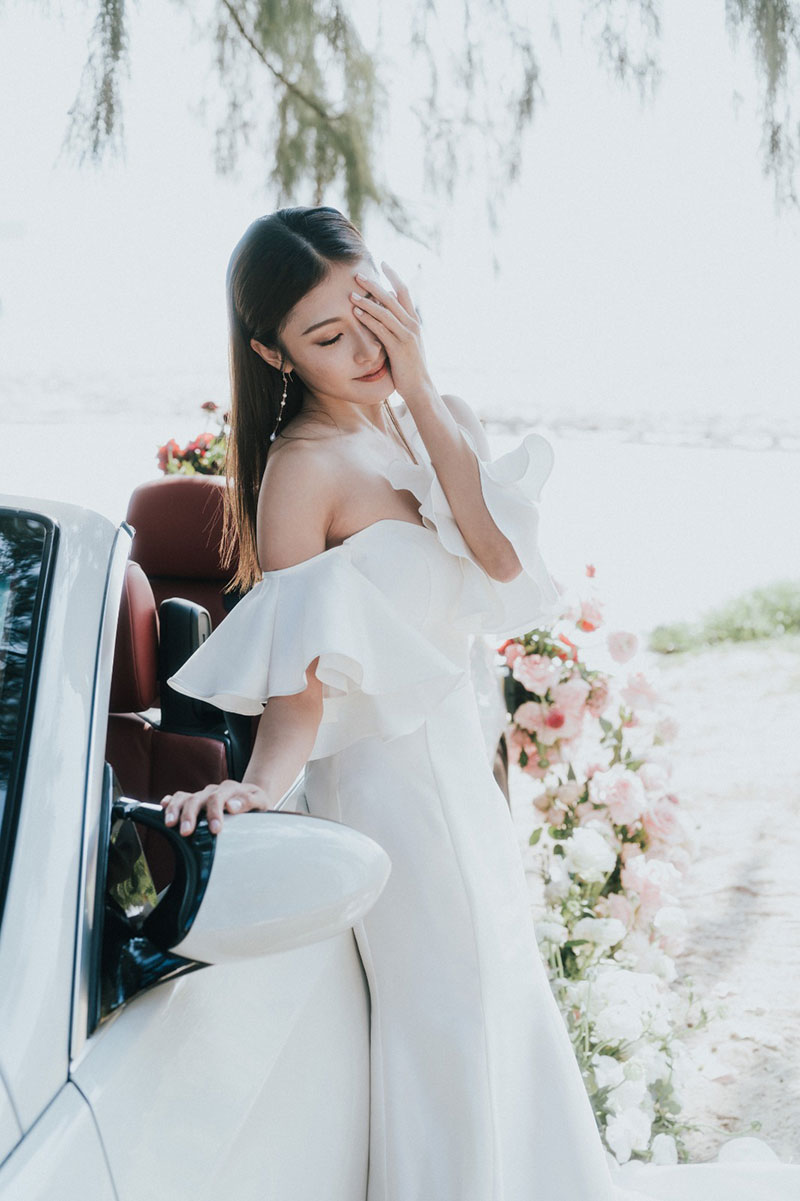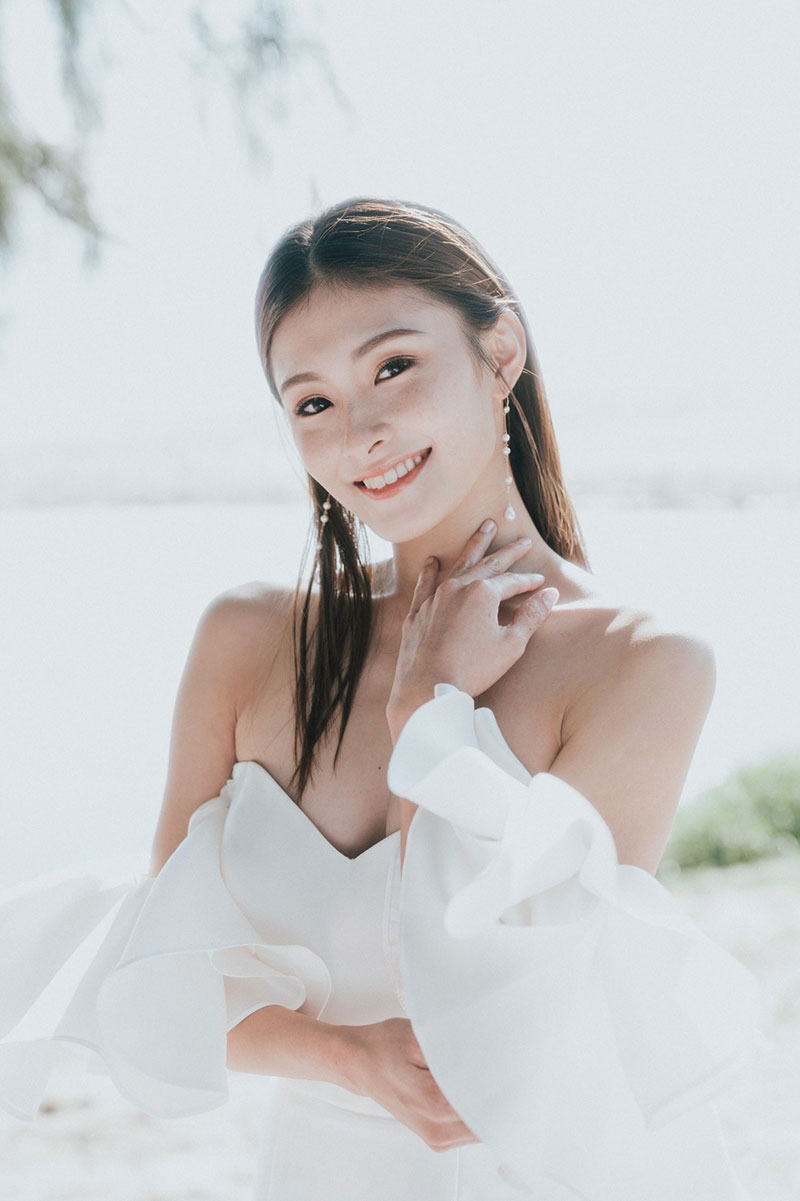 (6) Off shoulder wedding dresses are also functional. Wcube Bridal Studio shares that this dress style can help hide big arms. Meanwhile, if you have bread shoulders, the off-shoulder detail is dainty enough and can make your shoulder look more feminine. Finding the right off-shoulder detail to suit your body type is important, so do consult with your stylist!
(7) You can definitely show off your curves! MyTailorist recommends this overlapping V off-shoulder dress with a semi-transparent slit in the waist for brides who want to highlight their bust and outline their waistline.
(8) Are you a glamorous bride-to-be? This luxurious gown from S.A. Bridal is the perfect piece for brides who want to look striking on the aisle. The off-shoulder detail in of this dress is made up of floral appliqué and the bodice features a corset with a low V neck line. Lastly, waterfall-like layers complete the skirt of this one-of-a-kind look!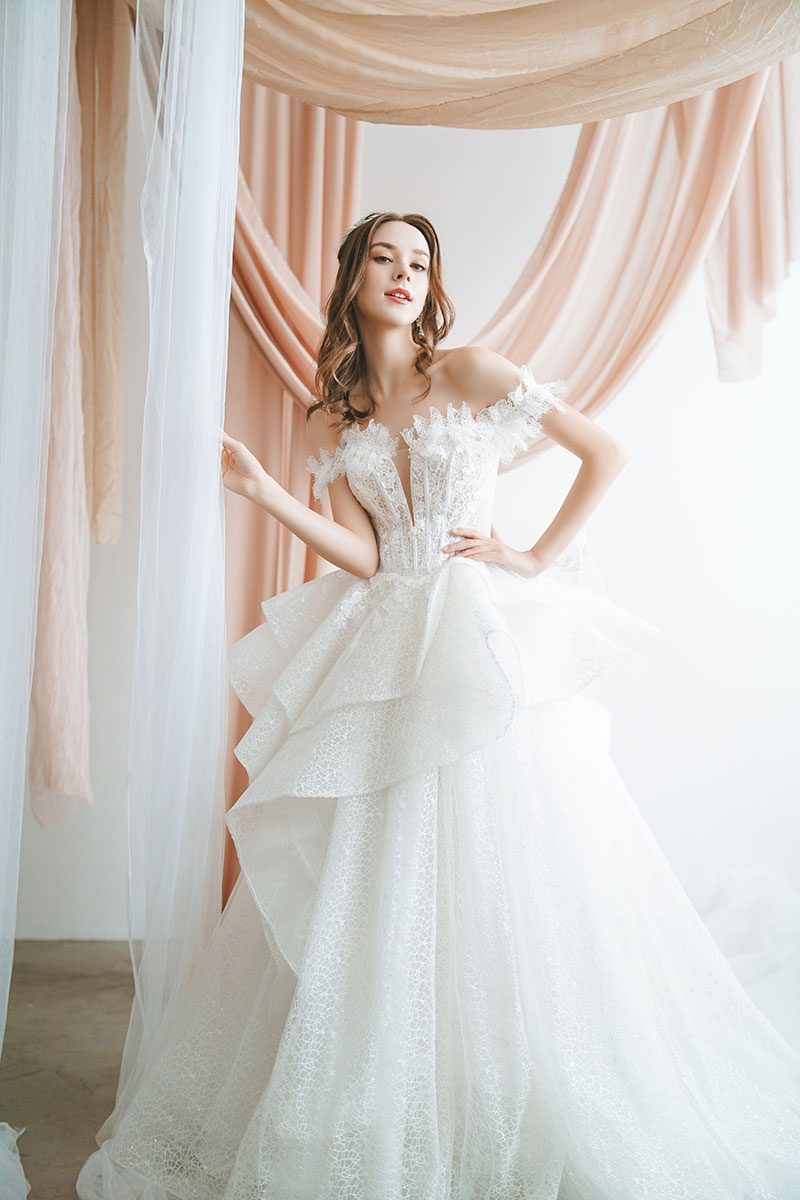 (9) Here's another option for minimalist brides: an off-shoulder A-line wedding dress from Noel Chu Atelier crafted in Mikado featuring a wrap-over neckline finished with an open back. Noel also mentions that the flared skirt with seaming details is perfect for a clean modern look.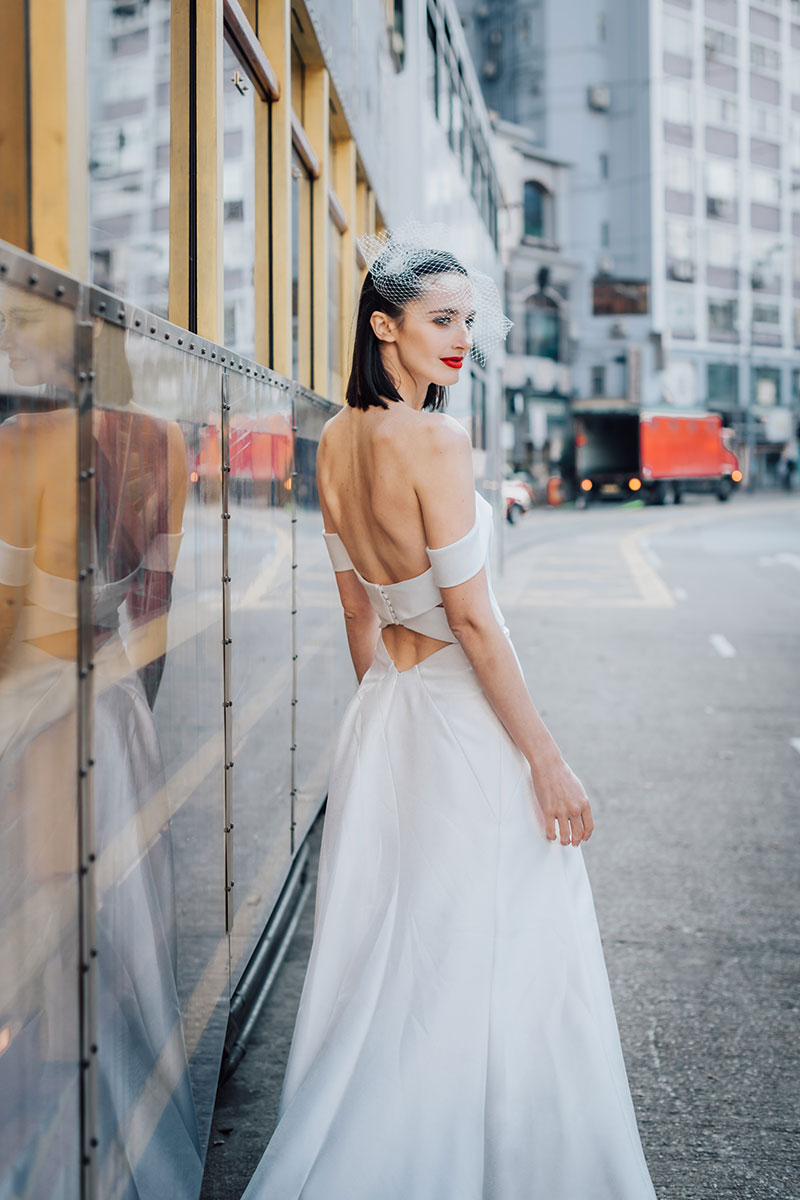 (10) Draping layers make off-shoulder details even more captivating! Take this dress from Hey Bride Hong Kong as an example. It comes with several layers of off-shoulder draping fabric adorned with lace that extends to the rest of the dress. Overall, the wedding gown has a romantic and vintage look and feel.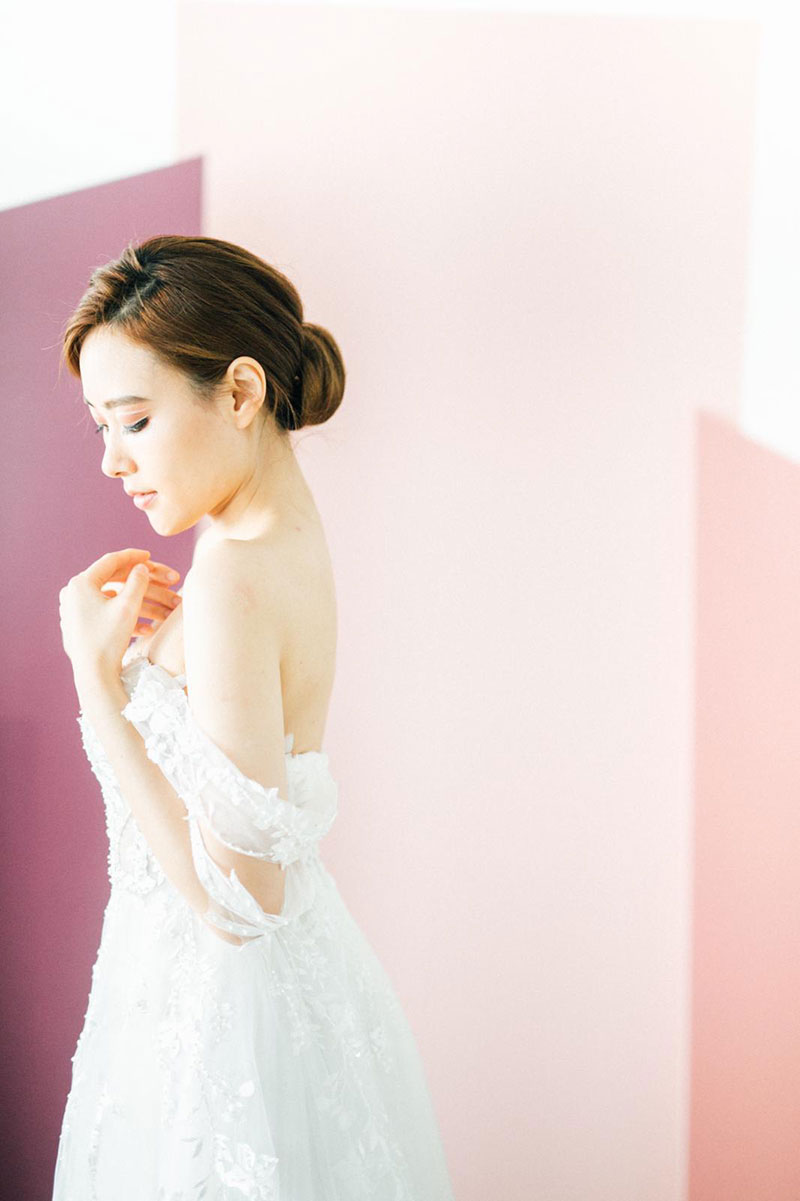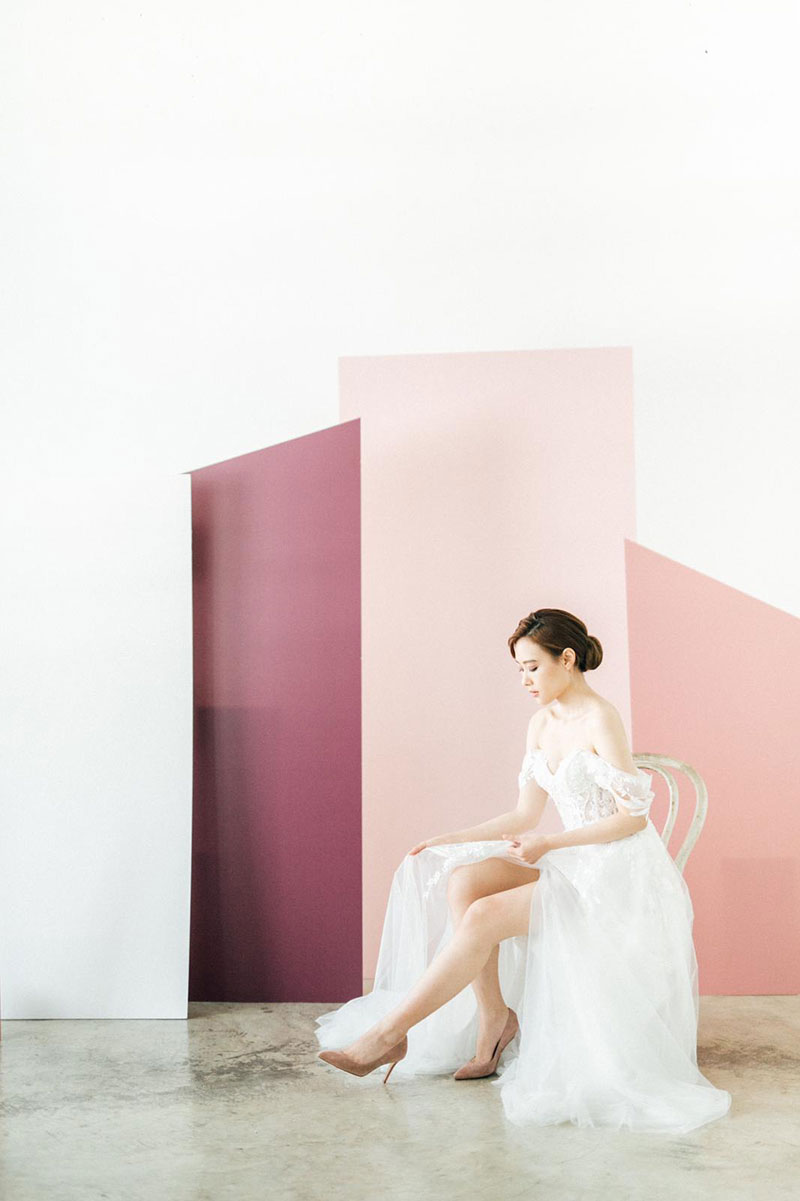 (11) Romance your way into your wedding with this off-shoulder dress from Thirty30. It comes with elaborate 3D floral lace and a very subtle off-shoulder detail. Pair an outdoor garden wedding with this look for an extra dreamy wedding day!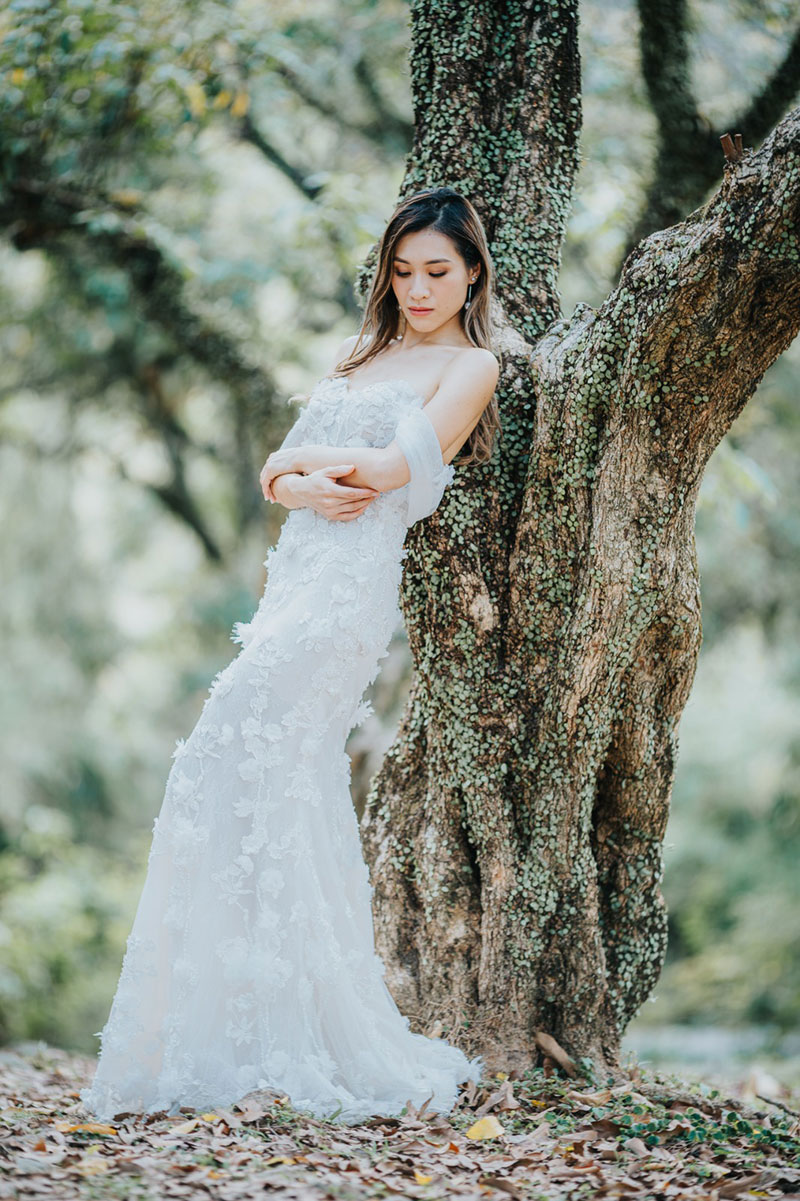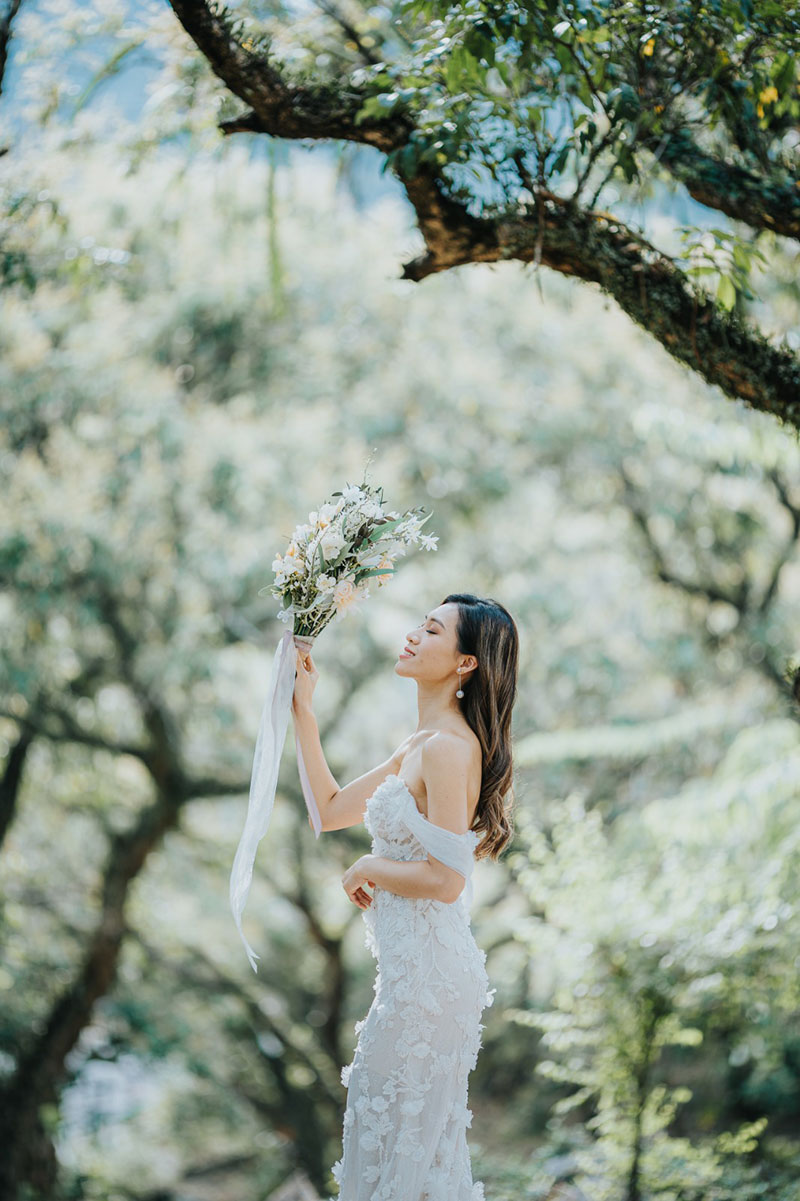 (12) If you're concerned about whether an off-shoulder dress fits your face shape, Wcube Bridal Studio shares that this style goes will all kinds of face shapes–long, diamond, and even round! Brides can also add volume to their hair with fresh flowers, or wear a crown.