Let's face the truth, a lot of brides have there have fiancés that are super camera shy–what a challenge for your engagement shoot! So how does one get your husband-to-be to relax and fear not of being in front of the lens? Here are some useful tips from Hong Kong photographers. Be sure to take these down now so that when it's time for that pre-wedding shoot, your main man is comfortable and ready to take the best photos with you!
(1) Include a hobby that you love to do together.
Getting your husband-to-be to do something he loves doing with you is one great way to make him feel less tense and more relaxed, assures Martin Aesthetics. If you like doing a sport together like boxing, why not shoot in your boxing studio. If you like painting or doing home decoration shopping, go ahead and take shots while prepping your new home.
(2) Turn your shoot into a fun vacation.
You can always make your pre-wedding shoot coincide with a vacation, claims Martin Aesthetics. Book a trip somewhere beautiful or simply drive out of the city to a place where you can enjoy the beauty of nature. This will make shooting just like taking travel snaps in a scenic place you both love.
(3) If you're school sweethearts, go back to school with your childhood best friends.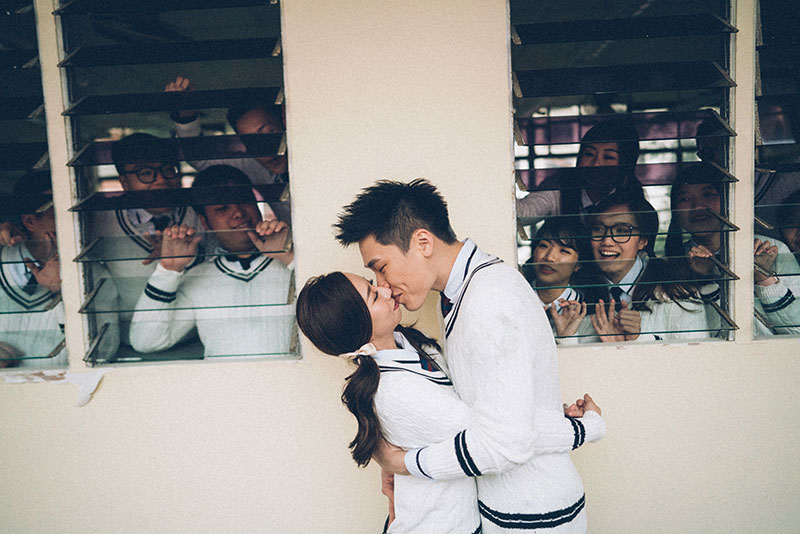 How about making your the photo shoot like a walk down memory lane? Reminisce what it was like to be in school together. There's nothing more romantic than going back to where it all began! No doubt, your fiancé will loosen up to the familiar sights and remembering how he fell for you all those years ago. Martin Aesthetics shot this couple and says it was truly a fun experience for everyone.
(4) Tell your fiancé he just needs to do this once!
If your man is a bit grumpy at the beginning tell him that he just needs to do this once! That should make him laugh and warm up a little, says Binc Photography. He'll surely think of it like a once-in-a-lifetime gift for you and will want to do it to make you happy.
(5) Take lots of selfies.
Take lots of selfies so that your husband-to-be forgets all about the other camera and gets distracted with all your selfie-taking together! It's also one way to get lots of memories of this special shoot day. This is an easy trick that Simon the Photo swears by!
(6) Inject a little bit of teasing to make him laugh.
Here's a secret, you can definitely tease all day to get your partner to laugh some more. The more teasing and laughing, the better! You'll surely have a lot of fun candid shots if you keep the teasing going all day. This shot taken by Martin Aesthetics proves it!
(7) Praise him and tell him that he's doing really well!
Words of encouragement will boost your fiancé's confidence! So say something like, "You're a natural!" will make him less tense and more confident! StevenC says that grooms usually feel more at ease when you cheer them on.
(8) Create a unique experience.
Do you have a bucket list? Then make your engagement shoot a unique experience altogether by ticking off something on that list! Go somewhere you've always wanted to go, do something you've always wanted to do, try something new for the first time together! It won't feel like a photo session at all! Martin Aesthetics shares that making new memories makes the shoot feel like a fun new adventure together and less like a photo session.
(9) Why not include something what your fiancé likes in your engagement shoot?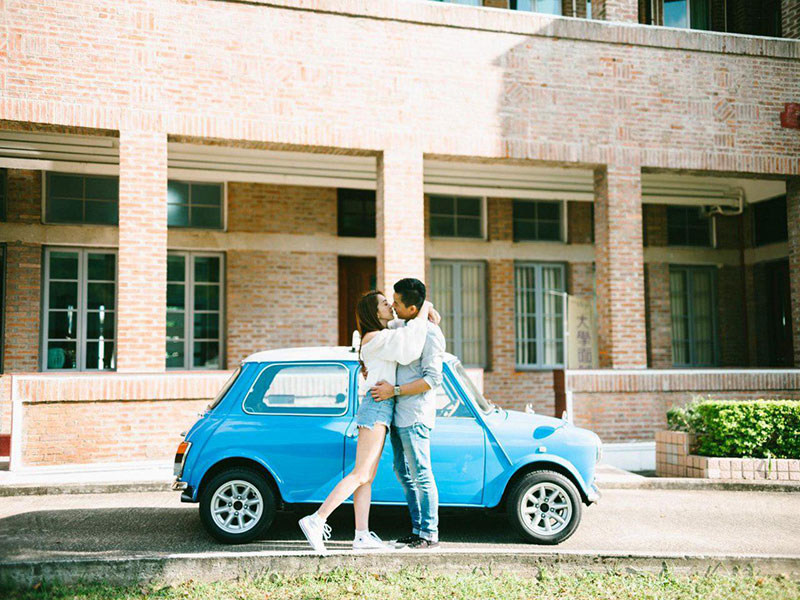 According to miLa Story, your fiancé will enjoy more if you include something that he really likes in your engagement shoot. Is he into vintage cars? Include some car shots in the shoot! Is he an NBA fan? Shoot some hoops with him! He won't feel shy anymore if you include his interests in your shoot.
(10) Pop open a bottle of your favorite drink and toast to your engagement!

This will definitely make the shooting more chill–grab a bottle of wine or champagne and toast to a beautiful new beginning together. Martin Aesthetics suggests having a casual shoot at a pretty restaurant or bar. You can instantly turn your photo shoot into a relaxing date night out or a sweet celebration of your engagement. There's no way this will fail–trust us!