We're loving the color red, and we know your are too! It's a rich and vibrant hue that adds life to anything and everything within its presence. It's no wonder that red dresses are favorites among brides whether it be for an engagement shoot, or as an evening dress, or as an alternative to the traditional Chinese dress. Today, we've put together some of the most ravishing red dresses that have come our way. So, hurry, come on over, and ogle with us! Red is really a most alluring color, and we just can't get enough of it.
(1) How can you not love this dress with lovely beading and embellishments? Take a closer look and see the intricate details that make it stand out.
[From: Organic Garden Terrace Wedding / Photo: Lauhaus.co]
(2) If you'd like to add drama to a simple look, choose a dark crimson color. This bride is wearing a simple dress, but the deep color adds character to the entire look.
[From: A Parisian Pair / Photo: Nelwin Uy]
(3) Red is even more captivating when it comes with volume. We love the way this dress moves and the graceful shapes it makes with the wind.
[From: A Parisian Escape / Photo: Binc Photography]
(4) Of course, lace details always win. A red gown with lace details is a stunner no matter what, just like this one.
[From: Lovely Tuscan Engagement / Photo: Facibeni Fotografia]
(5) Pairing the color red with a clean cut dress makes a chic choice of clothing. Look at this lass and her dress, isn't she a darling in it?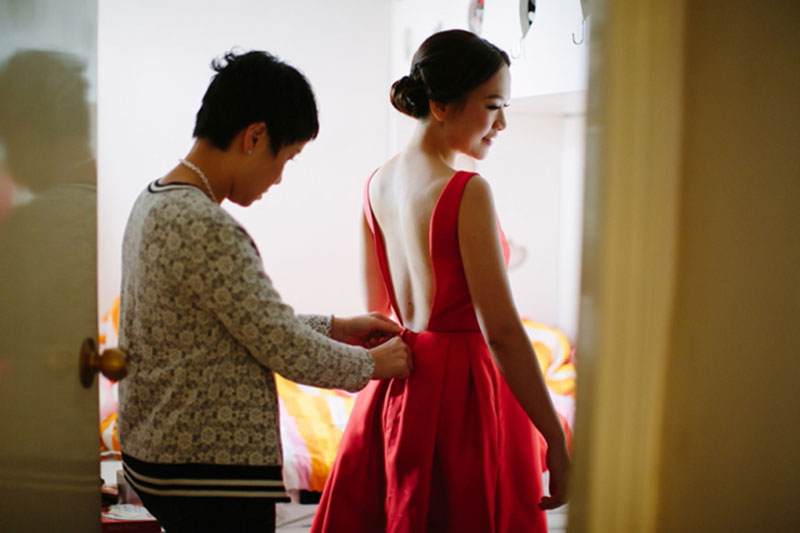 [From: Intimate City Wedding / Photo: Feel in the Blank]
(6) Grabbing inspiration form tradition is also a smart choice. This oriental-inspired red dress is a beautiful modern take on a classic Chinese dress.
[From: Lovers in Hong Kong / Photo: thegaleria]
(7) Simple, sleek lines will turn any red dress into an elegant masterpiece. Do you see how this one transforms bearer into a regal vision?
[From: Classic Sweetness / Photo: Plitvice]
(8) We're also a fan of this dress. The feminine details result in a soft, dainty look and feel.
[From: Elegant Ever After / Photo: History Studio]
(9) A big bow at the back makes a bold statement and is unique accent to a simple dress. Take for example this lovely dress.
[From: Delicate Drama / Photo: Binc Photography]
(10) Finally, this off-shoulder ball gown is taking our day my storm! What a stunning pop of color against the sand dunes.
[From: Romantic Engagement Shoot Along the Sand Dunes of Dubai / Photo: Itsoura]
When red and all its vivacity steps into a room, it commands attention. These ten dresses are no exception. Oh, we can keep looking at them all day! To get a closer look at each dress, click on the links to the features. Enjoy!