We still can't get over how amazing everything about the royal wedding of Prince Harry and Meghan Markle was, so we're sharing some of the most magical moments we loved below! Check them out!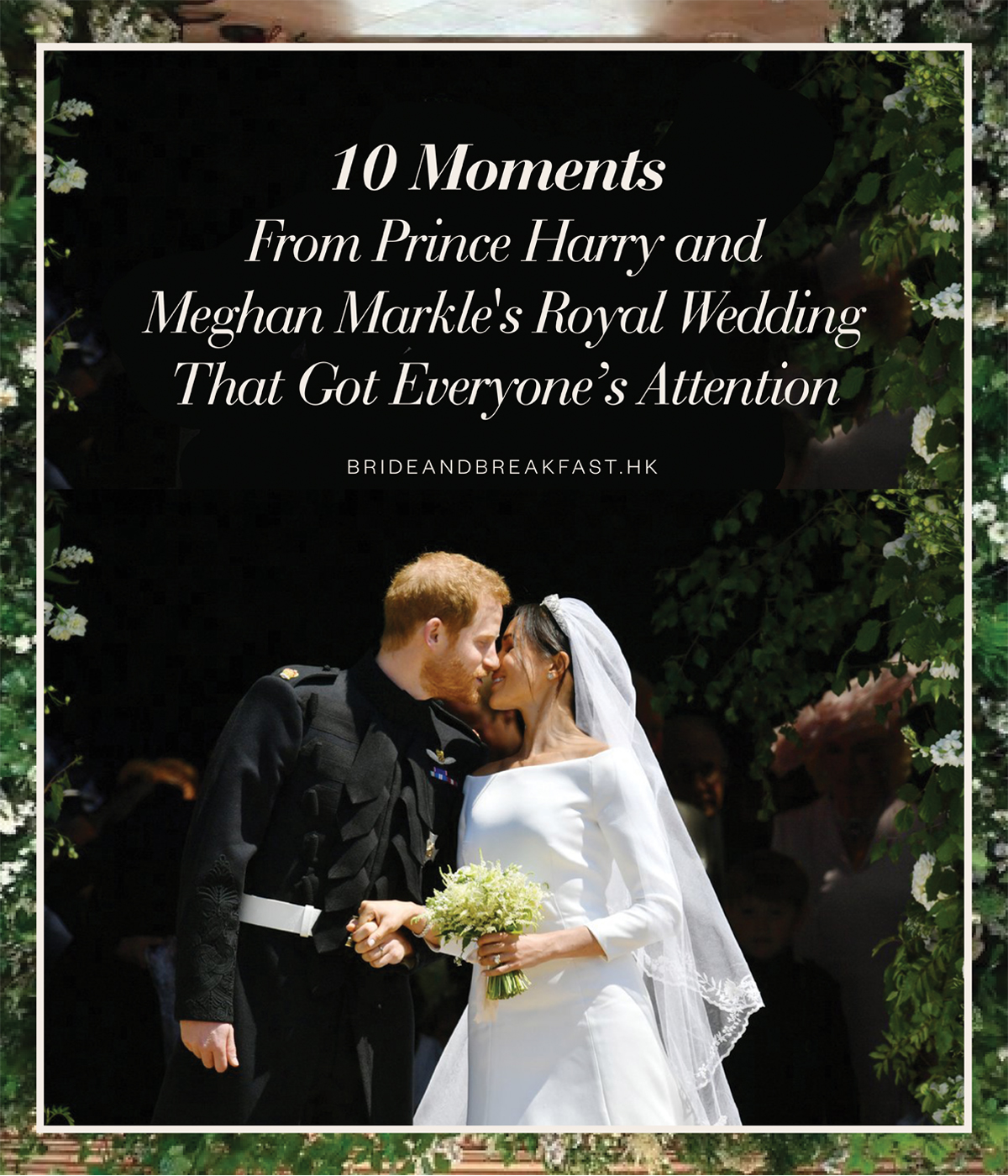 1. When Meghan stepped out of the car in her stunning dress
We all held our breaths when the elegant bride stepped out of the car in her absolutely stunning Givenchy dress. Designed by Givenchy's creative director, Claire Waight Keller, the dress had a bateau neckline, long sleeves, and a dropped waist. The accessory of the monarch-length veil was the perfect touch to complete the simple, understated, and oh so classy look of the bride.
2. When Elin Manahan Thomas started singing as Meghan walked down the aisle
The angelic voice of soprano Elin Manahan Thomas as she sang the antiphon while Meghan was walking down the aisle gave us chills! Although we're also sure the orchestra conducted by Christopher Warren-Green, with a special mention to the trumpeter, David Blackadder, played a big part in everything coming together and sounding perfect!
3. When Prince Harry saw Meghan
Because any moment where a groom first sees his bride is a magical one, whether you're royal or not! Our hearts just melted when we saw Prince Harry gazing at his beautiful bride! It was almost as if he was holding back tears! If we were in his shoes, we're pretty sure we'd feel the same way too.
4. When Meghan's mom, Doria Ragland, started tearing up
Another tear-jerking moment was when Meghan's mom started tearing. The pride and joy on Doria Ragland's face was an unforgettable moment of pure emotion that had us tearing up with her too.
5. When Karen Gibson and the Kingdom Choir started singing, "Stand By Me"
When the Christian gospel group started singing "Stand By Me" by Ben E. King, we couldn't imagine a more perfect song choice for the royal wedding. The choir's voices and harmonies blended together so well, and the result gave us all goosebumps!
Karen Gibson and @TheKingdomChoir sing "Stand by me" from the West End of the Chapel #RoyalWedding pic.twitter.com/4V1avJlY3K

— Kensington Palace (@KensingtonRoyal) May 19, 2018
6. When Prince Harry lifted Meghan's veil
It was a moment worthy of any movie! The prince lifted Meghan's veil, and we all saw just how big her smile was!
7. When Prince Harry couldn't contain his smile during the wedding vows
We just love how this couple were all smiles during their wedding–it shows how excited and happy they were on their big day. (And who wouldn't be?) This moment when Prince Harry couldn't contain his smile was so perfect and adorable!
8. When Prince Harry whispered, "You look amazing" to Meghan
Our romantic hearts skipped a beat when Prince Harry whispered those three words to Meghan. And we have to say, that we wholeheartedly agree with him!
Find someone who looks at you the way Harry looks at Meghan. #RoyalWedding #HarryAndMeghan pic.twitter.com/e17vcMvtyi

— BBC (@BBC) May 19, 2018
9. When the couple shared a sweet kiss
And of course, we can't forget about the kiss! When Prince Harry and Meghan walked out of St. George's Chapel in Windsor Castle, we're pretty sure everyone was waiting for that kiss. The couple shared a sweet smooch, and we'd be lying if we didn't give a dreamy sigh (or two)!
10. When they rode out as husband and wife in a carriage
Our royal wedding dreams were complete when we saw Prince Harry and Meghan ride out as husband and wife in a royal carriage, escorted by the royal guard. We were totally cheering with the crowds as they rode around and waved!