When it's time to see the same day slideshow, I must admit, I look forward to the bridal portraits. I think the reason behind this is that bridal portraits capture the bride in a different light. She is seems more vulnerable because she is opening herself to this new life, and she radiates a raw kind of beauty that is truly enchanting. Today we have gathered several bridal portraits that have captured brides in their most natural and attractive element. Each photo will give you goosebumps! And to help you achieve these gorgeous portraits on your wedding day, we've also included some tips on how to get the look. So do keep reading, you don't want to miss this.
(1) Let your hair down and show off those long, lovely locks. Wavy tresses will make you look really feminine.

[From: Tender and Timeless Ties / Photo: Belle & Olive / Makeup: Mandyyuen Makeup School]
(2) Get ready in a romantic lace robe. This way, you'll look stunning in all your shots during the preparations.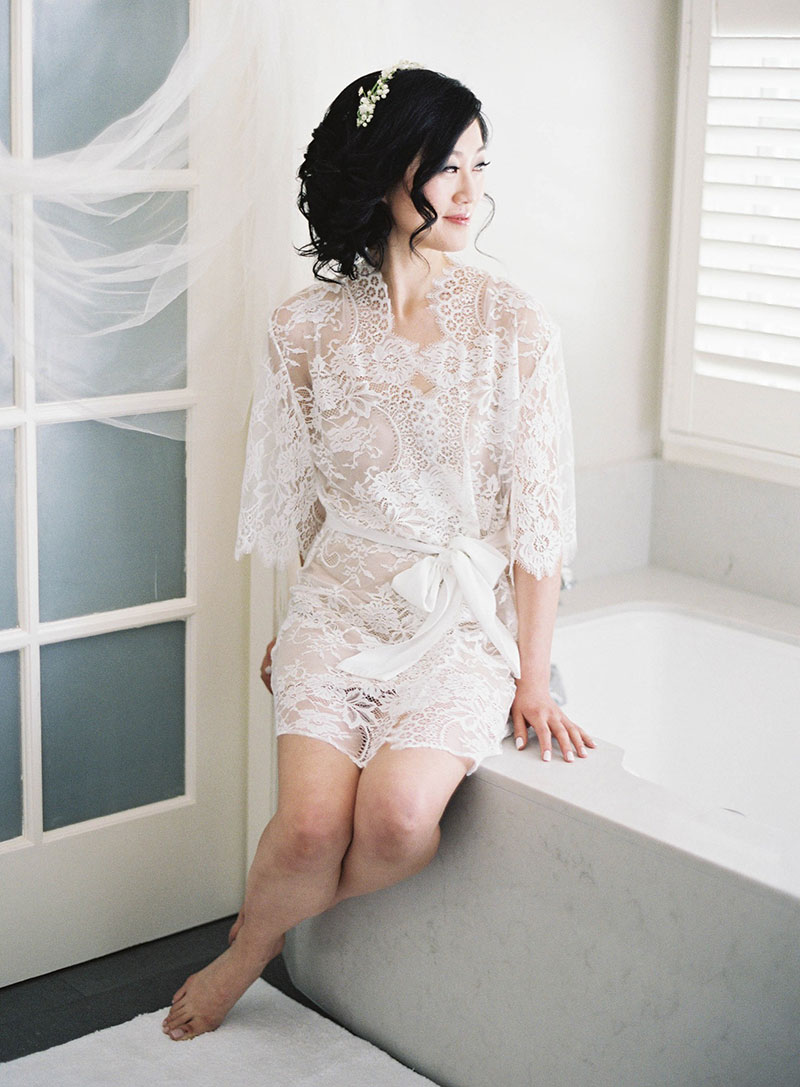 [From: A Radiant Field of Dreams / Photo: Jen Huang / Makeup: Aimee Makeup Artistry]
(3) If you have an outdoor wedding, adorn you hair with a flower crown. It will add that warm, inviting touch to your look.

[From: Intimate Phuket Beach Wedding / Photo: Darren LeBeuf / Makeup: Natalie Lorence]
(4) Flaunt that ring! How else can you make a bridal portrait even more captivating? Of course, by including your engagement ring in the frame.

[From: One Fine Day / Photo: Nadia Hung / Makeup: Kelly Mak]
(5) Get creative with how you style your veil. You can get help from your hairstylist with this one. Then, take some head shots that focus on your face and hair.

[From: Classic Love Story / Photo: Martin Aesthetics / Makeup: Joman Wedding]
(6) Make sure the back details of your dress get noticed. But don't forget to show off the profile of your lovely face while you're at it.

[From: Meet Me at the Cathedral / Photo: History Studio]
(7) Add a sparkly headpiece to your crowning glory. Hair accessories can really work wonders on your overall look. Click here for more hair accessories.

[From: Our First Sunset / Photo: Victor Lui Photography / Makeup: Karrie Yum Makeup]
(8) Go for natural, glowing makeup. This will give you a subtle radiance that everyone will notice. It will also show in your photos!

[From: Island Intimacy / Photo: Erika Gerdemark / Makeup: Karen Yiu]
(9) Pull your hair back neatly to highlight your lovely facial features. Sometimes a sleek, clean look is all you need for a perfect bridal shot.

[From: Sun-Kissed Charm / Photo: Heather Photography / Makeup: SiU SiU Workshop]
(10) Lastly, catch the light, top model style! Tyra Banks says it all the time in her top model shows. Best to listen to her advice 'cause it surely reflects in pictures.

[From: Delicate Drama / Photo: Binc Photography]
Aren't all these brides just so effortlessly beautiful in all these photos? Now, remember all these tips and we're sure your bridal portraits will also be just as captivating!