Makeup will always be something we girls can't get enough of. Makeup makes us look and feel good. Makeup makes us feel happy. And of course, makeup helps highlight our best features. One feature we love to highlight is our lips! A splash of color on the lips already makes a huge difference in any look. So, it's only natural that we need to have a collection of the best lipsticks out there! Today, we're sharing with you a must-have list of lipsticks that will allow you to create all kinds of looks. Time to play with all kinds of hues, from sheer and subtle hues, to bright, bold, and even gradient colors! All these are available at Langham Place so you need not worry about where to buy them. Scroll on now and enjoy.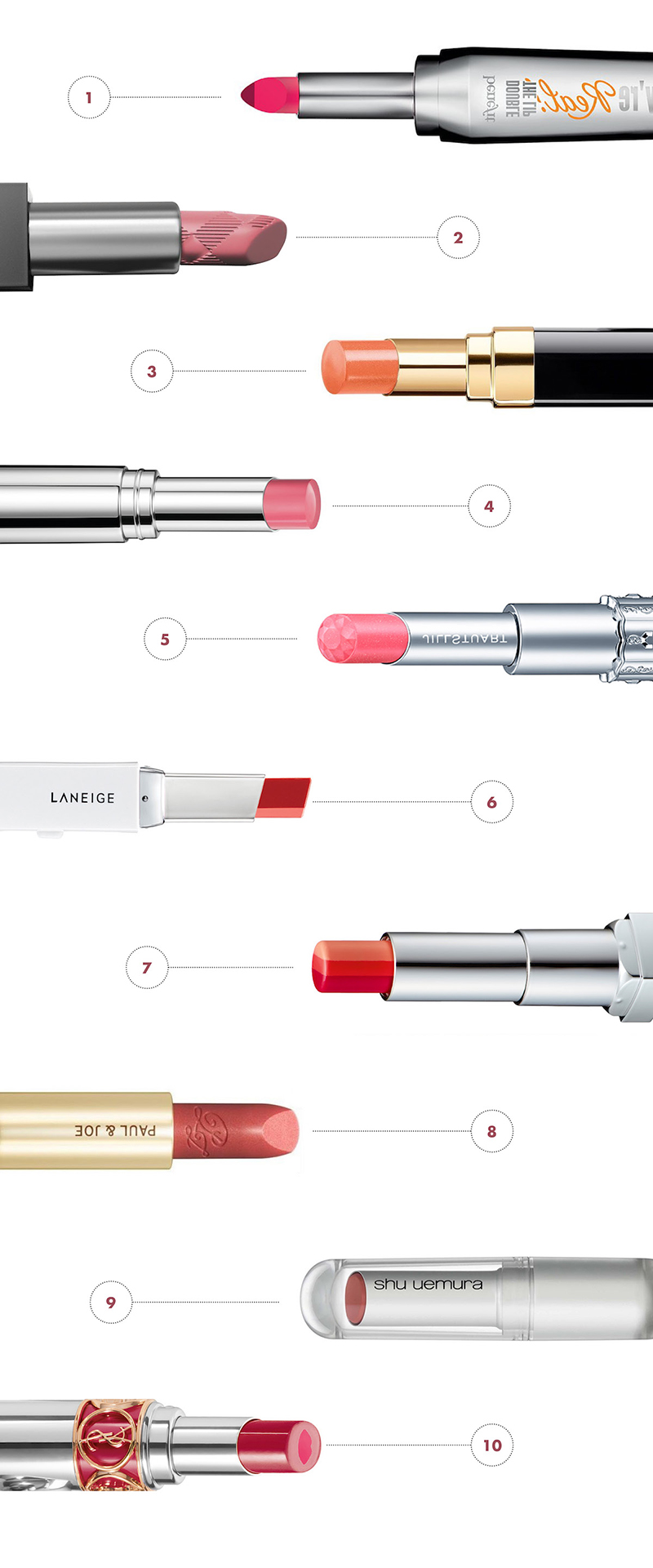 (1) Beyond Sexy Lipstick & Liner in One, Fuchsia Fever ($195, 8 colors)
Who wouldn't love a lipstick and lip liner in one? We know we do! Not only will you shorten your routine by combining two steps into one, you also get a smoothly blended color at an instant! This lippie is a wonder, especially for girls who are on the go. The shade Fuchsia Fever is also a really fun and flirty hue!
(2) Burberry Lip Velvet, Nude Rose No.405 ($260, 24 colors)
The name says it all! This opaque lipstick has a velvety smooth, lightweight feel as it glides on to your lips. It also has an opaque, matte finish that's richly pigmented for long-lasting color. We're loving the Nude Rose shade that's perfect for everyday!
(3) Chanel Rouge Coco Shine Hydrating Color Lipshine, 527 Golden Sun ($275, 29 colors)
This lightweight, shiny lipstick is a real steal. Aside from the really cool wet effect it creates, this lippie is infused with the "Hydratender" complex, and ingredient that hydrates your lips keeping it extra smooth and supple. Best of all, the Chanel  Rouge Coco Shine Hydrating Color Lipshine comes in 29 colors! We're eyeing the hue, Golden Sun, which is a cross between coral and golden orange.
(4) Dior Addict Lacquer Stick, 550 Tease ($280, 18 colors)
When Dior made this lipstick, they made every girl's dream come true! This lipstick delivers color intensity, shine, and hydration–isn't that the full package? It has a "lip fondant" effect that enhances colour and shine, plus it has the smoothening comfort of a balm. We're thinking of grabbing the shade Tease, a subtle pink that will is perfect for any occasion!
(5) Jill Stuart Lip Blossom, 23 Gerbera Smile ($210, 3 colors)
This lipstick is another must-have! With an ultra sheer finish and subtle color lustre that looks natural, the Jill Stuart Lip Blossom results in a sweet, feminine look–something you definitely want! The collection comes in three colors that are inspired by hues of fresh flowers in full bloom. Try the shade, Gerbera Smile. It's a non-pearl, coral pink hue that looks absolutely stunning!
(6) Laneige Two Tone Lip Bar, No. 12 MAXI RED ($185, 14 colors)
Two-toned lipsticks are in and you ought to grab one now if you still don't have one. Take the Laneige Two Tone Lip Bar out for a spin and get some heads turning. That's right, this lipstick is bright, bold and eye-catching. It's ombre, gradient finish is super glamorous and super stylish! The rectangular angled color division also results in easy application. Try the shade Maxi Red for a nice, bright look.
(7) Maybelline Lip Flush Bitten Lip, RD02​ ($89, 11 colors)
Here's another product that has a beautiful gradient effect. This time, the Maybelline Lip Flush Bitten Lip Lipstick is a mix of 3 colors that result in a smooth transitioning color effect. It's light and moisturizing, and has a creamy texture, too. The colors are bright but not too bold, hence the "bitten lip" effect. The shade RD 02 is a pretty shade that transitions from red to orange–a good go-to for a day-to-night looks!
(8) Paul & Joe Lipstick Natural, 205 Strawberry Jam ($280, 12 colors)
This lipstick does wonders to your lips! If you're looking for something that will make your lips look more plump, this is it. This dense, creamy, and nourishing lippie is enriched with Orange Flower Water and White Lily Extract for healthy, hydrated lips.  Check out the shade Strawberry Jam. It's a fresh, natural-looking color!
(9) Shu Uemura Rouge Unlimited Supreme Matte, CR342​ ($220, 24 colors)
For those who aren't so into sheen, here's a stunning matte lipstick for you! Highly pigmented and extra lasting, this The Shu Uemura Rogue Unlimited Supreme Matte Lipstick will give you beautiful, bold lips that are smooth to the touch. There are 24 colors to choose from–enough to make any girl go crazy! But we've got our eyes on CR342, so you might want to take a look at that one, too.
(10) YSL Volupté Tint-in-Balm, N6 Touch Me Red​ ($310, 12 colors)
Lip balm is a staple in every girl's purse to combat chapped lips any time, anywhere. And if you find a balm that is also glamorously tinted, then you know you've got a good product at hand. The YSL Volupté Tint-in-Balm is a perfect example. This lipstick is a girl's best friend! It's glossy texture, sheer pigment, and moisturizing effect results in an extra natural look. It also comes with the cutest little lip-shaped centers! Try the color Touch Me Red, it's a warm, coralline, cherry red shade that has just the right amount of color.
You can never have too many kinds of lipstick. It's time to head over to Langham Place now to get all these into your makeup kit!